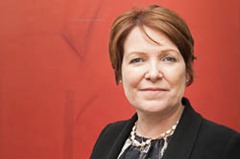 Nóirin O'Sullivan has been appointed as Garda Commissioner by the Cabinet as the reform process for the oversight of policing gathers pace. The legislation for an independent policing authority (see pages 52-53) is expected in the new year.
O'Sullivan has been Acting Commissioner since the resignation of Martin Callinan in March and Deputy Commissioner since 2011. She joined An Garda Síochána in 1981.
The appointment was made after two rounds of interviews involving Irish and international candidates – the first open competition for the post.
"An Garda Síochána has faced many challenges in recent times," Justice Minister Frances Fitzgerald said. "The focus must now be to ensure public confidence in policing in Ireland and to support the men and women of An Garda Síochána in their day-to-day work of keeping our communities and country safe."
O'Sullivan has welcomed a Garda Inspectorate into crime investigation which proposes a substantial investment in new technology to improve outcomes.
"It is vital that all victims of crime receive a consistently excellent support service from An Garda Síochána," she stated. "It is the least they can expect at a time of need."
Gardaí will establish victim services offices where trained officers will provide advice, information and support to victims.
"We now have an incredible opportunity to develop a police service that meets the needs of modern Ireland," the Commissioner added, anticipating "a police service that is technically advanced and highly professional but remains at the heart of communities."