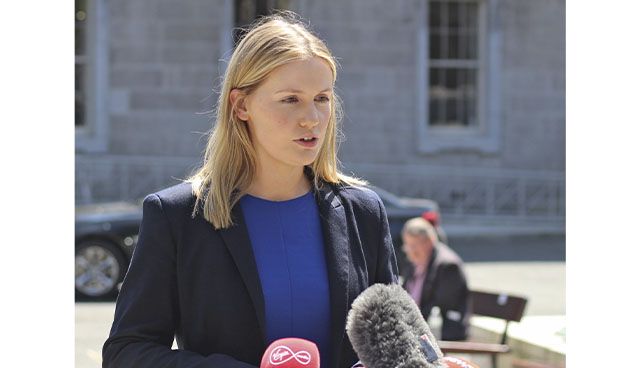 General election 2020 heralded several 'firsts' for Claire Kerrane, the youngest female deputy in the 33rd Dáil. Already a competent media performer for Sinn Féin, the Roscommon-Galway TD sits down with Ciarán Galway to discuss experience, elections, and expectations.
A native of Tibohine, just outside Ballaghaderreen in north-west County Roscommon, Kerrane became a first time TD in February 2020. Simultaneously she became the first female elected to the Dáil in Roscommon since 1969 (and only the second ever after Fine Gael's Joan Burke), and the county's first Sinn Féin TD since George Noble Plunkett (North Roscommon) and Harry Boland (South Roscommon) were elected in 1918.
Kerrane's own political pedigree is emblematic of a constituency that, throughout the last century, had been a bastion of Fianna Fáil and Fine Gael. "My grandad – dad's dad – was a big, big Fine Gaeler," she explains. "I never met him, but I have often heard stories that he used to stand over people in the polling stations. He was staunchly Fine Gael."
Occasionally, since Michael Brennan's election in 1927, Roscommon has been fertile ground on which independents could plough their furrow. Today, they retain almost half of first preference votes. Indeed, as a fledgling politico, Kerrane came under the wing of former independent TD Luke 'Ming' Flanagan when she headed up his constituency office after completing her English, sociology, and politics degree at NUI Galway.
Describing her initial decision to become a parliamentary assistant as "one of the best things I ever did", she recalls: "I was the only one in the office. It gave me a great grounding. I am still in touch with Luke, even today, and we are good friends. He has always been a constant support. In the last general election, he came canvassing for me, so I think a lot of him."
"Trying to reform the entire social protection system is my absolute aim." Claire Kerrane TD, Social Protection and Rural Development spokesperson, Sinn Féin
Youth wings
A Sinn Féin member since the age of 18, Kerrane then went back to college to complete a master's in education for secondary school teaching in English and civic, social, and political education or leaving cert politics and society.
"I did that for two years and then when I came out of that, I got a job in Leinster House as an advisor for social protection with John Brady, our Wicklow TD, in 2016. I worked in Leinster House for the party from 2016 right up until the general election in 2020," she adds.
Crediting her involvement with the D'Arcy Mellows Cumann of Ógra Shinn Féin at NUI Galway as having been "really important for me", Kerrane believes that party youth wings are an important channel for young people.
"I think it is really important that we have that youth element within the party. [Ógra] has a different style. I think it gets away with a little bit more and can be a bit more radical. It is really important because its role is to try to bring young people in."
Ideology
Ideology Several factors informed Kerrane's gravitation towards Sinn Féin. Primarily, from 2010 onwards, a protest campaign sought to prevent a downgrading of Roscommon University Hospital. "The thing that kickstarted politics for me was the big campaign in County Roscommon in 2011 after the emergency unit at the hospital closed," Kerrane recalls. "It was a massive campaign at the time. It felt as though the entire county went up to the Dáil. There were many protests and marches."
Ultimately, the decision to close the hospital's emergency unit, taken by the Fine Gael-Labour government in July 2011, provoked significant and lasting resentment within the county, with Fine Gael yet to return a TD since.
"I remember the injustice of it because promises had been made on the square in Roscommon [town] that this A&E would be retained. Once Fine Gael got into government, the A&E was being closed down."
A&E was being closed down." Conversely, the Roscommon-Galway TD maintains that Sinn Féin was "strong" on the emergency department campaign, despite having only one councillor on Roscommon County Council. Coincidentally, that councillor, Michael Mulligan, is a close family friend. "He has been in my life, all my life. After the A&E campaign, I went to a [Sinn Féin] Ard Fheis as a guest of him and I would have met a lot of politicians at the time. That was it. For me, one of the really big elements of the party was Irish unity; it is something I really want to live to see and be part of if I can at all. That was definitely a driver."
Aligning her party along its preferred left republican axis, Kerrane acclaims its espousal of "social justice and equality", and while emphasising its drive towards Irish unity, she concedes: "We will not do it on our own."
Offering some insight into her analysis, and refuting any drift to the ideological centre, Kerrane insists: "We are in a different space now in politics. It used to be – and I know it from my own family – that each house was either Fianna Fáil or Fine Gael. Things have changed drastically. While the parties that do exist on the left are small – all the other ones I mean – I would love to see us coming together, particularly after the next election, if the numbers are there, to see a left party in power, whatever form that will take.
Election 2020
In keeping with the party's overall outing, Kerrane secured almost 5,000 more first preference votes in the February 2020 general election, when compared with her previous run in the 2016. Given its risible performance in the local and European elections less than a year beforehand, it remains a dramatic and instructive tale in the potential for sudden change in the prevailing electoral winds.
"It was some change alright," she quips, adding: "Ever since then all we hear is that we better run enough candidates the next time. We will not make that mistake again. But we could not foresee it."
Reiterating that Roscommon is not a traditional stronghold of her party ("there is no point in pretending otherwise"), the TD acknowledges that 2019 was a bitter experience for her party. As such, its primary objective for Roscommon-Galway the following year was modest: build the party and build the vote in the constituency.
"We worked hard, we did everything we could, but we never thought, 'Right, here we go'," she says. In the end, though, having secured 8,003 (17.55 per cent) first preference votes, Kerrane successfully dispatched her nearest rival, Fianna Fáil's (now Senator) Eugene Murphy, on the sixth count to become the third and final candidate elected for Roscommon-Galway.
Now, ahead of any future election, the sitting TD's primary objective is to retain the seat for Sinn Féin. That task will be complicated by several factors, not least the strength of the constituency's two sitting independent TDs, and the fact that both Fine Gael and Fianna Fáil will be seeking to revive their fortunes. Intriguingly, the constituency has never returned the same three TDs consecutively.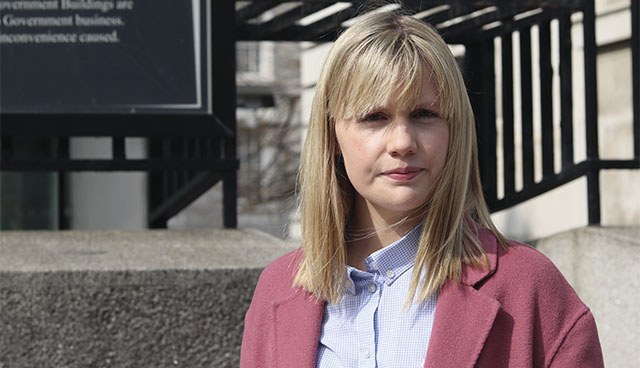 Initial experience
Equipped with experience from her four years in Leinster House, Kerrane had a head start on many of the 47 other first time TDs. "It was like a first day at school," she laughs, "I remember one of my colleagues saying to me, 'where is the bathroom?' That really helped me because at least I knew where the bathroom was, if nothing else.
I think the experience and the background in Leinster House definitely helped me within that bubble. Obviously, I had a relationship with a lot of the TDs. I knew a lot of staff and ushers. All of that helped."
However, having opened two offices – one in Ballaghaderreen, County Roscommon and one in Ballinasloe, County Galway – Kerrane stresses the challenge of establishing herself as a new TD amid the Covid-19 pandemic and public health restrictions.
"The biggest challenge has definitely been Covid. Interaction on the ground has been missing during this first two years. Getting out there, meeting people and organisations has been a real challenge," she maintains.
As a party, we try to canvass all of the time, not just at election time. That is important for me as well and it is something that I really like about the party. It is unusual when you knock on someone's door and the first thing they ask is, 'is there an election on?' It is nice to be able to just say, 'are there any issues in the area, how are things?' It is not something that would typically happen, particularly in rural constituencies. That has definitely helped since Covid has eased."
"We will enter the next election with the ambition, the willingness, and the absolute ability to enter government."
Social protection
Appointed as Sinn Féin's spokesperson on social protection and rural development, Kerrane is tasked with shadowing the Minister for Social Protection and Minister for Rural and Community Development, Heather Humphreys TD.
Critiquing the social protection system as being "very rigid, very black and white", riddled with "anomalies", and "difficult to manoeuvre", the Sinn Féin TD asserts: "Trying to reform the entire social protection system is my absolute aim."
Identifying the prevention of poverty as her priority, Kerrane claims that those who are reliant on social protection, including family carers and people with disabilities, "are not being served well by our current social protection system".
Every single core weekly social welfare rate is set below the poverty line. We have a lot of work to do. To create a social protection system that protects people from poverty should be a very easy aspiration and should already exist, but unfortunately it does not," she contends.
Though she recognises that change would not come overnight, the Sinn Féin spokesperson's most immediate action if she were Minister would be to align all social welfare rates with the minimum essential standard of living (MESL).
"We need to link into the minimum essential standard of living to give people that certainty in relation to their payments and to protect them from poverty. As well as that, we need to get a state pension put in place for carers. It is something that has been talked about for a really long time and something that needs to be done."
Rural development
Turning to rural development, in the Sinn Féin spokesperson's assessment: "The portfolio itself is really just loads of schemes, grants, and financial supports. Whereas a lot of the issues in rural communities – and I live in one – are housing, broadband, health, and access to services which do not actually come under the remit of rural development.
"Those are the issues I want to be raising with Minister Humphreys but cannot because they are not under her remit; they are housing, they are health, they are everything else. Housing is an issue everywhere. Sometimes it can be more predominant in rural areas where there is far less supply, for example. For me it is about developing and sustaining our rural communities so that people can actually live in them and do not have to leave them to go to work."
Overall, Kerrane's most immediate priority if she were minister would be to focus on catching up and accelerating National Broadband Plan (NBP) delivery. "[National Broadband Ireland (NBI)] are missing their targets. There are no penalties for them missing their targets in their contract. The first thing I would do is get [NBI] around the table and work out how they are actually going to catch up on last year's targets; I think it was 34,000 premises passed from an initial target of 115,000. Broadband is absolutely critical for rural areas, and we need to get that right," she says.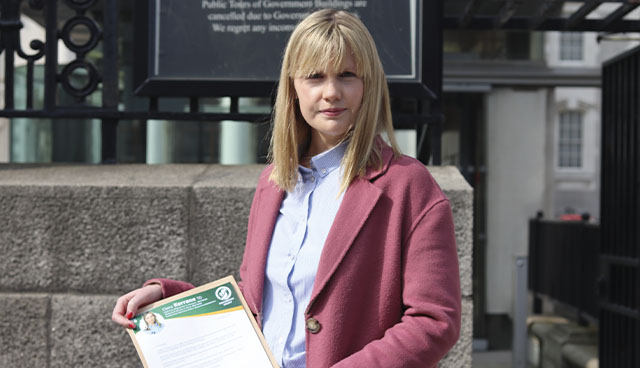 Challenges
Opposition is a frustrating position for any political party, particularly one which has never held power in the history of the State. Allied to the scrutiny of government, the greatest challenge in opposition is developing viable policy alternatives. Yet, despite having seized the title of lead opposition party, the reality "can feel like you are hitting a brick wall", Kerrane admits.
Suggesting that it would be "helpful if the Government had more of an open mind", she is adamant: "On certain issues, we do want to work together, and I would find this in my own portfolio with Minister Humphreys. The Government does not have all the answers. Sometimes there is a shut door where you do not feel that it is listening or taking on board what you are saying. That can be really frustrating. It is a challenge of opposition.
As a TD and as a party, you want to be seen to getting things done. You want to not only raise issues and put forward solutions, but to see things happen. When you are in opposition, that is a lot more difficult to do because you are not in government, and you do not have the same ability."
Ambition
Cognisant of the weight of expectation should Sinn Féin manage to install itself in Government Buildings, Kerrane insists internal preparations are ongoing. "Under Mary Lou's leadership, it is not a case of sit back and see what happens. In my position, I am looking at, if I was minister tomorrow what would I do in my first 100 days, what are my priorities? That is the mindset that we have to be in. We have to be prepared and we have to be ready.
"At the same time, we are not saying this is done or we have this in the bag, we have to be mindful that things change very quickly. We learned that lesson in 2019 and 2020. We will enter the next election with the ambition, the willingness, and the absolute ability to enter government."
Kerrane's personal ambitions are reserved. "Try to hold my seat," she quips. "I love what I am doing, but it is challenging. It is go, go, go. I very happy to be a TD and I will be here for as long as the people allow me to. That is what it comes down to in the next election, my own ambition will be to hold the seat for the party, to grow the vote and to hopefully enter government, whatever that may look like. That is what we want to do because that is where we will deliver change."