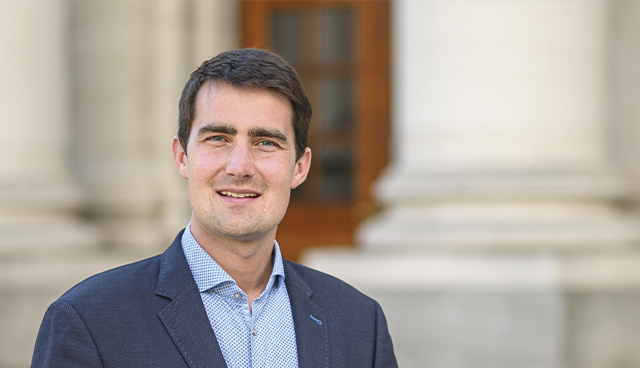 As one of the youngest deputies in the Dáil, with a Dublin base, a good rapport with his party's membership, a track record of loyalty to the current leadership, and cabinet experience as a super junior minister, Jack Chambers TD is likely to have a bright future in Fianna Fáil. The Government Chief Whip sits down with Ciarán Galway to discuss political trajectory, priorities, and ambition.
Though there are no less than four camáin in his office – complemented by a OPW-loaned illustration of hurlers anticipating a puck out – the Minister of State with responsibility for Sport insists his allegiances lie with the size five ball, having previously played football with the St Brigid's club in Castleknock.
Indeed, while both his parents hail from County Mayo – his father, Frank, from Newport and his mother, Barbara, from Hollymount – Chambers was born in Galway and raised in west Dublin from the age of two.
Both his paternal and maternal families had traditional political affiliations and he is particularly keen to emphasise his anti-Treaty and Fianna Fáil lineage. Chambers's great-grandmother, Nora Chambers, "was involved in some of the anti-Treaty ambushes around the 1920s". Meanwhile, his great-aunt, Bridget Rice (née Henaghan), from Louisburgh, County Mayo, was married to Monaghan Fianna Fáil TD Eamon Rice of Iniskeen. After Eamon's death in 1937, Bridget retained the seat for the party from 1938 until she retired in 1954. On the other hand, though, his mother's family "would have been more Fine Gael".
More recently, his father was locally involved with Fianna Fáil in the Dublin West constituency, exposing him to political activity, which included canvassing for Brian Lenihan Jnr from a young age. Remarking on his relationship with his late party colleague, Chambers reflects: "Brian Lenihan was someone who showed incredible public service, who was a brilliant constituency politician but also was someone who represented the country with dignity and hard work in everything he did nationally. So, that is how I initially got involved in politics and I just got more active as I grew older."
People are ready for a more progressive style of governance.
However, the TD for Dublin West does not believe that his path into Fianna Fáil was preordained by virtue of his familial ties. Rather, he insists, it was conscious decision given that the party aligns with his own perspective "across a number of issues", not least "the republican tradition".
"I think where we sit on issues such as housing, health, the State playing a strong role in our public services and that Lemass tradition of pro-enterprise as well. With their political figures, Fianna Fáil was always the right fit for me," he asserts.
Political origins
Having completed a degree in law and political science at Trinity, Chambers had an obvious interest in pursuing a political career, but "did not know when the opportunity would arise". As such, he subsequently enrolled to study medicine at the Royal College of Surgeons in Ireland (RCSI). However, his journey into electoral politics started sooner than expected when, in 2014, he was elected to represent Castleknock in Fingal County Council.
Chambers had been a local area representative since 2012 after David McGuinness failed to secure Fianna Fáil's Dublin West seat in the October 2011 by-election, following the death of Brian Lenihan Jnr in June that year.
Recollecting Fianna Fáil's fortunes in Dublin during that era, Chambers outlines: "We had a huge absence of representation across the city not just with Dáil seats, but also the party was keen on building better council representation.
"[Party leader] Micheál Martin TD was strong in encouraging new young candidates who had not run before and had an interest in politics to take the plunge. Some are now councillors, some are TDs, and some others dipped their toes in and found it was not for them. But it was a really inclusive way to bring new people into politics and give them a chance to run and become active in their local communities."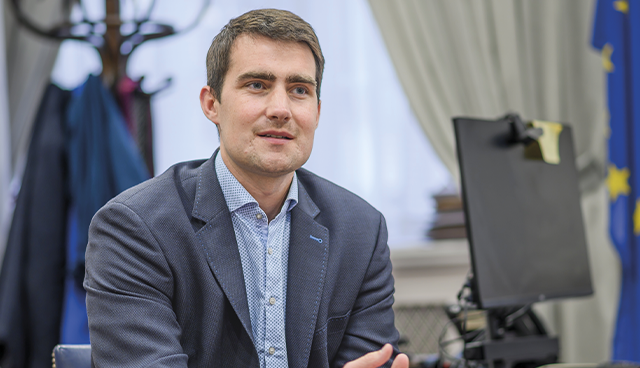 First time TD
Experience garnered at local level provided him with sufficient momentum in the internal Fianna Fáil structures to contest the 2015 convention to be the party's Dáil candidate for Dublin West in the 2016 General Election. Following his subsequent election, at the age of 25, Chambers became the youngest TD in the 32nd Dáil.
Having been fortified by his time as a councillor, he was unfazed by his rapid ascent to first time TD and embraced the challenge. "I always loved representation and following through on people's issues since before I was ever elected. I was very much privileged to be selected by my local members, received good community support, and then was very consistent to my work ethic when it came to Fingal County Council. That gave me a very good platform to get elected to the Dáil in 2016.
"I suppose politics is about taking the chance when you have the opportunity and being courageous to run," he reflects.
Initially appointed as a party spokesperson on drugs, he then became Fianna Fáil's spokesperson for both defence and climate action, communications, and the environment, as well as sitting on the Justice and Climate Action Committees. Reflecting on the learning curve, he recalls the advice of more experienced colleagues about "how to continue to run a good operation and how to manage your first period in the Dáil, and how important it is to continue to follow through and focus on the key issues of your constituents". Simultaneously operating within the committee system, he suggests, instils "a good grounding on the policy issues and learning about different external perspectives on policy issues".
[As Chief Whip] you always work a week ahead, in a worst-case scenario position, so that the Government's majority is protected at all costs.
Second term
A month after his re-election in the February 2020 General Election, Chambers finally qualified as a medical doctor. Upon formation of the triparty coalition government in June, the Dublin West TD was initially appointed as Minister of State at the Department of Finance before replacing colleague Dara Calleary TD as Government Chief Whip and Minister of State for Sport and the Gaeltacht.
Pushed as to whether he was disappointed when not appointed to a full cabinet portfolio in 2020, Chambers indicates that he was "delighted to be asked to serve as Government Chief Whip and as Minister for Sport and the Gaeltacht".
"A week is a long time in politics. In politics you are elected every number of years and so the best thing any Minister can do is work to follow through on your priorities every week and I am delighted with my current role," he adds.
As a super junior minister, or a Minister of State who attends cabinet, Chambers is the youngest voice in the cabinet of the 32nd Government of Ireland. "I think it is good that there is a young person's voice," he comments, adding: "In fairness, we have a cabinet that is a mix of different ages and backgrounds. I think it is healthy that in any working group and as a younger member of the cabinet I reflect the issues that come up not only for my generation but also for my constituency."
Looking ahead to a potential cabinet reshuffle in December 2022, Chambers is loath to speculate. "Any changes are a matter for the Taoiseach, but I am driven to do the job I am given and anything beyond that is a matter for the party leaders and the Taoiseach. We have a lot of work to do over the next six months," he says.
Defence
In November 2020, Chambers was also appointed as Minister of State at the Department of Defence. However, the position is largely ceremonial in function. Indeed, responding to a question from Sinn Féin's Aengus Ó Snodaigh TD in February 2021, Minister for Defence Simon Coveney TD stated: "No functions of the Minister for Defence have been delegated to the Minister of State and full responsibility for defence policies, the Department of Defence and the Defence Forces remains with Minister Coveney who will continue to represent Defence at cabinet."
As such, on certain occasions the Minister of State has "taken certain legislation in the Seanad and I have represented the Department and the Minister at different events, engagements, or interactions. So, duties are delegated intermittently".
Party youth
While his involvement with Ógra Fianna Fáil was relatively limited, Chambers believes that party youth organisations can complement broader party structures. "That is a very important way of introducing people to politics and giving them that space to debate issues and shape policy. When I was involved with the Programme for Government, we had discussions trying to involve Ógra's voice, and its input was really important.
"Youth wings have a very strong role, and they are very important part of spreading our message and allowing young people to shape our message and our policies. It is very important to have a tight involvement of Ógra in all aspects of policy and when the Taoiseach appointed Christopher O'Sullivan TD [as the parliamentary party's Ógra liaison] it was a good way of supporting that."
Ideology
Defining Fianna Fáil as a "strong party of the centre", and one which is "pro-enterprise and inclusive", the Dublin West TD identifies several broad distinct features. Among these, he emphasises party's legacy in housing and the European Union, alongside its republicanism.
"I believe in unity and our strong republican ideas, which is very much of being for the people, by the people and of the people, with that strong sense of constitutional republicanism," he observes.
Making a comparison with other parties which he describes as populist in the pejorative sense, Chambers insists: "We are a party that gets things done in government and follows through. I think people have backed us in politics and in democratic representation because of our drive to follow through and represent our communities."
In May 2018, Chambers was one of 31 Fianna Fáil TDs and senators who posed in a photocall in Merrion Square Park, Dublin, urging voters to support of the retention of the Eighth Amendment. The stunt contrasted with leader Micheál Martin TD's ultimately victorious support for Repeal.
Today, in a significant volte face, the Dublin West TD is now supportive of abortion up to 12 weeks, in all circumstances. Explaining the complete reversal in his opinion, he credits having met people and "hearing different perspectives".
"I think that in politics we always have to be open to different perspectives and allow that to shape your own view and I support the current constitutional position. I think it is a better place in terms of women's healthcare and giving people that choice," he states.
"It is a big change in your perspective, but I think it is important that in politics you are open and listening and hearing different perspectives definitely persuaded me that today we are in a much better place now than we were."
As a party, delivering on housing is a key priority for us
Chief Whip
In exercising his remit as Government Chief Whip, Chambers describes his style as "very collaborative and collegial" while also being strict on absences. "It is the working majority of the Government, and we need everyone present to ensure that that continues. But you also work with colleagues when it comes to pairing arrangements and authorised absence through illness or other specific matters. It has to be tight and as whip there can be no surprises; you have to know what is ahead," he insists.
Outlining priorities of this role, he indicates that the "first job is to manage the arithmetic of the coalition" to ensure "a very solid gap between the Government and the Opposition". As such, management of the pairing system – especially in the context of Covid – and the business of the Dáil is key.
"In the Business Committee, I present the government business every week, and try to develop a consensus there with my opposition colleagues. I also chair the Government Legislation Committee which works on priority legislation and sequencing the legislation through the Houses.
"As whip, you are the interface of the Government and the Dáil when it comes to the running of the Government's business. Managing that and managing a cohesive team has been important to delivering an ambitious legislative programme."
Outlining that Government has enacted "over 100 pieces of legislation", Chambers explains that he also liaises with the Attorney General and government ministers on this sequencing. "There is a lot of work that goes into that behind the scenes as well as always trying to be a week ahead of myself," he notes.
Fine Gael Deputy Joe McHugh's resignation of the party whip threatened to destabilise the Government's stability. However, the failed motion of no confidence in the Government, as tabled by Sinn Féin ahead of the 2022 summer recess, is now the Chief Whip's base metric for the Government's reliable majority. "I think we were able to prove that with a majority of 19 in the confidence motion which gives us strong stability going into the winter period," he says.
At the same time, he warns against complacency and adds: "[As Chief Whip] you always work a week ahead, in a worst-case scenario position, so that the Government's majority is protected at all costs."
Challenges for Fianna Fáil
Identifying housing as the primary challenge prioritised by Fianna Fáil in government, the Chief Whip describes Housing Minister Darragh O'Brien TD as having undertaken "excellent work in repositioning our legislative architecture" around affordability and protection for renters, while DPER Minister Michael McGrath TD has, he argues, introduced "a serious step change in the State's investment in public and affordable housing".
"The next phase on that is to see a follow through on that and commence and a real step change on the level of social and affordable housing. I think that is the issue of this generation.
"As a party, this was one of our primary issues as we entered government and delivering on housing is a key priority for us. We have seen progress but there is more to do and that is why we are keen to ensure progress, and Housing for All is a key step for change on our policy on that."
Responding to the cost-of-living and energy crises is a second priority flagged by Chambers. "The fiscal space that is now available with the improved management of the economy sometimes gets overseen," he contends, adding: "Coming out of Covid we are one of the fastest growing economies in the EU. We have one of the highest levels of employment. That has given us the space to protect the most vulnerable, give opportunities to those most in need."

Ambitions
Reflecting on his own ambitions and whether he may, one day, seek to lead Fianna Fáil, he concludes: "That is not in my thinking at the moment. I am honoured to do the job I do, and I look forward to doing it over the coming weeks and months. I am someone who is focused and driven by the issues and areas that I have responsibility for and that is my motivation for the current term ahead."