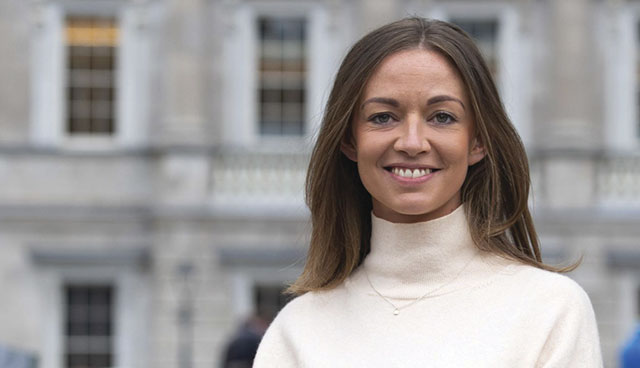 Ciarán Galway speaks with the Social Democrat TD for Cork South-West, Holly Cairns, exploring her political origins and policy priorities, as well as her initial experiences as an elected representative and optimism for political change.
Holly Cairns is the only female TD in Cork. Just one out of 18. In fact, there are five-times as many Michaels representing the county of Cork in Dáil Éireann than there are women.
Whilst not considering her family to be political per se, the Cork South-West TD first became politically engaged in 2011 when she canvassed for Senator David Norris in the presidential election. "I remember, at the time, being outraged about the injustice of the absence of marriage equality and thinking that he would be the president most likely to change it," she remarks.
Several years later, during the marriage equality referendum Cairns reignited her interest, before joining the Repeal the Eighth movement and deciding to enter politics. "I realised that knocking on doors and asking for votes really works. It was a moment of realisation, particularly with Repeal," she says.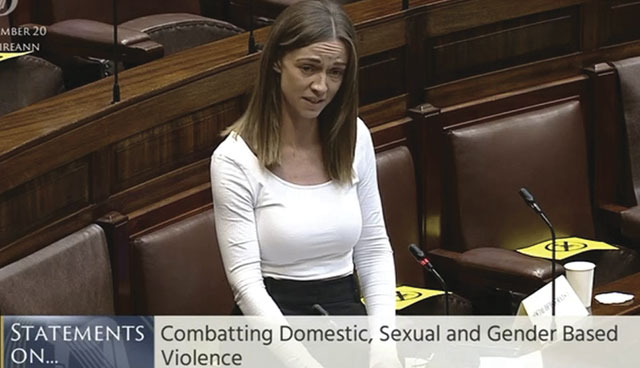 People are ready for a more progressive style of governance.
Having watched successive governments "dragged along by change that is happening around it; like marriage equality and Repeal", Cairns suggests that "we really are ready for a government that leads that change". The winds of change did not arrive sooner, she believes, because a real alternative to the Civil War dichotomy did not exist.
"Historically, Fianna Fáil and Fine Gael would have taken up 80 per cent of the vote. Now we are at a real change point where they need each other go into government. This is the time when change is happening. People are ready for a more progressive style of governance," the Social Democrat TD contends.
Joining the Social Democrats
While initially considering the Green Party as a "natural home", upon exploring other policies, Cairns joined the Social Democrats, asserting: "I do not think that climate action will work without social democracy."
Paying tribute to her party leaders, Róisín Shortall TD and Catherine Murphy TD, whom she describes as "two of the most hardworking and honest parliamentarians in the country", the west Cork native insists that policy documents are subordinate to party ethos and approach to government.
"The approach you take is so important. It strikes me as well that you cannot govern a society that promotes equality if that does not even exist in your own party," she says.
While two-thirds of the Social Democrats' representatives are female, Cairns believes that "older parties" are hindered by a degree of institutionalism.
Electoral success
After deciding to enter politics, Cairns helped establish a three-member Cork South-West branch of the Social Democrats with two female allies from the Repeal the Eighth campaign. By the time of the local elections in May 2019, the branch had developed to the extent that Cairns successfully secured the final seat in the Bantry-West Cork Local Electoral Area during the Cork County Council election, winning by one single vote.
Outlining her rationale for then establishing the Inside the Chamber podcast, through which she chronicled her experiences as a new public representative and the machinations of local government in Ireland, Cairns asserts: "You just have no idea how things like local authorities work until you are in there."
Just eight months separated the locals and the general election in February 2020 in which she attracted sufficient transfers to secure Cork South-West's third and final Dáil seat on the eighth count, completing her journey from prospective councillor to Teachta Dála in less than one year.
Conceding that her entry into the Dáil has been "such a steep learning curve", Cairns identifies the development of an understanding of the workings of the House as a challenge. "I have learnt so much in the past 20 months," she reflects, adding: "I am lucky to have an amazing team who learn a lot of it and teach it to me. It has been a real team effort."
Barriers to women
While Cairns maintains that there are no barriers to female participation in the Social Democrats, there are several obvious barriers in seeking elevation to Dáil Éireann. "Often, during the day in Leinster House, you may feel like the minority or the only woman in the room, but it is nice when you go into your parliamentary meetings and that is not the case. Even down to our party structures, we have a chair and a vice-chair who are both women and both from Cork," she relays.
One specific barrier identified by Cork's solitary female TD is the lack of maternity provisions for any public representatives, including councillors, senators, TDs, and ministers. However, ultimately, she characterises the older, established parties as the most significant barriers to female participation.
"It is a very male dominated environment in those parties and difficult for women to break in, be taken seriously and be put on the ticket. They are not really considered for it in the same way and that ultimately, is the biggest problem."
In her own county, much of Cairns' workload is determined by the fact that she is a woman. Challenges that predominantly impact women, such as maternity restrictions in hospitals, refuge spaces for domestic violence, rent supplements and access to housing for people fleeing domestic violence, and the Repeal Review, consume much of her time.
While she regards it as an honour and a privilege to work on these policy issues, she maintains: "If we had more women, I think I would be able to spread my work over more issues… Often, I am asked to talk about female participation, women in politics, or female leadership. It would be nice to talk about things like agriculture as well."
People are sick of Fianna Fáil and Fine Gael. They want a change and from just chatting to people, they do not necessarily want that change to be Sinn Féin.
Priorities
As Spokesperson on Agriculture, Food and the Marine; Rural Development; Social Justice; and Disability, Cairns has a broad remit within the Social Democrats. Alongside disability support services and social justice, it is perhaps unsurprising that, having grown up on a farm, Cairns' deepest policy knowledge is rooted in agriculture.
With her family forced to abandon dairying, and subsequently cattle farming, due to economic unviability, she now applies her MSc in organic horticulture to a vegetable seed production company, Brown Envelope Seeds.
For the west Cork woman, the most significant agricultural priority is reframing the conversation away from "asking whether we should or should not reduce emissions in the agriculture sector". "There is no point," she says, "in arguing with the science and facts in relation to this. We have to reduce emissions in all sectors, including agriculture.
"Ultimately, what we should be talking about at this point is how we do this in a way that is fair for farming communities. In my lifetime, the way that we farm has completely transformed and never did we have a national discussion around [this transformation] and the knock-on effect that it has had on rural communities."
Criticising successive governments for having made "policy decisions which have really helped big business and big multinational agrifood companies", rather than farmers and food producers, Cairns decries the narrative that the intensification of the industry is good for farmers and that a more sustainable model is somehow anti-farmer.
"When you hear people spinning that narrative, you would swear that farmers have nothing at stake when it comes to climate change. The [agri] sector will be the first and the hardest hit. The landscapes that the industry depends on are constantly being damaged. There is no such thing as cheap food. It is costing somewhere and at the moment it is costing the environment which is very unfair on the next generation of farmers," she analyses.
Greenwashing
Rejecting the Organic Farming Scheme, the Green, Low-Carbon, Agri-Environment Scheme, and the new Results-Based Environment-Agri Pilot Project as inadequate and, ultimately, as "greenwashing", Cairns believes: "We need to change national policy because it gets away from us-versus-them or the segregation within the sector. Actual policy for the entire sector needs to change and that is the only we are going to protect the soil, maybe reverse some of the damage, stop polluting waters and the air
"The approach that [the Social Democrats] would take is an overall policy one, not more little schemes. I see the purpose of them in terms of greenwashing and convincing the public that [the Government] is making an effort, but I do not see the purpose of them when you look at the science of what we need to do to make changes."
Herd numbers
Suggesting that Irish farmers do not want increasingly large herds of cattle, particularly in the absence of sufficient space, feed, and grass, Cairns argues that agricultural policy has funnelled them into this course of action. "Policy must change – like the law around low-cost selling, to ensure that farmers get a fair price for their product, so they do not have to overstock in order to make ends meet," she explains.
"We always hear this conversation around the culling of the herd. It is so interesting when you think about what was happening with COP26 and saying that we are going to reduce emissions but not reduce the national herd. The reality is the herd has to reduce over time or we are not going to meet our targets. We have to be realistic.
Now is the time for change. We have seen time and time again, when people are voting outside of party politics, such as in referendums, they are voting really for more socially democratic policies.
"What we need to do if we are going to reduce the herd rather than cull it is reduce the amount of cattle that are inseminated this year and ensure that farmers are still getting a fair price for what they have. That increases per livestock unit as the livestock units decrease. We start to reduce the herd now so that there is no culling, there is a reduction. That has not been done. Ultimately, what the Government is doing is kicking the can down the road for another government to have to do that and take a really horrible, cruel approach."
Cognisant that articulating such policies may be a unpopular among farming communities, Cairns insists that farmers are underestimated. "Farmers understand science, facts, and the environment more than most. There is a loud minority shouting, 'this is anti-farmer' and 'we want more cattle'. That is not the majority of people."
Challenges of opposition
While recent polls suggest that the electorate may be more disposed to change, an obvious challenge for the Social Democrats is ensuring a high calibre of candidates in each constituency and developing greater awareness of the party, which currently has six TDs and 19 councillors, as a viable option.
"People are sick of Fianna Fáil and Fine Gael. They want a change and from just chatting to people, they do not necessarily want that change to be Sinn Féin," Cairns observes.
"I think what people want is something more focused on the future rather than the past, particularly when we are talking about the biggest challenge being climate change. I am sick of politics about the past and people really would like an alternative. We see our biggest job as providing that alternative."
Acknowledging the importance of an effective and diligent opposition, the Cork TD also expresses her frustration with being outside the executive. "I realise how important it is, but it is incredibly frustrating. I do not think that any one goes into politics to go into opposition," she remarks.
Optimism
Having personally experienced how quickly change can happen in terms of her own political journey, Cairns is optimistic about the future. Though that is not to say that she is patient about the pace of change.
"I remember after the general election [in 2020], realising that we were going to end up with another Fianna Fáil/Fine Gael government and thinking that change is so slow," she says, before qualifying: "But I remember Catherine Murphy talking to me at that time and saying, 'you don't know how monumental this is'. It is not one or the other. The two of them together — almost for a second time, but properly for the first time — is actually a sea change, and it is all happening very quickly now.
Reiterating her desire to reframe agricultural policy and ratify the CRPD optional protocol, Cairns concludes: "When you zoom out, you have to feel optimistic. Now is the time for change. We have seen time and time again, when people are voting outside of party politics, such as in referendums, they are really voting for more socially democratic policies."