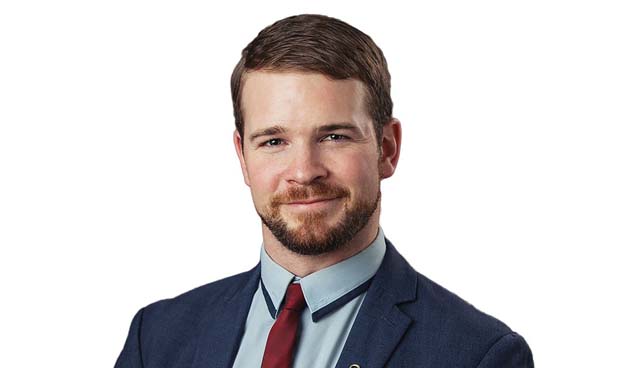 In the first instalment of eolas' new Mol an óige series, profiling the youngest Teachtaí Dála, Ciarán Galway engages the Sinn Féin deputy for Cork South-Central and the party's current education spokesperson, Donnchadh Ó Laoghaire, to discuss political origins, parliamentary experience, party ideology, and personal ambitions for the future.
In the absence of familial ties to party politics, Deputy Ó Laoghaire identifies two major factors which stirred his own involvement. The first is the awakening of his political consciousness as a teenager. While the Celtic Tiger was still roaring at the time, the future TD was acutely cognisant of disadvantage in his local community of Togher on the southside of Cork city. However, only one party captured his attention, and he remarks: "I am not sure it is the case that if there was not a Sinn Féin on the market that I would have got involved in politics."
The second factor he emphasises is the gathering pace of the peace process during the same period. "I admired the work that Gerry Adams and Martin McGuinness were doing and their ability to deliver. The achievement that they had been part of in the peace process and getting the institutions re-established and everything that was connected to that, parity of esteem and equality," Ó Laoghaire recalls.
Ógra Shinn Féin
Subsequently, he joined the Martin Hurson Cumann of Ógra Shinn Féin at University College Cork and ultimately became the national organiser of his party's youth wing. Recalling his first Ógra meeting, it was, he says, attended by "very similar, likeminded young people".
Commenting on the value of party youth wings, Ó Laoghaire maintains: "That is a far easier space to step into rather than an established local party branch which might have a mix of ages, people who are very well known in the community and might be a bit more of a difficult space to assert yourself in and to have opinions and that kind of thing.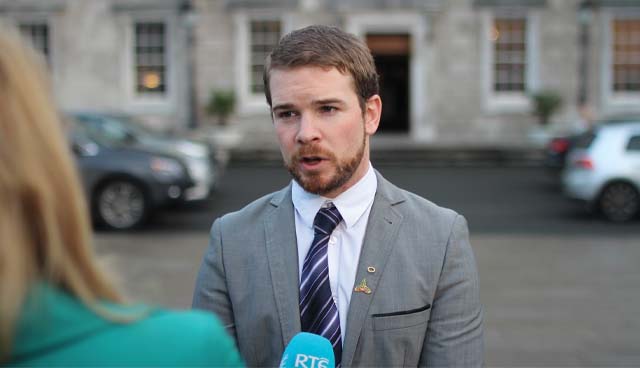 It is not that there is an inherent virtue in young people or young women or any particular category. It is that we need the Dáil to look like the country as a whole.
"My experience of Ógra was very sociable. At the time, it was good for attending weekend events, discussions, and debates… Travelling around the place and making friends with people from all over the country. All that kind of stuff helps people to develop their politics."
Young people and women
Reflecting on the role of young people and women more generally, the Sinn Féin education spokesperson believes that democracy works best when it is representative. Presently, he argues, the Dáil is too male and too middle class.
"It is not that there is an inherent virtue in young people or young women or any particular category. It is that we need the Dáil to look like the country as a whole. We need a fair balance of old and young, male and female, straight and gay, new Irish and people who have been here for however many generations.
"In Sinn Féin, we are lucky to have a number of very talented young TDs. Why is it important? Because the issues that young people generally, and young women specifically, are facing will not get adequate attention if their voices are not there… If there were more young women around the cabinet table then that might not be the case," he posits.
Ideology
Defining Sinn Féin's current ideology, the Corkman embraces parliamentary party colleague Eoin Ó Broin's categorisation of left republicanism. While acknowledging that there are republicans who do not identify with the political left, particularly internationally, he stresses Irish republicanism's emphasis on equality, Irish unity, national democracy, and pluralism.
"It is in that left republican frame that I would see Sinn Féin," he asserts, adding: "The thing that defines Sinn Féin from other parties is that we are not only interested in changing policies, but in changing the course of Irish politics.
The thing that defines Sinn Féin from other parties is that we are not only interested in changing policies, but in changing the course of Irish politics.
"That includes the ending of partition and the creation of a new republic, a new Ireland. The changing of the constitutional status cannot only be about the lines on the maps, it has to be about delivering something new and transformative for the country."
Asked to consider whether his party has, in reality, begun to drift towards the political centre, he argues: "I do not look at our manifestos and see much difference, for example, the 2011 manifesto, albeit the economic climate was much different. I do not see that our perspective or our main policies have changed very much at all."
Overton window
Reflecting on definitions of centrism, Ó Laoghaire believes that Sinn Féin has already shifted the Overton window leftwards. "The objective is to bring your position into the centre so that the political centre becomes your ideas. I think that we have achieved that to some extent.
"It is hard to imagine Fianna Fáil and Fine Gael TDs talking about [social housing] in the same way 10 or 15 years ago. I think it is because we have forced it to the centre. Are they doing it right? Far from it. Nor have they the required ambition. But the fact that that language has entered their lexicon is a reflection of how we have impacted where the politics of the centre are. In fact, I believe Irish society is moving to the left. Maybe not at a runaway pace, but gradually I think that it is."
Armed struggle
In August 2021, following the 40th anniversary of the 1981 hunger strike, Ó Laoghaire stated: "It is not my view that you need to agree with the armed conflict, or you need to agree with every element in order to be a member of Sinn Féin or in order to support Sinn Féin."
Asked how someone who rejects or retrospectively rejects the armed struggle can reconcile that position with Sinn Féin membership, the Cork TD stands over his remarks, though elaborates on them. "I think it would be difficult to identify with Sinn Féin if you did not at least understand the root causes of the conflict," he begins, adding: "If a person wants to join Sinn Féin, it is more than adequate that they have an understanding that the situation in the run up to 1968 and 1969 was unsustainable; it was single party, majoritarian, authoritarian government based on discrimination. It was unsustainable.
"The attempts to reform it were foundering on the rocks and effectively going nowhere at that point in time. With Burntollet Bridge and everything that followed after it, conflict escalated. There are numerous parties that had a role in that. It would be hard to imagine somebody identifying with Sinn Féin if they did not at least have a sense that the conflict did not emerge from a vacuum, it emerged from oppression and from anti-democratic government."
Interestingly, he suggests that there are "plenty of members within Sinn Féin who do not agree with every element of the armed struggle" and submits: "Probably the majority of Sinn Féin members could identify things that were done by the IRA, but obviously across the board as well, that they would say should not have happened.
"I would say there are Sinn Féin members who would not necessarily agree with the armed conflict, generally speaking, and I think that is as it should be in the sense that everyone should be welcome. The focus of the party should be and is on today and the Ireland that we want to create."
Dáil experience
By 2009, the then 20-year-old experienced his first foray into electoral politics when he unsuccessfully contested the 2009 local election. While failing to get elected, he subsequently took up a role working for Sinn Féin in Dublin.
Working as a political advisor for then Cork East TD Sandra McLellan, and subsequently seanadóirí David Cullinane and Trevor Ó Clochartaigh, Ó Laoghaire gained experience of policy, legislation and Dáil procedures. "It was a great help when I was elected as TD because there were some elements of the system that I understood straight away because I had been doing them myself. That was a huge benefit," he says.
"I was lucky that there was a job in Leinster House. It was not really a planned thing, but I applied, and I got it. I worked away at that for the guts of three years and then came home and ran for the county council again."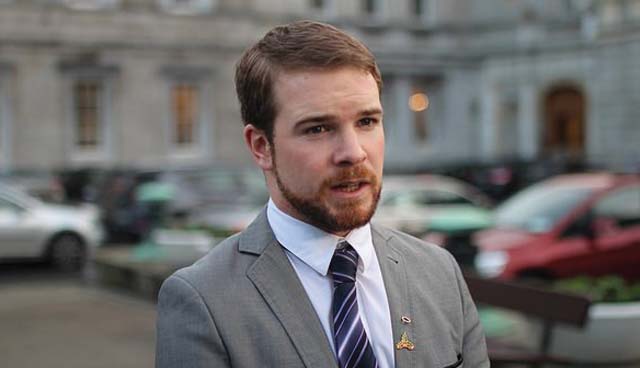 The lesson in that is that the wheel always turns, and you cannot take it for granted that it is always going to be this way, so we have to work hard and hold onto people's votes.
Ó Laoghaire has since travelled on a substantial learning curve since his first entry into the Dáil in 2016, after having served as a councillor on Cork County Council for two years since 2014. From the outset, he was catapulted into the Sinn Féin frontbench as spokesperson on children before being posted to "very challenging brief" as justice spokesperson from May 2017 and as such, he had to "learn fast".
While acknowledging that he does enjoy the policy and legislative aspects of his role, the Cork TD expresses frustration that the pandemic had, to a large extent, inhibited face-to-face engagement within his Cork South-Central constituency. "You see the community at its best and that has been absent. That thing that brings a lot of us into politics is contact with and being embedded in the community. That has been absent for the last year-and-a-half," he comments.
2020 General Election
In February 2020, Ó Laoghaire topped the poll in Cork South-Central, ahead of now Taoiseach Micheál Martin TD and senior ministers Simon Coveney TD and Michael McGrath TD. Almost doubling his first preference vote percentage from 12.5 per cent to 24.6 per cent, he secured his spot as the first TD elected to the 33rd Dáil. The victory was the first indication of Sinn Féin's national resurgence, reversing a marked decline in its electoral performance, having suffered setbacks in the 2019 local and European elections.
Evoking the "relief and surprise", the Cork TD confirms that his party's performance exceeded even its own expectations. "It is not that long ago, I think 2007, when we got around 5 per cent of the vote. We were a fairly marginal force. The lesson in that is that the wheel always turns, and you cannot take it for granted that it is always going to be this way, so we have to work hard and hold onto people's votes.
"The other thing to say is that I was proud and delighted… I was the beneficiary of a national mood, as were many others."
Government ambitions and delivery
Having polled an average of 29.6 per cent across all opinion polls from 8 February 2020 to 16 October 2021, Sinn Féin, currently the largest party in the Dáil, is faced with several challenges as the lead opposition party.
First and foremost, the party must seek to retain its unprecedented relevance if it is to continue to capitalise on the fragmentation of the old two-party system. Alongside housing and health, the education spokesperson identifies childcare, the future and work and pensions as key battlegrounds for the next election.
If and when it enters government, Sinn Féin will be under enormous pressure to deliver on its manifesto. Turning to ambitions and whether any particular cabinet portfolio appeals to him most, the Sinn Féin frontbencher insists that his primary ambition is to get into government and deliver once there, while he would "not be claiming any particular portfolio".
"To ensure that we are a continuous and sustainable force in government, we have to make sure that we are delivering during the first time out. We must ensure that we do not lose people or see the electorate walk away from us. My ambition, therefore, is to ensure that Sinn Féin is a long-term force in Irish politics, not just here today and gone tomorrow."
Reflecting on its long march to becoming a force in Irish parliamentary politics, Ó Laoghaire concludes: "Obviously, Sinn Féin was a small party not that terribly long ago, but unlike other small parties, Sinn Féin had people the length and breadth of the country who were doing a lot of the groundwork. It was slow, painstaking work.
"I can think of people in my own area, in the southside of Cork city, which would not have been one of the first areas that we would have made a breakthrough in. They were working at that for years and years. I think of Henry Cremin who just stepped off from Cork City Council last summer who has been involved with Sinn Féin for the guts of 30 years. It is people like him who deserve huge credit for building an organisation, as well as the party and how we navigated the politics and provided a vision for Irish society."