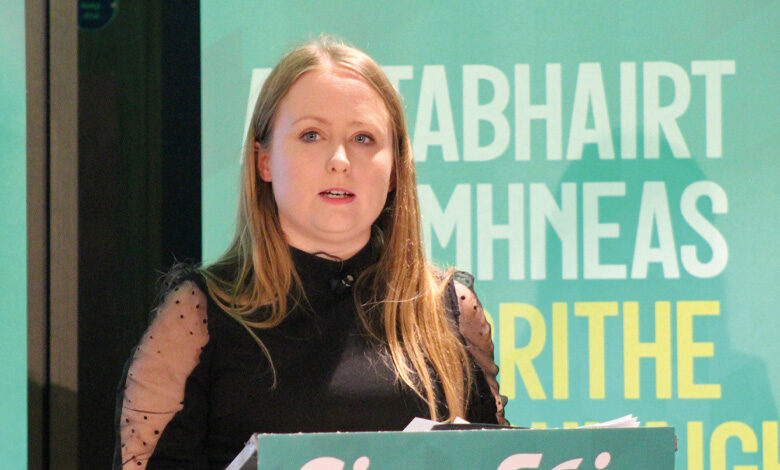 Sitting down with Ciarán Galway, Sinn Féin's Spokesperson for Public Expenditure and Reform Mairéad Farrell TD talks formative ideology, being a first-time TD, her Galway West constituency, and pursuing legislative priorities.
Scattered with republican and internationalist iconography – as well as a photograph of a Conamara landscape taken by University of Galway geography professor Chaosheng Zhang – Mairéad Farrell's office in Leinster House must feel very distant from her time working in a leading European bank.
Despite an initial career trajectory in finance, having completed an MSc in risk and investment management in Belfast, Farrell has been immersed in politics since her teenage years and, in 2020, was the first Sinn Féin TD elected in Galway West since 1922.
Political origins
While acknowledging that "both my parents would be quite political", she charts her political consciousness back to her grá do stair na hÉireann. "I got interested in politics through history. I always loved Irish history and what I think sparked it off for me was when we were in second year or third year. We were reading Pádraig Pearse's oration at [Jeremiah] O'Donovan Rossa's grave," she recounts.
Around the same time, the Farrell family canvassed for Independent TD Catherine Connolly – now a constituency colleague in Galway West – and her sister, Colette Connolly, a former Mayor of Galway City Council. "In that sense, while some people may say, 'oh, as a woman, do you think there are barriers?' But I only canvassed for women, so I never knew any different," she reflects.
Obviously, family was foundational to Farrell's politicisation. Yet, in spite of the republican movement's deep affinity with her late aunt and namesake – who contested the 1981 general election in Cork North Central – the Galway West TD does not feel any weight of historic legacy. "It never crosses my mind until someone says it to me, to be perfectly honest," she remarks.
Simultaneously, while joining Sinn Féin was a long-held aspiration for Farrell, none of her family were involved with the party. "I always wanted to join Sinn Féin for a long time, even from when I was 14 or 15," she says, adding: "But my mother said: 'Wait until you go to college.' She was right – rather than joining in Leaving Cert year. So that is what I did. I joined the summer before college."
"There is something fundamentally wrong with the way this society is working, and we need to have change that will help people…" Mairéad Farrell TD
Ideology
Explaining her rationale for choosing to join Sinn Féin, Farrell recalls the context of the international financial crash and the intensification of its impact on Ireland from 2008 onwards. "We were going in to finish our Leaving Cert and there was no certainty as to what they were going to do next in terms of college and unemployment," she says, adding: "The economics of Sinn Féin interested me." In addition to this, her self-identification as "a united Irelander" also aligns with the Sinn Féin ideology which she determines to be "left republican".
However, in policy positions anathema to left politics, Sinn Féin opposes both the Local Property Tax and supported the retention of a 12.5 per cent rate of corporation tax. Addressing what could therefore be interpreted as an ideological drift to the centre, Farrell betrays a hint of irritation. "On the Local Property Tax – and I am sick of saying this – there are people who find it very difficult to pay [it]. I meet them when I am canvassing, or they come to me to tell me. The majority of left-wing parties in this state are against this tax. In relation to corporation tax, that is totally out of our hands now. There is an OECD agreement, so we will see how that goes."
Informed by experiences from her weekly constituency clinic and by the harsh socioeconomic challenges faced by some of her constituents she asserts: "There is something fundamentally wrong with the way this society is working, and we need to have change that will help people… That is why I am here, doing what I am doing, because I fundamentally believe that Sinn Féin will deliver that change."
Ógra
Moving to consider the virtues of political youth wings, Farrell explains that while she had already party membership, it was through a college friendship with Caoimhe Sloan – now a member of the Sinn Féin ard chomhairle – that she was introduced to Ógra Shinn Féin. "It was the best time ever because it was such craic, you were meeting loads of people your own age who were interested in politics as well," she says.
"You learn a lot. You learn how to organise meetings and campaigns. [Ógra Shinn Féin] tries to give people opportunities; with public speaking and all that sort of thing… You get that level of training in a sense, although it is not formally training, it just happens organically."
Asserting that the Dáil must be "young, old, male, female, and as representative of society as possible", Farrell rejects platitudes about young women in politics as banal.
"One thing that I find is that people often say: 'Oh, it is great to have young women.' That annoys me because no, it is great to have women of all ages. It is nearly like, let's have young women because they are not as argumentative or whatever," she muses.
Dáil experience
In 2014, Farrell received her first taste of electoral politics when, at the age of 24, she was elected as the youngest member of Galway City Council. Indicating that she had not expected to be elected along with party colleagues Anna Marley and Cathal Ó Conchuir, Farrell was subsequently selected as the party's group leader. However, in a performance that epitomised Sinn Féin's electoral fortunes across the State in 2019, all three Sinn Féin councillors failed to retain their seats in the Galway City Council election. Indeed, in Galway City East, Farrell attained 522 first preference votes on a quota of 1,059 and did not get across the line on transfers.
However, in a dramatic turnaround a mere 10 months later, Sinn Féin would shrug off this reversal with an unprecedented showing in the February 2020 general election. In Galway West, Farrell achieved 8,464 first preference votes (14 per cent), just 58 votes behind constituency poll-topper Éamon Ó Cuív TD and 2,709 more than compared with former party colleague Trevor Ó Clochartaigh's tally in 2016.
"It is important for us to be the voice of the people that feel that they are voiceless."
"It was absolutely terrifying," Farrell laughs, adding: "I did not expect to get elected." This is typified by the fact that she had taken unpaid leave from her finance job to contest the election rather than utilising annual leave "because I assumed I would be straight back into the job".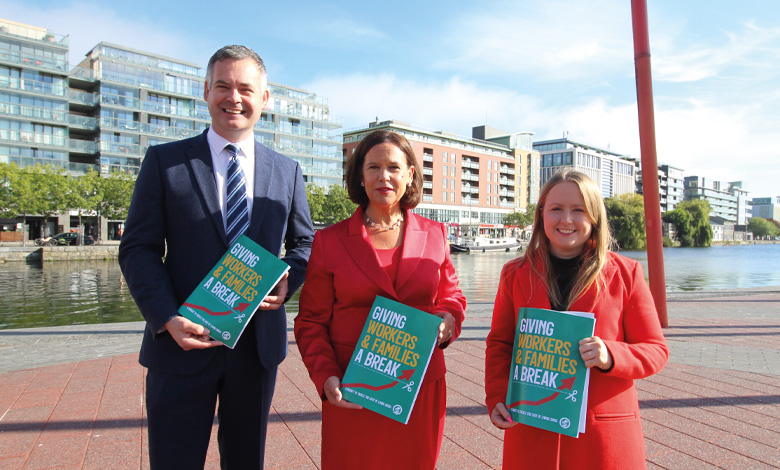 Reflecting on her initial experience, the Sinn Féin TD explains that she has "been really enjoying it", while adopting an almost stoic attitude about the often-fleeting nature of political careers. "Having lost the council seat, I feel like this is all a moment in time. So, while it is stressful and while you work long hours, you may as well enjoy it because at some point it is going to be over and you are going to look back and be like, 'that was a cool experience'. At some point, it will end," she believes.
With no direct experience of the mechanics of Houses of the Oireachtas, Farrell experienced a steep learning curve and pays tribute to party colleagues Eoin Ó Broin TD and Pearse Doherty TD who "helped me learn".
"There are always things that are a bit terrifying to do, but you just have to hide it and keep going," she concedes. At the same time, the first-time TD was buoyed by her time spent within the Sinn Féin apparatus and the personal relationships developed over some 14 years.
Priorities
Again, praising Sinn Féin Spokesperson for Finance, Pearse Doherty TD, and his office for assisting Farrell upon her appointment to the Sinn Féin front bench, the Galway native indicates that her party's alternative budget and pursuit of "transparency" have dominated her priorities as Spokesperson for Public Expenditure and Reform. "We had, for example, the issues with lobbying and we produced the Regulation of Lobbying (Amendment) Bill 2020. In terms of freedom of information, we produced the Freedom of Information (Amendment) Bill 2021," she summarises.
"For whistle-blowers, for transposing the EU Whistleblowing Directive, we produced the Protected Disclosures (Amendment) Bill 2022 as well. On that particular one, we worked extremely well with the committee and with the Minister. Some of the things we had suggested were included in the Protected Disclosures (Amendment) Act 2022. I enjoyed that, that we could actually see something tangible and bring that in as well. We would have gone further on certain things, but we can all work together to try to get something through."
Responding to the hypothetical scenario of becoming DPER minister tomorrow, the Sinn Féin TD asserts that her first initiative would be to work to enact the Regulation of Lobbying (Amendment) Bill 2020. "People have completely lost faith in the political system and public life because they see the revolving door between politics and vested interests. That has really eroded people's confidence. There should never be a situation whereby people have better access to certain decision-makers or power than other people," she emphasises.
Budget 2023
Critiquing the triparty Government's Budget 2023, Farrell determines that "there was nothing for young people". "Unless you earn €40,000 – and most people my age in Galway do not – there was nothing there. We know that so many people in their 20s that are looking to emigrate, and I just do not know if there was anything [in Budget 2023] for them to stay. I think that was deeply disappointing," she qualifies.
Assessing that "a lot of people are feeling very let down" by the Budget, particularly given that increases to the social welfare rates will not take effect until January 2023, Farrell takes exception: "If you think there is an emergency and these people need help, why in the name of god would not just do it now? That is something that we would have proposed.
"We also proposed changes in terms of the USC so that the tax package would benefit those low- and middle-income households, rather than just the 30 per cent of workers. [The Government] had such a massive tax package but its biggest proposals were for the higher earners."
Galway West
Simultaneously, Farrell's passion for her constituency is apparent. "I have the best constituency. There is no question," she insists, adding, "I have Galway city, Conamara, and four islands; who can compete with that?"
As a Gaeilgeoir, Farrell enjoys a warm working relationship with fellow Irish speakers and Galway West deputies Catherine Connolly TD and Éamon Ó Cuív TD, particularly in relation to representing Conamara.
Similar to other first-time Teachtaí Dála elected in 2020, Farrell's constituency work was hindered by the onset of the Covid-19 pandemic. "There was not the same opportunity go and meet groups. It was not like [civil society] groups were having openings and events and they would invite you out," she explains.
Instead, Sinn Féin split the Galway West constituency into 24 different units, researching local organisations with which to engage. Each Friday then, Farrell travels to a different location within one of these units and holds a clinic. "When you get elected, you do not want to be listening to Galway Bay FM news and thinking, 'Oh, I did not know there was an issue in that place', you want the people to have told you and that you have that relationship, so that you are actually representing the people. Now I feel like I can represent the area better because I know what is going on," she affirms.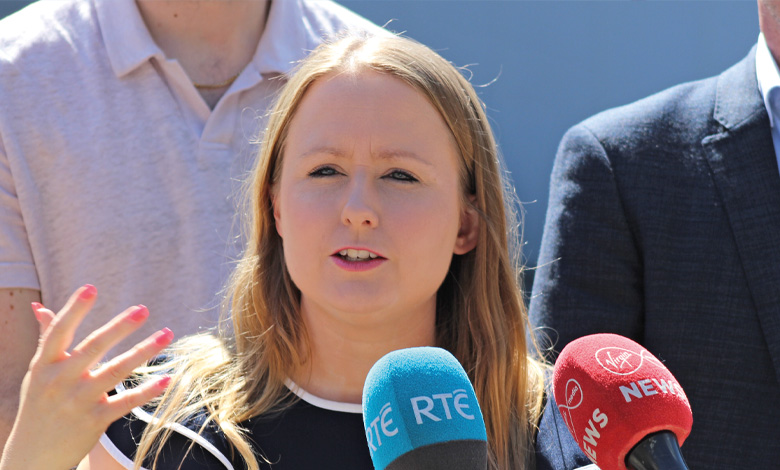 Ambitions
With the party attracting consistently high percentages in successive opinion polls since February 2020, Farrell believes that the challenge for Sinn Féin "is about continuing to work away and hold government to account – that is what we are there for – and at the same time, to be constructive". Again, she reiterates her party's contribution to the Protected Disclosures (Amendment) Act 2022. Simultaneously, however, she maintains that "it is important for us to be the voice of the people that feel that they are voiceless".
From an individual perspective, the Galway West TD insists that she holds no personal ambition. "It has never been about that for me. As I said, I see this as a moment in time so I will be here for as long as I can be. If people think someone else would be better, then that is what it is. It is a brilliant opportunity and I try my best to bring people's experiences into the Dáil," she concludes.