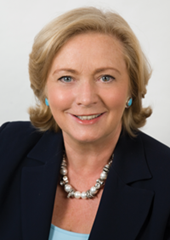 Minister for Children and Youth Affairs Frances Fitzgerald tells Stephen Dineen about her vision for Ireland's children and the challenges that remain in child protection and early childhood care.
NewERA might be the construct and responsibility of another department but Frances Fitzgerald is focused on new beginnings. With the new Government has come a new department, and soon a new child and family support agency. The vision is for a more child-focused Ireland.
The new Department of Children and Youth Affairs, established last June, was "a lot of work for the AG, and a lot of work for all of us", bringing together a range of functions across four departments (Health, Education, Justice and the former Community and Rural and Gaeltacht Affairs) and state agencies such as the Family Support Agency.
Fitzgerald is designing a child and family support agency, led by Gordon Jeyes (HSE National Director of Children and Family Services), and hopes it will come into effect next January. "The idea is you get more focus onto children's issues," says Fitzgerald. "You can bring and integrate the services better when they're in a separate agency, out from the HSE, and that agency then will do a lot of linking with public health nurses, with GP centres, community centres, and the social workers will be working under it, as will the Family Support Agency." The Family Support Agency will be subsumed into the new agency.
A task force chaired by management consultant Maureen Lynott, will shortly present her with the first series of reports on the proposed agency's vision, governance and services.
"That's a big project," says the former social worker and family therapist. "Can I say that I know change is difficult for people in the services, and that I've been very encouraged by the kind of responses I'm getting from people?"
The new agency comes amidst the backdrop of a country still coming to terms with decades of significant failures to protect children. Fitzgerald is also working on legislation to put the 'children first national guidance 2011', on recognising, reporting and responding to child safety concerns, on a statutory basis. The Bill is on the Government's A-list of bills to be published during this parliamentary session.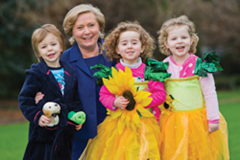 That legislation will bring "more consistency into the picture," such as greater co-ordination between agencies. Jeyes has informed her that this is already coming about through HSE reforms and implementation of national systems. "The gardaí are reporting, people are reporting to the gardaí. It works both ways," she adds, while "better quality data" are being given to the authorities.
The Minister also wants to see a more "streamlined approach to the voluntary sector", with "more coherence" between the voluntary sector and government, as well as more agreed priorities and local service agreements. "I have to ensure that families who are really in need of care and protection get the family support services that they need," she says.
Children's rights
Most referendum-related commentary is on the fiscal compact these days, but Fitzgerald still plans to have the children's rights referendum this year. Wording is yet to be finalised, and there will be consultation once it is. "We have to get a lot of information out there so that the public can understand why we're doing this." The Minister explains: "It's about the voice of the child, the best interests of the child, recognising that children in their own rights have rights as citizens, and then allowing for children of marital parents to be adopted because they're not [usually eligible] in this country."
As well as the changes regarding adoption, Fitzgerald sees other significant consequences if the amendment is passed.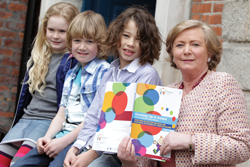 At a judicial level, the best interests of the child will be a constitutional consideration of judges in cases relating to children (e.g. child care, adoption, family law). It will also allow the State "to give family support at an earlier stage to families who need it because the legal construct will be there now about a proportionate response by the State."
Constitutional change would also be "a strong cultural statement" about the importance of children in Ireland. "You might not have needed a Ryan Commission if the voice of the child and the best interests of the child had been a consideration when those kids were taken to the district court by the old cruelty officer," she says.
Fitzgerald accepts that arguments that the proposed amendment will encroach on the family's rights are "inevitably going to be part of the debate" but argues that "there's a strong case to be made that child protection and family support are two sides of the same coin." She states: "It [the wording] has to be strong but it will not undermine the family. The role of the family is in the Constitution."
Despite the family's importance in the Constitution, EU statistics point to Ireland having the second highest proportion of children (under 18) living with one parent in the EU (23.2 per cent). Successive government policies and constitutional values seem at odds. Fitzgerald cites the example of the lone parent allowance, which people can only receive if they're raising a child without a partner: "There's no question it's a disincentive. And we have to examine that. I don't think it's right."
Another example Fitzgerald gives is birth certificates. There is no legal requirement for a father's identity on birth certs of children of unmarried parents. "I think every child has a right to their identity," she states.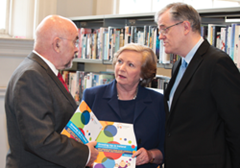 Early years
In March, Fitzgerald got Cabinet approval to draft Ireland's first 'national early years strategy'. It will focus on improving educational outcomes, the quality of early childhood care, education and childminding, as well as targeted educated programmes for disadvantaged children.
"I think the goal is to try and have a joined-up approach," she states. It would cover health and screening, speech therapy in early childhood settings, and linking the early childhood care and education scheme (ECCE) with disability services "instead of all of the parents going off looking for appointments in clinics around the place". The quality of services also needs to be examined: "I'm not satisfied that we have an even enough quality around the country in relation to our early childhood care settings."
For Fitzgerald, there needs to be "more of a dialogue, between what's happening in childcare in Ireland and what's happening in primary school and education." The strategy will be completed by the end of the year.
On adoption, prospective parents have faced two- to three-year delays in getting assessed before starting the adoption process.
"They were disgraceful, those long waits, I think they really were unacceptable," she states, but adds that they have shortened. Of the three organisations accredited by the Adoption Authority of Ireland (AAI) to conduct assessments, Fitzgerald states: "We're at the point of making a decision about cases being referred to them, but of course we now have to look at whether it makes economic sense to refer those cases." The Minister adds: "We also have to decide whether we charge [parents for assessment]."
In 2009, adoptions with Vietnam ceased following the lapsing of a bilateral agreement between the two countries. The Adoption Act 2010 prohibits adoptions of children from countries that have not ratified the Hague Convention or with which Ireland does not have a bilateral agreement.
Fitzgerald has been trying to "bring clarity into the situation and have decisions made about a number of key countries." She expects a visit in May by the head of the adoption authority in Vietnam (which has now ratified the Convention).
The Minister would also like to see bilateral agreements with Russia and Ethiopia. At her request, the AAI visited Russia and will also visit Ethiopia and India.
Inadequate vetting of foster care parents has also come under the spotlight, with HIQA reporting delays in assessing, vetting and approving foster parents in June 2010. Of the waiting times for vetting, Fitzgerald says: "We've brought down the time for vetting now substantially. It's down to a couple of weeks." Pre-vetting is "in the 90s [percentage]," adding: "it's never going to be 100 per cent." The average current waiting time for garda vetting of foster care applicants is two and a half weeks, and was approximately eight weeks a year ago. At the end of 2011, 85 per cent of foster carers had been approved (including garda clearance).
The child in modern Ireland
In the 1980s the Dublin West TD worked in London as a social worker, mainly with juvenile offenders, and also as part of a community care team. "Social services were very developed for young people then," she says, with the NHS putting "quite a focus on children's services."
Fitzgerald believes that Ireland has caught up. ]983 million is being allocated (between the HSE's children and families vote and her own department) to children's services this year. "So even with the cutbacks, there are large resources to be managed well that impact on children."  
In modern Ireland "the vast majority" of the 1.1 million children are doing "very well." Irish childhood has "changed beyond recognition I think, moving away from the 'seen and not heard'" mentality to one of "wonderful parenting", a greater understanding of the child's needs and a changed attitude to physical punishment.
"Now, you have to dig down into it then and you have to say: 'Well, who are children who need special attention now?' And there are children who need special attention," she states.
More needs to be done for disadvantaged young people "in terms of early intervention." Young people in care "are a very particular group, and we have to focus more on high quality service for them," while the 'at risk' groups who experiment with drugs and alcohol and "who don't get help early on, are hugely vulnerable." Some die or end up in prison, others live "very disturbed lives."
Alcohol is another major problem. Though children are "drinking more, [and] they're drinking earlier," she believes that "we're not really prepared to face it head on." She gives the example of "the challenging issues around sponsorship."
The problem of overweight or obese children is "one of the biggest challenges we're facing" with 25 per cent of three-year-olds falling into either category. "So the health consequences for the next generation are very serious at the moment."
For Fitzgerald and her government colleagues, of course, the zeitgeist is austerity. "The thing that is difficult I think is really trying to match the resources to the need out there. I mean that is the stressful piece," she says of her work. "And I'm really shocked that more hasn't been done during the years of the Celtic Tiger. We should have been able to sort out our child protection system. We should have been able to sort out secure care. We're not talking about huge numbers of children."
Despite the pressure on services and the growing child population, "the reality is that we have less resources than I would like to have."
The current situation is an opportunity for reform, however. "It's not about throwing money at things any more. It's really about trying to get effective services and really focus on what we want to deliver in an integrated way. That's the challenge."