Justice
Minister for Justice: Helen McEntee TD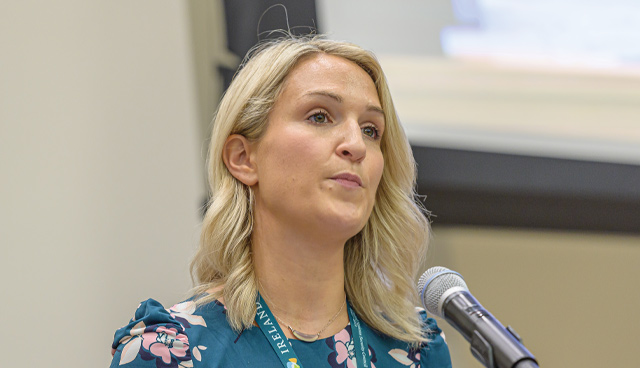 A familiar face in the halls of Leinster House since 2010 and a TD since 2013. Helen McEntee's appointment as Minister for Justice is her first major ministerial portfolio in her seven-year parliamentary career.
McEntee has been a fixture within Leinster House since she began work as the personal assistant of her father, Shane McEntee, in 2010. The elder McEntee was at the time serving Fine Gael TD for Meath East and upon Fine Gael's 2011 election win was named Minister of State for Food, Horticulture and Food Safety. She was first elected as a TD in 2013.
McEntee was returned in the Meath East constituency in the 2020 General Election, as the only Fine Gael TD in the three-seat constituency. Darren O'Rourke of Sinn Féin topped the poll with 24.4 per cent of first preference votes and was elected on the second count, displacing incumbent Regina Doherty. Despite the dip in her party's popularity in the constituency, McEntee actually increased her first preference vote share from 2016, claiming 18.5 per cent, an increase on her 2016 showing of 18.3 per cent, with Doherty bearing the brunt of the constituency's turn against Fine Gael, collecting just 10 per cent of first preference votes. Following the elimination of the Doherty, McEntee was comfortably elected on the former's transfers on the seventh count, with fellow incumbent and now partner-in-government Thomas Byrne of Fianna Fáil also deemed elected on the same count.
Once agreement had been reached between Fianna Fáil, Fine Gael and the Green Party to form a tri-party coalition government, McEntee was appointed Minister for Justice by new Taoiseach Micheál Martin, making her one of four female ministers in the 32nd Government of Ireland. The appointment also made McEntee the fourth female Minister for Justice in the history of the State, following Máire Geoghegan-Quinn of Fianna Fáil and Nora Owen and Frances Fitzgerald of Fine Gael.
Since the appointment, McEntee has had to deal with the challenges of Covid-19 has thrown up like all ministers. In McEntee's case, this has mainly concerned the enforcement powers given to Gardaí around Covid regulations and the penalties associated with their breachings.
Other moves made in her fledgling tenure so far include steps towards the modernisation and reform of the Irish family law court system. The Minister was given approval by the Cabinet in September for the drafting of a Family Court Bill that will see the establishment of a District Family Court, a Circuit Family Court and a Family High Court as divisions within existing court structures. The move would also see the creation of principal judge positions within each of these new courts. The Minister said: "The development of sensible, comprehensive and sensitive family law procedures, particularly for vulnerable families, will be central to the new system."
One of the more notable legislative changes on McEntee's agenda is the Dying with Dignity Bill, the bill sponsored by People Before Profit TD Gino Kenny that would legalise assisted dying in Ireland. McEntee told a Dáil debate that assisted dying is a complex issue with a myriad of ethical, moral medical, criminal justice and constitutional issues attached to it that would require further scrutiny, with the Government proposing that a committee be set up to examine the issue over the next 12 months.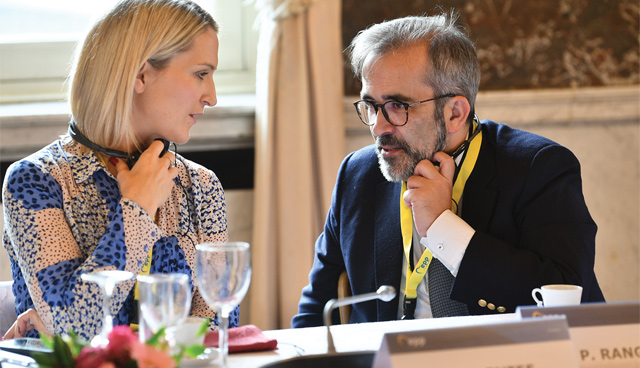 The development of sensible, comprehensive and sensitive family law procedures, particularly for vulnerable families, will be central to the new system.
For McEntee and her government, that 12 months will be crucial for other reasons, as they seek to overcome a Covid- and confusion-scarred start to begin to implement their legislative programme. With a record justice budget of €3 billion at disposal, McEntee's focus will be on the recruitment of extra Gardaí and Garda staff, the modernisation of the sector's digital infrastructure and the implementation of recommendations made by the O'Malley Report on Protections for Vulnerable Witnesses in the Investigation and Prosecution of Sexual Offences.
Announced measures for the record budget so far include:
up to 620 new Gardaí and 500 Garda staff, as part of efforts to return Gardaí to frontline duties;
€42 million to modernise the justice sector through increased digital and ICT investment, including €8 million for the Courts Modernisation Programme and €5 million for the Department of Justice ICT strategy;
€27 million for Covid-related measures;
€10 million in capital expenditure and €4.4 million in current expenditure for Forensic Science Ireland;
€2.7 million in increased funding to combat domestic, sexual and gender-based violence, as well as support for victims;
an extra €2 million to fund additional staffing for the Data Protection Commission and help it achieve its goal of having well in excess of 200 staff by the end of 2021; and
an overall increase of €147 million in current expenditure and €51 million capital funding in the justice sector, bringing the total justice increase for Budget 2021 to almost €200 million.
Electoral history
Following the death of her father in December 2012, McEntee contested the 2013 by-election to fill his vacant seat and was elected on the third count, defeating Thomas Byrne, the Fianna Fáil TD who had lost his seat in 2011 but would go on to regain it in 2016 and now serves in the same government as McEntee, and Darren O'Rourke, now a Sinn Féin TD for Meath East. McEntee's win was the first by-election win for Fine Gael while in government since Enda Kenny had succeeded his father in 1975. Her election at the age of 26 made McEntee the second youngest TD in the Dáil at the time, older only than Simon Harris, and the youngest female TD.
She received a standing ovation on her entrance into the Dáil and gave her maiden speech in May 2013 and was subsequently appointed to the Oireachtas Committee on Transport and Communications and the Oireachtas Committee on Environment, Culture and the Gaeltacht. Following a random audit of 22 members of the Oireachtas in 2014, McEntee was ordered to repay €1,675 in claimed expenses that had been deemed ineligible. McEntee attributed this to "human error".
Following the election, McEntee voiced support for the Fine Gael and Fianna Fáil coalition that had been mooted, claiming that it would be a "seismic change in the political landscape", but the idea was rejected by Fianna Fáil and Fine Gael instead formed a minority government with independent TDs that was guaranteed by a confidence and supply agreement with Fianna Fáil. McEntee was appointed Minister of State for Mental Health and Older People, one of 18 junior ministerial roles in the Government, making her one of four women holding such a position at the time.
Following the succession of Enda Kenny as Taoiseach by Leo Varadkar, McEntee was appointed as Minister of State for European Affairs, a role which saw her given a position within the ongoing Brexit talks between the EU and the UK. In 2019, she called on the British Government to honour their commitments with regard to the Irish backstop. McEntee argued that the backstop was necessary in order to avoid a hard border in Ireland and protect the peace process because of the UK Government's "red lines" on leaving the European single market and customs union. Later in 2019, McEntee was elected Vice-President of the European People's Party, Fine Gael's European party group, at their conference in Zagreb.