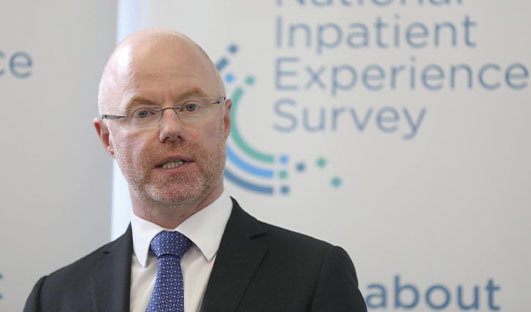 Minister Stephen Donnelly TD reflects on the acceleration of digital health solutions during the pandemic, the challenges of the cyberattack on the HSE and how the digital health gains from the pandemic can be leveraged to deliver on Sláintecare's vision of integrated care.
The impact of Covid-19 was unprecedented for health services internationally, with devastating impacts for many individuals and families. This tremendous challenge required immediate responses. In many cases, this triggered a need to develop, at pace, innovative digital solutions which created the opportunity to demonstrate the value of investing in technology to support change.
In preparation for the vaccination programme, a national Covid Vaccination System (CoVax) was developed from scratch to enable people to register for the vaccine. The system supported vaccination roll-out and data capture required to build vaccination records and creation of digital covid certificates, required under EU regulations.
Earlier in the pandemic the Covid Care Tracker was developed to support the management of patients from testing through to contact tracing.
Innovations such as the Covid Tracker App were developed and secured unprecedented uptake by citizens. The app was developed in close collaboration with other countries and leveraged the skills and knowledge of teams working across government departments, the Office of the Government CIO, the HSE, and indigenous Irish tech companies.
The Covid-19 Data Hub, which complemented contact tracing, was also developed to collate data and facilitate modelling and reporting on the spread of Covid-19. Therefore, the use of digital solutions, and the value of data, was clearly demonstrated.
We were also able to harness existing platforms to support health services during the pandemic. The use of eReferrals was expanded to enable GPs and assessment centres to order Covid tests electronically. Regulations were introduced to facilitate paperless prescribing, thereby reducing visits to GP practices for routine repeat prescriptions. Similarly, teleconsultations and remote monitoring of patients became common.
The pandemic also saw collaboration between agencies on the national vaccination programme and the implementation of EU Digital Covid Certificates (EU DCC). The Department of Health led out on policy development for EU DCC's and established a service centre to facilitate citizen engagement which made use of innovative digital channels to enhance customer service.
We must continue to progress digital health, leveraging these gains to support Sláintecare's vision of providing universal access to integrated care for everyone in Ireland. Integrated care for patients as they transition across the various care settings will lead to safer, efficient, and effective healthcare.
"We are also focused on developing a Digital Healthcare Strategy to deliver better health outcomes enabled by seamless, safe, secure and connected digital health services and technologies."
Minister for Health Stephen Donnelly TD
The CONTI cyberattack: One year on
The CONTI Ransomware attack on the HSE of 14th May 2021 resulted in almost all ICT systems, applications, and communications networks which support the delivery of health and social care services, being taken offline. Healthcare is a target for cybercrime, worldwide, due to the high value of health data and the criticality of health services. One year on, much progress has been made in remediating the damage, through increasing investment in cyber resilience. Improvements in foundational infrastructure, the implementation of recommendations from the PwC report, enhanced monitoring and cyber security operations have all contributed to improving the performance and responsiveness of ICT systems within the health service. However, the global challenge for all organisations, not just healthcare organisations, is in recruiting very scarce cyber security talent.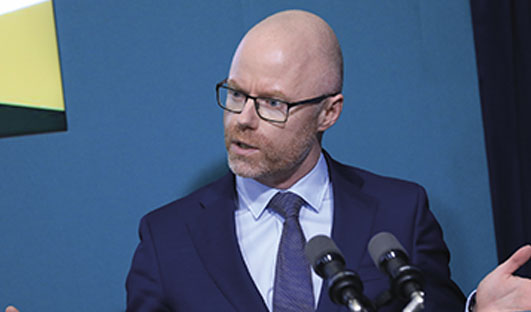 The road ahead
Covid-19 has also highlighted our strengths, including our capacity to deploy innovative digital solutions at pace and the resilience, professionalism, courage and innovative spirit of our healthcare workers. The pandemic taught us, out of necessity, how to bring some of our health services to the patient. We leveraged technology and recognised the importance of managed access to health and care data to do this.
Looking ahead, the next decade will see ageing populations and an increased burden of chronic illness. We now need to plan an adequate response to the population's care needs. Sláintecare sets out the vision for integrated care models that aim to generate health and social care efficiencies through the defragmentation of care, promotion of collaboration and continuity of care across settings. We must adopt patient-centred models and prioritise preventive models. This means reforming how care is currently organised and provided to ensure quality and sustainability.
The National Digital Strategy Harnessing Digital: The Digital Ireland Framework provides an overarching framework to digitalisation across the economy and society, including healthcare. Aligned to this national strategy, we have invested and will continue to invest in cyber resilience. My department is bringing forward the Health Information Bill to ensure that Ireland has a fit for purpose national health information system that enhances patient care and treatment and supports better planning and delivery of health services.
We are also focused on developing a Digital Healthcare Strategy to deliver better health outcomes enabled by seamless, safe, secure and connected digital health services and technologies. Our vision will be anchored in key themes such as digitally empowered and engaged patients, digitally secure foundations, digital enablement of workforce and workplace and connected data-driven services and insights.
We have now begun to engage our many stakeholders to bring forward this vision to harness digital, eHealth and modern technologies to allow for a paradigm shift in how we deliver healthcare and wellbeing services in the future.