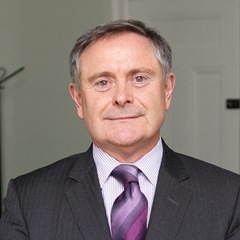 Minister for reform
At the heart of the fiscal challenges facing the Government, Minister for Public Expenditure and Reform Brendan Howlin tells Owen McQuade about his priorities for public sector reform, the forthcoming expenditure review and the sale of state assets.
Back in the days when he had some free time, Brendan Howlin tried to get to hurling and rugby matches when he could. Yet on these summer days, with the All-Ireland hurling championship nearing its peak, his closest connection to Croke Park is the eponymous public service reform agreement. It has been non-stop for Howlin for the past nine months.
"Really from the end of last year when the Greens said that they were pulling out, we went into election mode, virtually into a general election immediately, into negotiations for the Programme for Government a couple of days after that, into a cabinet position with a job of building a department and dealing with the banking issue immediately within, the first three weeks," says Howlin in his ministerial office, "and it's just been relentless since then, but hugely rewarding and hugely challenging."
As a young man Howlin saw himself as more of a backroom than frontline man in politics. That has all changed. In the midst of arguably Ireland's biggest financial crisis, he is Minister of a newly created department, carved out of the Department of Finance, charged with "spending, overview of expenditure and the public service, and the reform agenda," including political reform. The establishment of the new Department of Public Expenditure and Reform was complicated, says Howlin, "as we had to trawl every statute back to 1924." Approximately 200 statutes were examined.
In the Programme for Government negotiations, Howlin explains, both Fine Gael and Labour "came to the same conclusion that reform had to be an important part of our agenda and that any Minister of Finance would be so preoccupied with the macro-economic issue of finance that they couldn't have time to drive the reform agenda."
His department's work overarches with that of the Department of Finance, with whose Minister he enjoys a good working relationship. He and Michael Noonan led the respective negotiating teams for the Programme for Government and now work closely through the Economic Management Council, which is comprised of the two ministers, the Taoiseach and the Tánaiste. The council is a cabinet sub-committee that deals with economic planning and budgetary matters.
Public sector reform
The department has now been legally created and among the Minister's main priorities is public sector reform. The annual progress report on the Croke Park Agreement has been examined. "We've made significant savings of €289 million on payroll, significant downsizing of the public service itself, another €300 million in non-payroll savings, which are important, but there is a consensus and understanding we need to go further," he explains.
The Programme for Government commits to reduce public service numbers by 18- 21,000 by 2014, and a further 4,000 in 2015. In parallel with the reduction in numbers, the Minister expects the new arrangements emanating from the comprehensive review of expenditure to aid the reform process. When the review is complete Howlin will meet management and unions. He believes there have to be flexibilities within every aspect of administration, "whether it's local government, health services, civil service or education – we have to drive that message."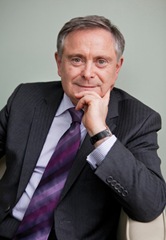 The immediate task, however, "is to ensure that we get maximum efficiencies." He cites e-government as an example. Online services now cover a wide range of public services. In June he launched a dedicated website to show people what services are available: www.gov.ie
Back office services can be integrated, he suggests. When asked if such integration will require capital costs, he says the current difficulties are due to an uneven spread of supports. There is a need "to identify what resource is there and make it available on a cross-government basis," he says. Another example is savings from payrolls costs. "There's no reason why every agency of the state or every government department needs to run its own payroll system; that can be done centrally."
For the Minister for Public Expenditure and Reform, the longer-term strategic goal is an integrated public service. This would ideally entail "comparable working hours, comparable [annual] leave arrangements, comparable strata of advancement," so as to achieve "a seamless move between organs of public administration." He says it currently doesn't exist but there is need to move towards it.
The attitude to public service delivery will be challenged by Howlin in his drive to reform and find savings. "People will have to understand that the old attitude of saying: 'We have a problem here and we need more resources, more money or more people to do it,' is not an option and I will be challenging people to have a different view," he explains. For the next five years public service providers will be asked if services can be delivered in a different way, "and that means maybe working more hours or sharing services better." The Minister cites education as an example. "Is there a better way we can share special needs assistants or resource teachers? Can we group them in schools? Can we work longer hours; even a couple of hours per teacher to fill the gap in the short term?"
Comprehensive expenditure review The current requirement for efficiencies is part of the ongoing task of reducing the budgetary deficit to 3 per cent of GDP by 2015, with a marker of 8.6 per cent of GDP to be achieved in Budget 2012. The next step along the path is the current expenditure review, which will be completed in September. Rather than encouraging a "salami sliced cut" approach to reducing departments' budgets, the Minister says the exercise is about "looking at value for money, the way we spend money, getting real value for money and stopping doing things we can't afford anymore."
For Howlin, this means departments starting off with a blank sheet of paper and taking nothing as a given. He wants departments to scrutinise every line of expenditure asking itself: "What are we doing? Do we need this to be done? Can it be done better by somebody else? If it's an agency, can it be amalgamated? Can it be abandoned? Can it be integrated back into a government department?" Ultimately the fiscal targets will have to be met in the review, and "if the raw material [from departments] is not robust enough we will be making suggestions from this department," he adds, but is satisfied that most departments have engaged with the process.
There is no fixed target for how many state agencies there will be after the review. The Minister has started on the basis that "that nobody should be safe unless there's a compelling case for them." This was the approach he took in opposition when examining the issue of the Seanad's future. The Labour manifesto committed to abolishing it.
December's budget will be guided by the current expenditure review. T
he fiscal targets "will impact on the big spending departments; there's no escaping the fact that 80 per cent of our budget is spent on health, welfare and education," he states. "You can't just exempt them, you'd have no money for anything else – for security and gardaí, agriculture, tourism or industrial development and all the things we need."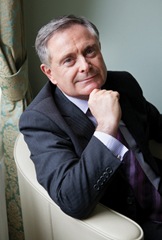 State assets
Another looming decision for the Minister is how to raise €2 billion from the sale of state assets. Every department affected by the McCarthy report on state assets has made a presentation to Howlin on the recommendations. He is currently evaluating these and will bring proposals to government shortly.
When asked for his views on how the proceeds of any sale of assets should be used, Howlin says: "There will be dialogue with the EU-IMF in terms of exactly what purpose that is for." Whilst the EU-IMF programme's original memorandum of understanding required the proceeds of state assets sales to be used to retire debt, the Government has, after two periods of negotiation with the troika, "an agreement or understanding that we can engage with them in relation to what we do because we've always been of the view that we have to grow our economy." He believes there is a need to devise "a model that will allow for sufficient capital to be available for the next generation of economic growth," in Ireland.
Political reform
Though one might expect referenda concerning political reform to emanate from the Department of the Environment, Community and Local Government, it is Howlin's department that will oversee the referendum in October on the proposal to give powers of investigation to the Oireachtas.
Envious of the authority which a Westminster select committee has demonstrated during the recent phone hacking scandal in Britain, Howlin says "that authority has been removed from us and we need to give the power of oversight and investigation back to the Oireachtas." It was lost due to the Abbeylara judgement which found that committees cannot make findings of fact or expressions of opinion that adversely affect a citizen's reputation. Moreover, committees cannot compel witnesses to attend.
A referendum proposing to allow citizens give information to representatives "without fear for themselves or putting themselves on the hazard," is also planned for 2012. There will be separate whistleblower legislation as well.
The referendum on powers to Oireachtas committees (which will be concurrent with one on the issue of judicial pay and the presidential election) ties in with a broad programme of political changes to which, he says, the Government is committed.
Oireachtas reform is part of that programme. "I actually think that for a long time there has been an imbalance between the executive and Parliament," says Howlin, "and the usual thing is that when TDs are in opposition they want Parliament to be stronger and the Government to be weaker, and then they reverse roles." He is determined that the Government will "strengthen the hand of Parliament to hold government to account. I think that would be in everybody's interest."
The new committees, 15 down from 25 in the last Dáil, are "structured well" according to the Minister. As part of the changes the annual estimates process at committees is going to be different. "They'll be performance related. They will have not only the monetary targets, the 'how much?', but there will also be the 'what for?' elements," he explains. "So at the end of the day we will be able to say: 'What did you achieve with that expenditure?' as opposed to 'well you spent the amount allocated, so that's ok then.'" Committees will be required to achieve the goals set for that money. "I think that's a much better way of dealing with estimates into the future," Howlin states.
This political reform agenda "will be challenging and demanding but important to the success of this government."
Difficult decisions ahead
Much of the success of the Government is likely to be down to whether there is a change in economic and fiscal fortunes over the next four and a half years. Is it able to take the tough decisions? Does the handling of the closure of Roscommon Hospital's A&E unit bode well? Howlin doesn't flinch. "If you say there is going to be resistance to some of the things we do, of course [there will]," he states. "We need to explain more to the people about just how perilous our economic situation is. We inherited this and we can't walk away from it," he adds. The road to recovery "will mean a significant degree of hardship for everybody in this country in the medium term, which means a very tough budget next year."
Perhaps it is his previous experience as a Cabinet Minister that partly explains why Howlin is unwavering. In 1993, "we [the new Cabinet] were briefed in the Áras the night we took our seals of office about how bad things were, and I was in health and we'd very little money, but we managed in the course of the next four years to restore our fortunes," he recalls. Is it different this time? The obvious difference, he says, is "we were making our own decisions independently [then], we weren't tied into a programme."
Ultimately he is confident that the Government can bring the public with it. "I think people, if they have confidence that we're on a path that will bring Ireland to a better place, that will regain our economic sovereignty, know that it's what has to be done for the next few years."
Brendan Howlin was born in 1956 and grew up in Wexford, educated at Wexford CBS before studying in St Patrick's College, Drumcondra. Before politics he was a primary school
teacher. His father was a close friend and director of elections to Brendan Corish, former Labour TD for Wexford and Leader of the Labour Party. When Corish retired in 1982 Howlin was selected to contest the seat for Labour. He was unsuccessful, losing by a few hundred votes, but was appointed a Senator by the Taoiseach in the same year. In 1987 he was elected a TD. He became a Cabinet Minister in 1993, serving as Minister for Health during the Fianna Fáil- Labour administration, and was Minister for the Environment from 1994-1997 in the Fine Gael-Labour-Democratic Left government. In the last Dáil he was the Leas Ceann Comhairle.