Issues
Merger creates consumer watchdog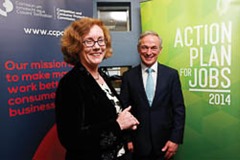 The Competition Authority and National Consumer Agency have been merged to form a new Competition and Consumer Protection Commission which will act as a strong watchdog in business law. Minister for Jobs, Enterprise and Innovation Richard Bruton TD said that the move "marks the culmination of many years of policy focus in opposition and government on the consumer rights agenda."
The commission will be chaired by Isolde Goggin, who previously led the Competition Authority's advocacy and strategy divisions and chaired the Commission for Communications Regulation (2004-2006).
"The mission of the Competition and Consumer Protection Commission is to make markets work better for consumers and businesses," she explained. "We will do this by helping to create open and competitive markets where consumers are protected and able to assert their rights when they need to."
It has published a study of consumer detriment, the first of its kind in the State, and its new merger control procedures will enable the commission to better focus on transactions which have an impact on competition within the State. It is also completing guidelines to help small and medium-sized businesses which want to engage in consortium bidding for public tender contracts.