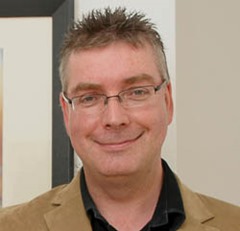 Conal O'Boyle edits the Nationalist, a weekly newspaper based in Carlow and also covering County Laois. Here, he discusses the paper's role in the community, how he has seen the world of print change over his career to date and its possible future prospects.
How has your career developed?
Largely by luck and by accident. Like most arts graduates, I didn't have a clue what to do with myself after I finished my BA, so I did an MA in classics instead. That didn't really clarify things, so like many of my friends I took the boat to England in the late 1980s.
Thanks to Margaret Thatcher's education policies, magazines and publishing houses were crying out for anyone who could read and write so I got a job on a weekly local government finance magazine as a junior sub-editor. Over four years with that magazine, I was a reporter, a section editor, production editor, then accountancy editor.
In 1992, I moved back to Ireland as deputy editor of Certified Accountant, a monthly magazine published in Cork for the English accountancy body, the ACCA. In 1996, I was appointed editor of the Law Society Gazette, the magazine for the legal profession. The Gazette won a lot of awards over the years, including best business magazine and I was named editor of the year in 1998 – which was nice.
After nine fun years with the Gazette, I found myself looking for another challenge so I made the move into local newspapers. I took over as editor of the Kildare Nationalist in 2005. Six years ago I became editor of the Carlow and Laois editions of The Nationalist. And I'm still here.
How do you see the industry developing over the next few years?
When I started out in journalism, we were still typing stories on typewriters and using carbon paper to make copies. I know that sounds like ancient history but it was only 1988. By 1992, we were using computers and laying out magazine pages in-house on PCs. I saw a whole pre-press industry die in the matter of five or six years as typesetters went out of business en masse.
Now we're in the middle of another upheaval as magazines and newspapers are caught between the struggle to make money online and the belief of consumers that we should give them our product for free. I don't know how this is going to play out – I don't think anybody does – but I'm not as pessimistic as some commentators.
I don't think bloggers will replace reporters and I don't believe websites are going to pay people to turn up to cover under-12 camogie matches on a wet Sunday morning. But we do. That's what local newspapers do. It's that closeness to the community that sets us apart from other media, and it's why people continue to buy local newspapers. Opinion is easy; cake sales are hard.
What is unique about the paper – and Carlow?
The Nationalist was established 131 years ago for a reason. It wasn't set up because some marketing man saw a gap in the market; it was set up to give the people of Carlow – and indeed Kildare and Laois – a voice at a time of upheaval and rebellion. It was a direct product of Michael Davitt's Land War, when a Dublin-centric media was largely antagonistic to land reform and independence from Britain. In fairness, we were not unique in this: many local newspapers around the country have similar stories to tell.
But I'm very proud of The Nationalist's history and its ethos. It was created to be a community newspaper. It still is.
It's also pretty unique that our circulation is holding up so well. That's probably down to the fact that Carlow is a small, tightly-knit county with a strong sense of community. Local newspapers need that sense of community as much as communities still need local newspapers.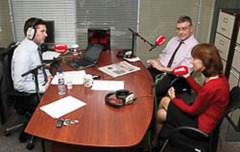 Who inspires you?
John Pilger and J Jonah Jameson.
I'm a comic book fan. I've been reading comics since I was seven years old. These days, when I'm talking to people, I say I'm a comics collector – because it seems more grown up.
Spider-man was my first – and he remains my favourite. I started reading him in black and white English reprints because American comics were almost impossible to get in Belfast in the seventies.
Spidey is inextricably linked to my childhood. We were born in the same year – 1963 – and we grew up together. He was also my first exposure to journalism. Peter Parker worked as a news photographer and his editor J Jonah Jameson provided a lot of the funny moments in those early comics. JJ was malevolent, pompous, childish, stingy – all good qualities in a newspaper editor – particularly stingy. I loved the newsroom of the Daily Bugle and I wanted to work there. Of course, I also wanted spider-powers, and I'm still waiting on those.
The second journalistic inspiration in my life was John Pilger. In 1983, he made a documentary about the Sandinistas in Nicaragua and the US government's attempts to overthrow them by arming and training the Contras death squads. It was the most powerful bit of television I'd ever seen. Of course, I've since learned that death squads are easy; cake sales are hard.
Which stories over the last year stand out as the most significant?
We ran a very powerful story about a Carlow woman who was beaten and raped by her brothers over a period of years, kept virtually as a slave. That was a hard story to deal with. We run much lighter stuff as well, obviously, the full gamut of local life, but that one stands out.
What is the most satisfying aspect of the job? And the main challenge?
Honestly, selling newspapers is the most satisfying part. It's that feeling that people are reading what you've produced and are taking part in the conversation. That's the traditional definition of a local newspaper: "a community talking to itself". We were the original social media, and in many ways we still are.
There is a satisfaction in feeling that we are doing something worthwhile for a living. Of course, it's not all plain sailing and we get as many brickbats as thank you letters, but we are doing something that matters. I like that.
How do you spend your free time?
With my wife Kathleen and two children, Saoirse and Ferdia. I'm a big comic book fan, too, and enjoy noodling on the guitar to relax.