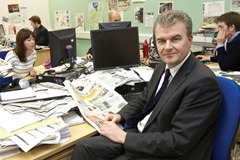 Alan English is editor of the Limerick Leader and its sister paper, the Limerick Chronicle, which is the oldest paper in the State.
Alan started his career in the Leader and returned to become editor in 2007 after working in the Sunday Times in London and the Western Morning News in Plymouth.
How did you get started in journalism?
The first real journalism I did was as editor of a college magazine at University of Limerick back in the 1980s. It was primitive compared to the excellent publications that students produce these days, but that didn't matter – I was far more interested in it than I was in getting a good degree, which I don't regret in the least.
Then I got a foot in the door at The Limerick Leader – six months as a junior reporter, funded by Fás, £37.80 a week. When Conor Keane left for The Kerryman, they gave me his job and I stayed for three years. In the final year I was there, I asked if I could become a sub-editor. It was pretty clear then that it was going to be easier to move to a bigger paper as a sub.
I spent a week visiting some prominent regionals in England, touting my services, and got hired as a sub-editor at the Western Morning News in Plymouth. After about two months I became their main sportswriter – I believe in just going with whatever opportunities come along. The next step was London and I got another foot in the door, this time at The Sunday Times. I had 12 happy years there before the Leader job came up. My predecessor, Brendan Halligan, had edited the paper for 36 years so the opportunity came at a good time for me. I started as editor on 5 March 2007.
What have been the most significant stories you have covered to date?
At the Leader, the ones people talk about the most are probably the events that led to Willie O'Dea's resignation as a Cabinet Minister and the day the gang leader Wayne Dundon walked into our front office with steam coming out his ears.
The Leader was quite centrally involved in the O'Dea situation because it revolved around an interview he gave to our political reporter Mike Dwane, which subsequently led to a defamation case and allegation of perjury on his part. There was all kinds of speculation about what was in the interview and every TV and radio station in the country was onto me on the day I made a decision to release the tape. We were accused of costing Willie his job, but it was never about that.
In brief, what is the history of the Leader?
The paper was founded in August 1889, so we'll be celebrating its 125th birthday later this year. Like a lot of papers that first appeared around that time, it had a staunchly nationalist agenda. Its biggest rival locally was the Limerick Chronicle, the oldest paper in the State, which was seen as more of an establishment paper, read by Protestants.
The Leader had a rocky time for the first decade and one of its editors was jailed. But then it was bought by Jeremiah Buckley and his family controlled it for a century, until 2002. One man edited the paper for 50 years from 1910 to 1960, Con Cregan. I don't think I'll be challenging his record, or Brendan Halligan's.
It was bought by Johnston Press in 2005 and changed hands again this April, after being bought by a new company called Iconic Newspapers. So it has returned to private ownership.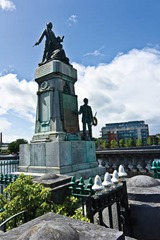 What is unique or distinctive about the paper?
We have a rather unique publishing schedule. We bring out three tabloid editions early in the week, including the Limerick Chronicle which the Leader bought in the early 1950s. On Thursday comes our flagship edition, a broadsheet, and we have three versions of that for different parts of Limerick. I am very conscious that the Leader is Limerick's paper of record.
How do you think newspapers will change in the next five years?
Hard to say, because in nearly seven years as Leader editor the level of change has been immense. Our website is – I'm pretty sure – the most popular local newspaper site in the country.
We have more than a million page views each month, so clearly digital is only going to get more important, but our main job remains the same as it has always been: producing newspapers that reflect all aspects of local life. It's not going to get any easier, given the pressure on resources. But we have a great team here.
How do you relax outside work?
I have a fantastic family. I read a lot of newspapers. I buy a lot of books but probably don't read half of them. I play golf, nowhere near as often as I'd like.
And I have a bit of a sideline writing sports books, which isn't exactly relaxing but makes for a change at least. This year I'm working with Brian O'Driscoll on his autobiography, which will be published by Penguin in the autumn.