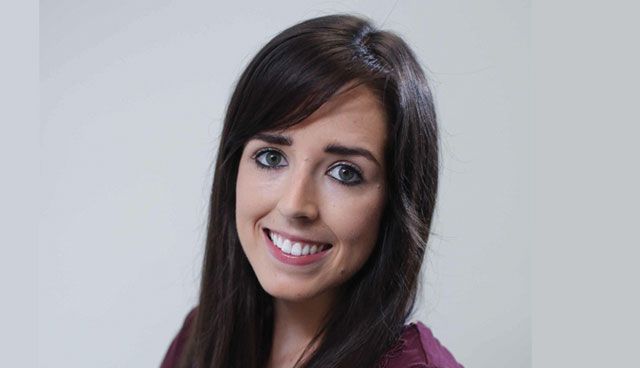 Colette Sexton
Colette Sexton is a news correspondent with the Sunday Business Post and also covers the media and marketing section. The county Clare native holds an MA in Journalism from the National University of Ireland, Galway.
How did you get into journalism?
Becoming a journalist was a goal of mine from a young age. I spent my childhood begging for writing assignments in school, reading obsessively and recording 'radio shows' on an old tape recorder, so the media industry seemed like a pretty good fit.
When the time came to pick a college course, I chose a Bachelor of Arts in History, Politics, Sociology and Social Studies in the University of Limerick. I figured a BA would give me a good background for media, but did not limit my options like a journalism undergrad might.
While the course in UL did not specifically prepare me for a career in journalism, I still learned a lot from it. As part of my undergraduate, I had a six-month placement working in the Oireachtas, which gave me an insight into how government works on a day to day basis and the role journalism plays in democracy. After that placement, I went on Erasmus for a semester in Malta. There, alongside various history and politics modules, I studied basic reporting, and it quickly became my favourite subject.
After graduating from UL in 2011 I applied for the MA in Journalism in NUI Galway. As Ireland was in the midst of the recession, it was a gamble, but luckily it all worked out in the end. I worked as news editor for Sin, the college newspaper, and also ran a blog. Looking back on them now, some of my early blog posts are embarrassing to say the least, but on the plus side, my writing has clearly improved.
"Journalism in some shape, whether that is on a page or on a screen, will always be vital for a functioning society."
To what extent did your MA in Journalism prepare you?
I learned the basics of journalism during the Masters – the correct way to structure a news story, the importance of picking up the phone, style guidelines, media law, and so on, but really I believe the only way to learn real journalism is in a newsroom. The final part of the MA was an eight-week placement, which I completed in the Sunday Business Post. I learned more in that eight weeks than I would in eight years in a classroom.
That placement in the Sunday Business Post was my big break. Looking back now, I was so lucky to start out my career in this newsroom. I got to work alongside passionate journalists who were afforded the time, the respect and the independence to chase the stories that they believed need to be chased. It was a huge learning curve and I loved it. Unfortunately, it was 2012 which was a tough time for most industries and the media was no exception. There was no full-time role available at the Sunday Business Post, and with a student loan to pay off, freelancing just was not an option.
I secured a full-time job on the Irish Daily Mail graduate scheme as a sub-editor. It included a sub-editing course at the Press Association's headquarters in Yorkshire and a few months working in the Hull Daily Mail before returning to the Irish Daily Mail in Dublin. During that time, I learned how to layout pages, how to write a decent headline and the importance of double and triple checking everything. But sub-editing was not for me, and I left the Irish Daily Mail to work in communications for a technology startup. Towards the end of 2014, the Sunday Business Post got in touch and asked if I would be interested in joining the paper as a reporter. To use a complete cliché, the rest is history.
How do you think the profession is evolving?
Journalism has always been about reporting the facts, explaining events to the public and holding the powers that be to account.
While those key pillars of journalism are still valid, traditional news organisations are no longer the gatekeepers of public information. The advancement of technology over the past 10 years has changed journalism. Now press releases are issued directly through Twitter, people on the street share first hand footage of events and many go straight to social networks to find breaking news.
That does not mean that journalism is no longer necessary, rather it means that it is more necessary than ever. Verifying information, fact checking, and analysis are vital, and they come from real journalism. Without real, independent journalism, politicians, companies and powerful individuals not be held accountable for their actions, indeed many of those actions might never be found out. The industry and the way journalism is presented might change, but journalism in some shape, whether that is on a page or on a screen, will always be vital for a functioning society.
Who do you admire most within the industry and why?
There are too many people to name and overall, I think the standard of journalism in Ireland is high. The Sunday Business Post team is incredibly supportive. It is wonderful to be able to work alongside some of the top journalists in the country.
What has been your most significant story or project to date?
No story I have written stands out most in my memory than the stories that got away. The ones I was scooped on, the ones that I should have thought of, the questions I should have asked. I just strive to make sure that the next time around, I am not scooped, I ask the right question or I make the right call.
How do you spend your time outside of work?
I try to get home to visit my family in Clare as often as possible. It is such a beautiful part of the world, and being there reminds me no matter what is happening in the media bubble, life still goes on everywhere else.