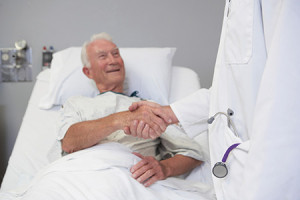 Fiona Rafferty, Director of Medical Affairs with Nutricia Advanced Medical Nutrition, talks to eolas about how good nutritional care can improve patient and clinical outcomes, whilst delivering improved healthcare utilisation.
It's hard to eat when you are feeling unwell. Most of us lose a bit of weight when we have a bug or a virus, but when this resolves, our appetite returns to normal and we regain those few pounds. However, what if we are battling an illness that simultaneously makes our body need more nutrition whilst suppressing our appetite or ability to eat normally?
This is exactly what happens with many chronic illnesses, such as cancer, where someone who has maybe been overweight for years can become malnourished over a relatively short timeframe without it being detected. It might seem hard to believe that one in four people admitted to Irish hospitals are malnourished, and that 147,000 Irish adults are malnourished at any time; that's 4 per cent of the population.
Malnutrition – which is both a cause and consequence of ill-health – has been defined by the World Health Organisation (WHO) as "the gravest single threat to public health worldwide". However, malnutrition is not just a phenomenon in the developing world. The cost of treating disease-related malnutrition is in excess of 10 per cent of all public healthcare expenditure in Ireland – totalling €1.42 billion a year. Much of this cost comes from increased healthcare utilisation as malnourished people have more GP visits, more hospital admissions, longer hospital stays due to higher complication rates, and poorer outcomes overall.
Malnutrition is relatively easy to treat but it is regularly overlooked in our increasingly overweight society. It crosses the boundaries between health, social and community care and an integrated approach is needed to make good nutritional care everyone's concern. To date, good nutritional care has not been a priority in Ireland but it looks like this is about to change.
Nutricia Advanced Medical Nutrition is convinced that good nutrition is essential throughout life in order to help people to develop properly, build and maintain a healthy body, and recover from illness. As the leading provider of medical nutrition products in Ireland, Nutricia supplies high quality feeds, systems and support services to patients, carers and health professionals. Medical nutrition comes into play when a normal balanced diet is not possible or does not deliver all the specific nutrients that a person needs.
For example, phenylketonuria (PKU) is a condition diagnosed by a heel prick test that all children have at birth. People with PKU cannot metabolise a protein called phenylalanine and, if untreated, this can result in irreversible brain damage. They follow a low protein diet for life, using a protein substitute to deliver many of the essential nutrients that their body needs for growth and repair.
"We are committed to supporting people living with a metabolic condition," Nutricia's Director of Medical Affairs, Fiona Rafferty, comments, "and a key part of that is making their protein substitutes as convenient and palatable as possible, creating formats that make compliance easier. We organise regular cookery demonstrations, educational events and an award-winning 'Low Protein Living Weekend', bringing families together to learn more about their condition in a fun, relaxed environment."
Around 1,800 adults and children in Ireland are on tube feeding at any one time. Tube feeding is required when a person is unable to meet their nutritional requirements by eating alone, and their nutrition must be delivered by a tube directly into the gut. These people can have particularly complex needs with demands for a co-ordinated supply of feeds and ancillaries, and the need for review from health professionals experienced in this area.
Rafferty remarks: "Support for patients on tube feeds in the community is critically under-resourced. Behaviour and Attitudes, a market research company, conducted research in this area and showed that one in two patients on home tube feeds received little or no contact from a dietitian post-discharge from hospital. We are committed to providing support to these people who, without it, would be sitting in hospital beds when they could be at home with their family." This is an area that the Irish Nutrition and Dietetic Institute (INDI) has highlighted for several years as requiring essential service investment.
Training
In 2014, Nutricia provided approximately 600 training sessions to patients and their carers on how to manage their tube feed at home. This support also involves providing feed, pump and ancillaries free of charge until community funding is set up.
Fiona Kehoe Wall, a clinical nurse advisor with Nutricia, explains: "I work as part of a customer service team dedicated to providing ongoing support to people on home tube feeds. This involves meeting the patient with their family in the hospital before they are discharged. This can be a very anxious time, especially for older persons who are coming to terms with a new diagnosis, so I really try to reassure them that we are there to support them through this process. Once at home, we keep in touch to see how they are getting on and they know that we are just at the end of a phone if they need us."
In the last few years, awareness of the impact of malnutrition has increased considerably amongst health professionals and policy-makers, not least because of the excellent work of dietitians, the INDI and the Irish Society of Clinical Nutrition and Metabolism (IrSPEN) – the latter being a multi-disciplinary group which aims to combat malnutrition by optimising the nutritional management of patients in hospital and the community.
Nearly 200 delegates attended a recent IrSPEN policy seminar – 'Establishing nutrition as a safety priority: Time to act' – organised in close co-operation with the Quality Improvement Division of the HSE, which plans to lead a partnership programme on nutrition and hydration later this year. One of the initiatives by the Health Information and Quality Authority (HIQA) for 2015 will include focused inspections of malnutrition and dehydration in patients within the acute setting.
Both of these are very welcome developments as national and international experts have criticised the lack of progress in implementing routine nutritional screening in Irish hospitals. Poor nutritional care is indicative of poor quality healthcare and effectively exposes patients to a significantly avoidable risk to their recovery.
Data from a nutrition screening programme supported by Nutricia was presented at the IrSPEN Seminar by Elaine Bradley, a clinical nurse manager at Beaumont Hospital, highlighting the benefits for patients and the Health Service. These included potential savings of €1,800-3,000 per patient identified in a six-month pilot test. Professor Marinos Elia, a world expert in malnutrition, presented evidence from systematic reviews and a new costing report, concluding: "The more we treat, the more we save."
Fiona Rafferty added: "There now appears to be a real commitment in Ireland to improving the standards of nutritional care, and to taking good nutritional care from a theoretical desirable place and putting it right at the centre of good healthcare for improved outcomes."
Education
One of Nutricia's top priorities is to raise awareness of nutrition's role in managing disease, either as a preventative measure or as an adjunctive treatment, as well as highlighting its powerful impact on improving quality of life for vulnerable patients. Education is a key focus, and in 2014, Nutricia organised 33 educational meetings in Ireland, on a range of topics including allergy, faltering growth, dysphagia, dementia, oncology and wound care. These meetings are attended by dietitians, nurses, GPs and hospital doctors and are genuinely valued as an opportunity to hear the most up-to-date clinical evidence to support best practice.

For more information please contact:
Nutricia Advanced Medical Nutrition Block 1
Deansgrange Business Park Deansgrange Co Dublin
Tel 01 289 0283
Web: www.nutricia.ie