Double page spread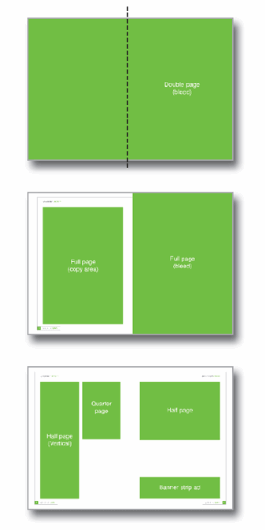 Copy area – 370mm x 275mm
Bleed – 426mm x 303mm
Trim – 420mm x 297mm
Full page
Copy area – 246mm x 170mm
Bleed – 303mm x 216mm
Trim – (A4) – 297mm x 210mm
Half page horizontal
Copy area – 122mm x 170mm
Half page vertical – 246mm x 81mm
Quarter page – 81mm x 117mm
Banner advert (strip ad) – 45mm x 120mm
General
All artwork should be supplied in digital format.
All fonts, scanned images and graphics should be included on the disk or email (even though they may also be embedded into the artwork).
All fonts should be Postscript format.
All artwork, scanned images and embedded graphics must be CMYK ink separated for printing.
Scanned images and graphics should be saved as 'eps' files (filename.eps) or 'tif ' files (filename.tif). Photographic files may also be saved as 'jpeg'(filename.jpg).