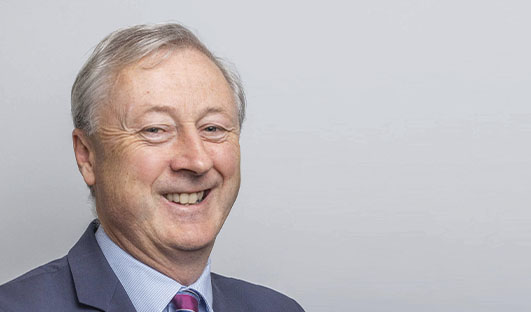 Ciarán Galway sits down with the HSE's Head of Digital Transformation and Open Innovation, Martin Curley, who was recently named as one of the world's top 10 health influential leaders, to discuss Ireland's digital progress, supranormal returns on innovation, and constructing an unprecedented healthcare system.
Hitherto, Ireland has been digital health laggard. Despite being a top 12 economy, with the top 10 MedTech companies, top 10 pharma companies, and top 10 tech companies, Ireland is ranked 80th – one place behind Georgia and one place ahead of Ukraine – in the CEOWORLD Magazine Health Care Index, which rates healthcare systems relative to factors that contribute to overall health.
However, launched in February 2022 and aligned with the EU Digital Compass, Harnessing Digital: The Digital Ireland Framework, the new national digital strategy, aims to ensure "widespread access and use of inclusive digital public services", with 90 per cent of public services to be consumed online by 2030.
Likewise, the EU Digital Compass indicates that "the ability for European citizens to access, and control access to, their electronic health records (EHR) across the EU should be greatly improved by 2030".
If implemented, Ireland would be the first country to introduce an interoperable EHR that is patient centric. "It is about confidence, courage, and conviction. Currently, we are testing it in multiple living labs. We can save and improve many lives if we just decide to do it," Curley asserts, adding: "The components exist. There is an emergent architecture that must now be tested. Not only can we transform our own health but there is a potential to sell these solutions internationally. Indeed, if we were to adopt a stretch goal, we could potentially double the GDP impact of digital health over a five- or six-year period."
"This is going to be a radical and dramatic change. Ireland can deliver, but it will require confidence, courage, and conviction."
Martin Curley, Head of Digital Transformation and Open Innovation, HSE
Laggard to leader
Emphasising recent progress, the HSE's Head of Digital Transformation and Open Innovation specifically refers to the introduction of automated respiratory rate measurement as a standard of care for respiratory patients across 23 hospitals, with a new living lab within the community set to be announced.
Similarly, while it had been a laggard in telehealth, the latest OECD research now ranks Ireland fifth in the world. "We have been able to leap ahead," remarks Curley, adding: "We are now deploying vital signs automation into 20 hospital wards, putting us into a leadership position."
Meanwhile, heart failure is the single greatest cause of mortality in the world. Indeed, the one-year mortality rate after heart failure diagnosis is 20 per cent. In response, the Digital Transformation and Open Innovation team has built a capability maturity framework to examine each of breakthrough technologies available in an attempt to reduce the risk of cardiovascular disease.
"In terms of cardiovascular, working with Ken McDonald and Matt Barrett, we have put together a capability maturity framework for cardiovascular and are poised to jump from laggard to leader," he projects. If successful, this capability maturity framework will then be applied to respiratory disease and diabetes.
Led by Centric Health and Roche Diagnostics Partner, the Heartcare at Home Living Lab has delivered a 10X reduction in hospitalisation rate, almost continuous care, high levels of patient satisfaction, and safety all at a price point which is about 2.5X cheaper than the current service.
In introducing radical technology, Curley insists, there are three stages. "First, it is ridiculed. Second, it is violently opposed. Third, it is accepted as being self-evident," he says, paraphrasing a statement on truth, often misattributed to German philosopher Arthur Schopenhauer.
"I really think we can transform the healthcare of everyone in Ireland making it affordable and accessible to everybody," he adds.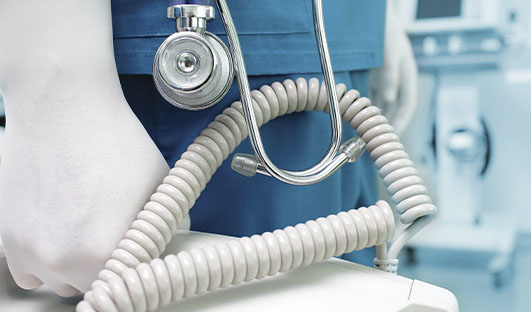 10X technologies
To achieve this, the Digital Transformation team recommends the implementation of a series of ten 10X innovations. Amid a proliferation of 10X technologies, in an industry as information intensive as healthcare, allied with exponential innovation methodology – or Open Innovation 2.0 – there are super normal or 10X returns. Indeed, this explanation is now known as Curley's Law.
"The idea of this new law is that we are seeing 10X returns across our quadruple aim. This means improvements in quality of care; quality of life; cost reduction; and the clinician/patient experience," Curley explains.
"This is timely because incremental innovation is no longer good enough. Systems are failing and demands are increasing. However, if we can deploy these exponential solutions, the point of care is going to move from the hospital to the home and when you have technologies like this… you get a remarkable pattern.
"What we are observing with the vital signs automation solution, for example, is that it is not only detecting patients deteriorating earlier, but it is increasing productivity by taking the cognitive load off the nurses, reducing the average length of hospitalisation, increasing acute capacity at 1/100 the cost of building new capacity, and the returns are spectacular. The internal rate of return is 1,100 per cent and the payback period is under 8 weeks."
Wellness management
"Two years into what is a digital health decade, we are trying to architect and engineer a healthcare system that has never existed before."
According to McKinsey and Company, the single greatest opportunity for healthcare improvement is lifestyle. Consequently, a swing to wellness management and protection is the very first of the series of 10X innovations recommended by Curley and his team.
"We put together a remarkable living lab [Health Elevator] in conjunction with Careplus Pharmacies, within which we undertook rapid health assessments in 10 minutes. We then provisioned patients with personal electronic health records and within 24 hours they had a plain English report indicating whether they were healthy or unhealthy.
"We have also been working with some vendors, but initially with Fitbit, to provision them with a subscription to Fitbit Premium. The overarching principle is that we can scan people, provide them with a personal electronic health record, and then give them devices and tools to help them stay healthier. We believe that we can perform that rapid health assessment for the price of a cup of coffee, per patient, per year."
Simultaneously, Curley believes that the HSE can provide the electronic health record for the price of a cup of coffee, per patient, per year. "We now have a real solution which is about to be introduced to a living lab of 500 patients across six CarePlus pharmacies. We think this could become the centre of the architecture for our new digital health system. Indeed, we are building a digital health platform onto which we are integrating many of Irish vendors, as well as several UK vendors also.
"We believe a full preventative, proactive and personalised solution for wellness management and maintenance including digital therapeutics can be provided to Irish citizens for about the cost of a PCR, delivering at least 10X the value," he explains.
Barriers
While there has been an explosion in digital health solutions, several barriers continue to hinder Ireland's digital health journey. The first, identified by Curley, is education. "We recognise that digital health is changing at such a rate that we must provide continuous information. Therefore, education is key," he comments.
Consequently, the Digital Transformation team established a MSc in digital health transformation, delivered by the University of Limerick in conjunction with the seven other Irish Universities, and accelerated the Digital Futures in Healthcare Diploma in collaboration with Dell.
Next to education, culture is the single most significant challenge to digital transformation in healthcare. "People feel threatened," Curley asserts, "because this is going to be a radical and dramatic change. Ireland can deliver, but it will require confidence, courage, and conviction. We just need political decisiveness to say we are going to do it.
"Already, we are starting to see big bang adoption because the benefits are so great that organisations and individuals are adopting it. Once you show the solution people get behind it."
Open Innovation 2.0
Reflecting on the development of overarching digital health strategies and referencing his own experience in liaising with agencies, patient associations, clinicians, the Irish College of General Practitioners, the Health Information and Quality Authority, and the unions, Curley stresses the importance of collaboration between stakeholders from across the quadruple helix.
"With Open Innovation 2.0, the whole idea is you have intensive networking in trusted relationships towards a shared vision, which is Ireland's Digital Health Strategy and Action Plan – Stay Left, Shift Left, 10X – then we talk about shared value and the value is better wellbeing, better welfare, and wealth.
"The economy of mutuality means moving away from the primacy of shareholder value to value for everybody in the ecosystem. The beauty of Open Innovation 2.0 is that it defined by shared value and working together to create that shared value."
Impact
Application of the Open Innovation 2.0 paradigm is set to have a significant impact on patients and clinicians alike. "We are moving to an accountable care ecosystem," Curley outlines, "By taking the right actions for the right reasons, there is equitable value creation. For example, by involving patients in system design and in our living labs, as well as collaborating with companies and clinicians, we develop the solutions that give the best outcomes, the best quality of life, and the lowest cost. This is win, win, win."
Previously, there was a predominant clinical focus on system design. In January 2022, however, the Irish Digital Health Leadership Steering Group approved the 10 key principles underpinning the Ireland Digital Health Transformation Strategy, the first of which is the leapfrog principle.
The objective of the Digital Health Transformation Strategy is a transformation from a European digital health laggard to a European digital health leader by 2025, meaning that Ireland will leapfrog from having a primarily paper-, presence-, and acute-centred healthcare system to one that is digital-, patient-, and home/community-centred. This will require assertive leadership and clinical governance.
"What we are doing in Ireland is a brilliant example of what Harvard Business Review calls a 'high-impact coalition'. We are undertaking a major societal programme that no one agency can deliver on its own and everybody aligns around that. Open Innovation 2.0 advocates for these grand coalitions and we have built this steering group to oversee, create the momentum and eliminate the barriers," Curley asserts.
"To our knowledge, this has not been done anywhere else in the world. It is going to be a serious heavy lift, but it is going to deliver a breakthrough and Ireland could be a global exemplar. We have a great shot at a genuine revolution that will transform healthcare."
Catalytic impact
Characterised as a 'big bang disruption', the adoption curve for disruptive technologies accelerated during the Covid crisis. In a period of two months, the Digital Transformation team delivered 10 new disruptive innovations.
"By the end of the first week of Covid arriving in Ireland, we were remotely monitoring Covid-19 patients. During the first weekend, we were undertaking respiratory monitoring of Covid patients in Beaumont Hospital with Professor Richard Costello, finding that we could get up to 12-hours' notice of a patient desaturating.
"Most notable was the introduction of the ability to send prescriptions electronically. Several people have described this as the biggest digital innovation in Irish healthcare in 20 years. It took five people with a plan. On day one, 100 prescriptions were sent. On day two, between 800 and 900 were sent. And on day three, it was 20,000.
"Other innovations include the adoption of video enabled care by hospitals and GPs. It was a massive catalyst we now have 2025 capability in 2022. But we still have a lot more to do. With confidence, courage, and conviction, we can do this."
Health 4.0
Defining the Health 4.0 concept, the HSE Head of Digital Transformation and Open Innovation explains that it is simply the principles of Industry 4.0 applied to healthcare. "The one addition is you have the empowered patient at the centre, taking responsibility for their healthcare," he adds.
Stay Left, Shift Left identifies at least six paradigms that are in simultaneous flux, transitioning from the clinician to the patient, and from reactive to proactive healthcare.
Outlining his vision for the future of healthcare in Ireland, Curley believes that individuals and organisations across the quadruple helix are beginning to acknowledge the substantive digital health developments in Ireland.
"In Ireland and among our international partners, we have a unique collective of companies motivated around personal contribution to drive change. It is about taking responsibility, showing leadership, and delivering but it requires a collective effort. We have around 200 organisations in the ecosystem, with whom we have very high trust relationships.
"Two years into what is a digital health decade, we are trying to architect and engineer a healthcare system that has never existed before. I would be really hopeful that in just a handful of years, many more people will be living longer, we will be saving more lives, and patients will experience less hospitalisation. That is my sole motivation," he concludes.