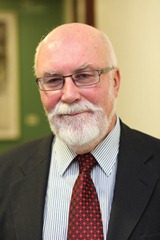 A state holding company would help better governance of the state companies and "unlock" billions through the sale of shares, Paul Sweeney tells Meadhbh Monahan.
Fine Gael's New Era concept is a more preferable option than privatisation, according to ICTU's Chief Economist Paul Sweeney.
In theory, a state holding company would hold the shares, which are currently held by the Department of Finance. Therefore, line departments would manage the companies e.g. CIE in transport and ESB in energy. This would free up "incompetent" civil servants "who know nothing about the commercial world" to focus on policy, Sweeney contends.
The holding company could also sell off shares "and long-term investors like pension funds would be very happy to invest in it." In addition, Sweeney argues that a holding company could be "a vehicle for expanding state companies."
However, selling a minority stake in ESB "is totally contrary" to Labour and Fine Gael's policies and to the Programme for Government.
The money from the sale will be used to pay off the EU-IMF debt and not to create jobs, he believes, "despite the Government's good intentions." Sweeney suggests that the remaining €5.3 billion in the pension reserve fund be used for job creation "rather than privatising good companies."
In the context of a €159 billion debt, the sale of assets worth €2 billion is "pathetic", the economist warns. "We could unlock billions through the sale of shares in the state holding company," he asserts.
If the assets under consideration for privatisation were owned by a private company, they would not be sold in the current market, Sweeney continues.
"It's a very bad market, transaction costs are high and selling productive capital assets for cash to pay the banks is nonsensical. The Government may claim it is selling them to create jobs but why sell jobs in companies to pay off the German banks? Because we are going to have to sell them cheap, the impact on the national debt will be negative," he states.
The "double irony" for the ordinary public, according to Sweeney, is that "we are selling productive indigenous assets to pay for the lack of good corporate governance by the banks after one of the biggest nationalisation programmes in the world."
He cites Aer Rianta as an example of a state owned company which could have expanded and sold off parts of the business.
"At one stage Aer Rianta was one of the world leaders in airport management. That's when [it was] going to expand; that's when the department both stopped [it] expanding abroad and building a new terminal in Dublin when it would have been much cheaper and more timely," Sweeney tells eolas.
"If Aer Rianta [had been allowed to buy] Rome airport and had built up a large portfolio, you could sell those today when you need the money."
There is too much focus on shareholder value in Irish company law, according to Sweeney. He would like to see a move to stakeholder value, as advocated in Germany, the Nordic countries and Japan. "They take a longer term view because their company law says you must have a stakeholder view. You must look out for the community, customers and employees," Sweeney explains.
He disagrees with defenders of the current system who say: "If you look after the bottom line (shareholders) everything else will look after itself."
"It drives the short-term view with management and that's what you saw with the banks collapsing," he reflects.
He also cites the example of eircom's privatisation as "showing what the private sector looks like at its worst to ordinary workers."
Sweeney comments that Minister Brian Hayes has said that we must be pragmatic rather than ideological about selling state assets.
He concludes that pragmatism "isn't good enough." Instead, "we have to look at these companies from an industrial policy point of view. One has to think, not pragmatically, but in a visionary way."