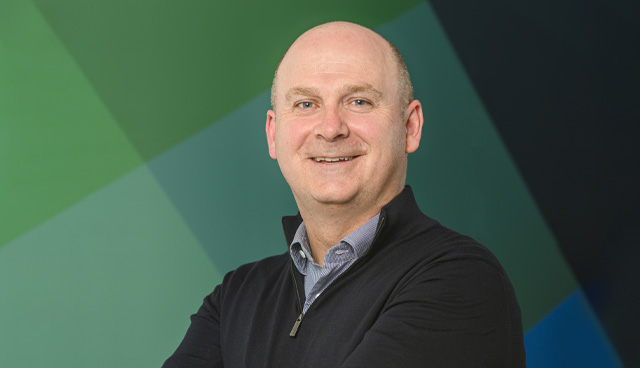 Ciarán Galway speaks with SSE's Ireland Country Lead Stephen Wheeler about the company's principal partnership with COP26, decarbonisation of the energy sector and Ireland's role in the context of scaled-up climate action ambitions.
At the UN's COP26 summit, which will be held in November 2021, heads of state, climate experts and climate action champions will come together in Glasgow with the intention of accelerating Paris Climate Agreement targets, establishing a global pathway to net zero carbon emissions, and preventing an increase in global temperatures of more than 1.5°C.
In seeking to apply its expertise and commitment to the fight against climate change, SSE will be a principal partner for COP26. "It makes sense for many reasons," says Wheeler, adding: "First and foremost, SSE's partnership with COP26 has come at a crucial time as we look to transition towards a greener society. At SSE, we believe that COP26 can be a real lightning rod for action, with governments and stakeholders from around the world coming together and moving from ambition towards delivery.
"This is conducive to our vision of being a leading energy company in a net zero world. We are passionate about the bold action required to address climate change."
Quoting former US President Barack Obama, he asserts: "We are the first generation to feel the effect of climate change and the last generation who can do something about it. You only have to look around the world to see the effects of climate change; it's omnipresent."
COP26: Anticipated developments
Through its partnership, SSE will seek to help deliver a successful COP and there are several significant developments it would like to emerge from the summit. Commenting on the new US administration's commitment to halve emissions by 2030 and China's ambition to attain carbon neutrality by 2060 as encouraging progress, Wheeler outlines SSE's aspirations for COP26: "First and foremost, we want to see global action to decarbonise energy. This is a societal problem, right across the world, and we want to see lasting commitment to effective climate targets.
"Secondly, we want to see real leadership to turn these targets into action. In Ireland, the recent Climate Action Bill is among the most ambitious in the world, and, to its credit, I think the Government has demonstrated leadership on setting out where we need to get to. We need to see that same ambition at an international level, and crucially, we need to start delivering the projects and infrastructure that will see us reach our targets.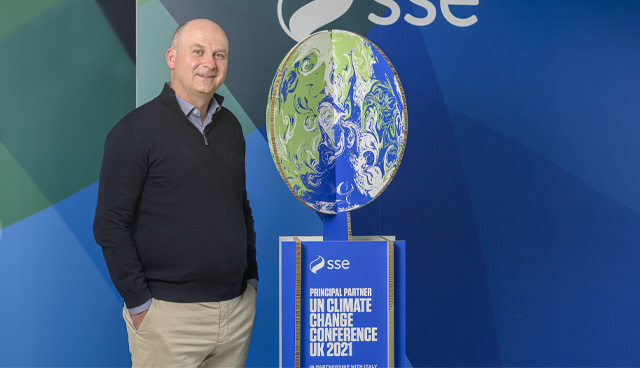 "COP26 can be a real lightning rod for action, with governments and stakeholders around the world coming together and moving from ambition towards delivery."
"Thirdly, we are very aware of the differing impacts on communities and individuals across the globe and so we want to push for a framework on a just transition. This is about having a clear understanding of the social impacts of this transition, ensuring no one is left behind by creating and protecting highly skilled jobs and maximising the impact of green investments, like offshore wind farms, in our communities.
"Finally, we want to galvanise society around the importance of climate action. We see ourselves as leaders in this regard and as such, we have an obligation to bring people with us, both young and old, to help tackle the biggest challenge of our lifetime. We want to be a vehicle for the delivery of a greener society, inspiring others of the benefits and necessity of this transition."
Opportunities for Ireland
From a national perspective, Wheeler suggests there is a clear opportunity for Ireland to demonstrate its ambition on a global stage.
"It's a huge opportunity for Ireland to take a leadership position, building on our achievements to date. For example, the volume of electricity produced from onshore wind in Ireland is second only to Denmark. We have done an incredible job on that front, but it's a massive step up to decarbonise all sectors of society to achieve net zero by 2050. SSE is going to work very closely with government to support 'Ireland Inc' in delivering that," he says.
COP26 will take place at an important time for Ireland. With its ambition to halve carbon emissions by 2030, the publication and progress of the Climate Action Bill simultaneously represents a significant challenge and opportunity.
"The Climate Action Bill solidifies what we already knew: while climate action represents a huge challenge, with the right policies and investments we can build a cleaner, stronger and more sustainable economy for the future. This is about society as a whole working together to unlock the solutions needed to halve our carbon emissions in this decade, deliver 70 per cent of electricity from renewables and ultimately transition to net zero carbon emissions by 2050 at the latest."
Discussing the optimism unlocked by the progress of the Climate Action Bill, Wheeler indicates that action must now follow.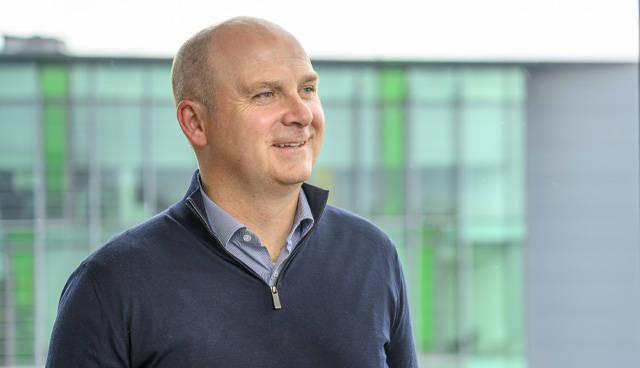 "We have a responsibility to lead the way in creating a cleaner, more sustainable society for generations to come."
"Moving towards a more sustainable society is a win-win scenario for our economy and our environment. As we recover from the economic impact of the pandemic, we need to get people back to work. By creating highly skilled jobs right across the country and by delivering the promise of a greener society and the investment that comes with that, Ireland can really benefit.
"In SSE, we believe we can create thousands of jobs throughout the country through the delivery of the low-carbon infrastructure and services needed, and we look forward to working with government, industry partners, and our customers, to bring these projects to life."
Offshore wind
Re-emphasising his observation that Ireland has done a phenomenal job in terms of onshore wind, Wheeler recognises that the challenge now is to deliver 70 per cent of Ireland's electricity from renewable sources. In achieving this, offshore wind will play a crucial role.
"Offshore wind will be the heavy lifter. We have an incredible opportunity in our wind resource given that Ireland's marine territory is an area 10 times the size of its land mass. No other company in the world is building more offshore wind energy than SSE is right now. This includes our 3.6GW Dogger Bank project in the UK, which as well as being the world's largest wind farm, is also supporting almost 3,000 new green jobs, with more to come. SSE has been leading the charge for some years now to unlock the oceans of opportunity that offshore wind energy represents for Ireland, and it's great to see other global players and investors now beginning to take interest in the Irish market. This is helping to drive the offshore ambition we all have forward," he remarks.
Overall, SSE has plans to deliver 2GW of offshore wind energy in the Irish Sea and Celtic Sea by 2030 from a number of projects, the foremost of which is the next phase of the 520MW Arklow Bank Wind Park. "Arklow Bank is in a prime position to be delivered by the middle of this decade, producing power by 2025. That would make a huge difference to Ireland's nascent offshore wind industry. It's time to move beyond the vision and start installing turbines in the seabed that are producing power off Ireland's coast," Wheeler insists. Commenting on the UK's incredible offshore journey over the last 15 years, he highlights that it now aims to deliver 40GW of offshore wind by 2030. Here in Ireland, there is a target of 5GW by 2030, with 1GW delivered by 2025, and Arklow Bank is well positioned to make a substantial contribution to that ambition.
"We are 100 per cent ready to deliver the offshore wind needed to help hit Ireland's annual 7 per cent carbon reduction target. Beyond Arklow in the near term, we have medium term projects including Braymore Wind Park in the north Irish Sea alongside the Celtic Sea Array off our south coast, both of which are in the early stages of development and can contribute to phase two of Ireland's offshore rollout plans. With the right policies and momentum, these projects could also be completed by 2030, and together with Arklow Bank could be contributing over 2GW of installed offshore capacity to the 5GW target," Wheeler says.
Onshore wind
Until now, onshore wind has been the major success story for Ireland and SSE remains the largest onshore wind operator on the island. Wheeler states that there is no doubt that onshore wind will continue to grow.
"We were delighted to see Lenalea Wind Farm, which is a co-development with Coillte, secure a RESS contract in 2020 and recently enter construction. It is a fantastic example of a project that we have worked with a partner to develop, alongside local communities, to ensure that it will have a long-lasting legacy in Donegal. It marks the beginning of the next phase of our plans for onshore wind; we will continue to work with partners in building world-leading projects.
"In order to ensure onshore wind continues to develop, we need to see sensitively balanced planning guidelines, particularly on issues such as noise. At the same time, we fully understand the requirement to work with, and as part of, communities. That is why it is so important that we fully engage during the planning, construction, and operations stages of onshore wind delivery to ensure that our wind farms are integrated into local communities. We have been involved in numerous projects across the country, investing over €12.5 million in local community funds and this is something that SSE is very proud of," he says.
Energy efficiency
Beyond renewable generation, SSE has over 700,000 domestic and commercial customers on the island of Ireland, across both electricity and natural gas. In its efforts to encourage a societal move towards a greener economy, SSE is utilising its energy services business to help its domestic customers make their homes more efficient and ultimately use less energy.
"It's time to move beyond the vision of offshore wind and start installing turbines in the seabed that are producing power off Ireland's coast."
"The overall challenge is not going to be solved by individuals or corporates alone," Wheeler notes, adding: "It is a society-wide problem that will be resolved by everyone working together. As an energy provider, we have a clear obligation to work with our customers to reduce the carbon footprint of homes and businesses across Ireland. In the last 12 months, through our retail business SSE Airtricity, we have launched our partnership with An Post whereby we take a holistic view of energy efficiency upgrades, from planning, to helping customers secure finance, right through to the completion of the work. We undertake a complete project management role to take the hassle out of retrofit for homeowners.
"Likewise, through our partnership with Activ8 Solar Energies, SSE is assisting our customers in installing solar panels on their roofs, enabling them to produce their own power from a renewable source and make a direct contribution to the transition to a green economy."
Thermal energy generation
Wheeler is also cognisant of the need to decarbonise conventional power generation as part of the transition to a net zero carbon future. "When you consider electricity production, thermal power generation is the biggest emitter. However, flexible thermal generation is critical to backing up renewables and maintaining security of supply, particularly during periods when the wind isn't blowing, and the sun isn't shining.
"In seeking to decarbonise our thermal generation, SSE is at the forefront of opportunities in hydrogen and carbon capture and storage [CCS] solutions in the UK. While at an early stage, we are encouraged that similar discussions are now getting underway in Ireland to examine how flexible thermal energy can support a renewables-led energy system. We have a lot of experience in this area that we have gained over the last decade in the UK and it's something we look forward to delivering in Ireland to enable the net zero transition in the years ahead."
Ambition
Outlining SSE's overall ambition, Wheeler states that the energy company intends to be a "catalyst for the change to a greener society". This means that SSE wants to continue to be the leader in onshore wind and to become the leader in the emerging offshore wind industry in Ireland. Likewise, from a customer service perspective, it wants to continue to deliver its outstanding offering, helping customers to make the changes that are required to move towards a more sustainable world.
"Looking ahead 10 years, our ambition is to continue to lead the way in the decarbonisation of energy, but also to be true catalysts in the overall shift to cleaner, more sustainable society.
"As we emerge from the Covid crisis, we face the biggest challenge of our generation. The good news is that taking action on climate change is a win-win. By delivering green investment, getting people back to work, and creating highly skilled jobs across the country, there is real opportunity to build an economy that will be stronger in the long-term.
"I believe our role in SSE, and as leaders in the energy industry, is clear. We have a responsibility to lead the way in creating a cleaner, more sustainable society for generations to come. As we approach the critical COP26 summit later this year, this is what we should all be aiming for and I'm confident that, working together, we can deliver on this challenge," he concludes.
Profile: Stephen Wheeler
Stephen Wheeler is Country Lead for SSE plc in Ireland, as well as Managing Director of SSE's Thermal division across the UK and Ireland. Stephen was previously Managing Director of SSE Ireland and prior to this, General Manager (Ireland) of SSE Renewables. Before joining SSE, he spent over 10 years working with ABB and Siemens internationally. Stephen is a graduate of electrical engineering at University College Dublin, with an MBA from the UCD Michael Smurfit Graduate Business School, and a past Chairman of Wind Energy Ireland (formerly IWEA).