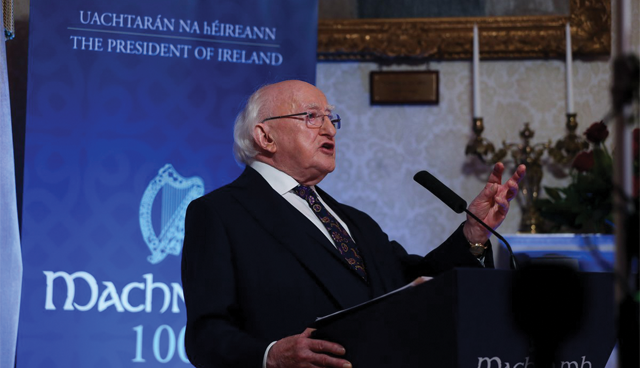 Unveiled and launched by Uachtarán na hÉireann Michael D Higgins, Machnamh 100 is the next phase of the national programme of commemoration.
Machnamh 100 is a dual series of seminars hosted by President Michael D Higgins which will reflect on the centenaries of the War of Independence, the Treaty negotiations, the Civil War and partition. Machnamh is the Irish word for reflection or contemplation. Over the coming year, President Higgins will facilitate discussions exploring specific themes in order to interrogate more fully the contemporary nuances of that time and the enduring legacies.
Building on the President's previous contributions during the Decade of Centenaries, the events of which have so far ranged from the 1913 Lockout, the First World War, the Rising, the 1918 general election and the first Dáil, the Machnamh 100 initiative is being supported by the Government and RTÉ.
Ethical remembering
In leading the centenary commemorations throughout this period, President Higgins has attended many State ceremonies and emphasised his pursuit of 'ethical remembering' and the adoption of 'narrative hospitality'. This means including marginalised, disenfranchised or excluded voices and being open to alternative perspectives, stories and memories.
"Ethical remembering requires us in particular to shine a light on overlooked figures and events in an attempt to have a more comprehensive, balanced and inclusive perspective on, for example, the independence struggle and the response to it.
"A central dimension of ethical remembering is a refusal of conscious or unconscious amnesia, not only of persons but events. It requires the inclusion of marginalised voices, the disenfranchised, voices from below in our recollections of the past. It must include the essential part played by women in the period that we commemorate, the role of class, and an openness to stories of 'the Other', the stranger, the enemy of yesterday," the President says.
"The time has come for an ethics of narrative hospitality with its capacity to replace our past entrenchments, offering an openness to others. In doing so, we may nurture memory and remembrance as a strong foundation of a shared, agreed future."
Conflict and Public Interest series
The Conflict and the Public Interest series comprising three seminars focusing on the War of Independence began in December 2020 and will be followed up by two seminars will take place in February and May 2021 respectively. Following this, a second series will be held later in 2021 and will focus on the Civil War and partition.
In the context of the ongoing Covid-19 pandemic, the inaugural Machnamh 100 seminar, entitled Challenges of Public Commemoration, took place online on 4 December 2020. Focusing on the challenge of commemoration itself, the President led with a reflection titled, 'Of Centenaries and the Hospitality Necessary in Reflecting on Memory, History and Forgiveness', was delivered by the President.
RTÉ broadcaster and historian John Bowman was invited to chair the initial seminar and professors Ciarán Benson, UCD, Anne Dolan, TCD, Michael Laffan, UCD and University of Amsterdam then responded to the Machnamh address by President Higgins.
Challenges of Public Commemoration seminar
Opening his address, President Higgins acknowledges that some centenaries had received a greater degree of recognition, presenting a challenge of understanding how memory and history have been utilised to draw distinction from 'the other'. However, he asserts that when informed by evidence-based historiography, the act of commemoration can instead be used to transcend differences on this island and indeed these islands.
However, the President is cognisant that the exclusion of narratives fostered a sealed version of history in which "evasive forgetting was as important as remembering". Indeed, he references an "unavoidable tension between history and memory".
In considering why we commemorate at all, President Higgins suggests that "unlike history, which is concerned primarily with circumstance, commemoration dwells predominantly in feeling" and commemoration is possibly about "[giving] public feeling to what are otherwise private memories".
Commemoration, therefore, he contends, presents an opportunity for reflection. It also has an "active component" which encompasses social and cultural functions, such as bonding, educational purposes and even retributive justice. "Through commemoration, history helps create and nurture active, engaged citizens," he states.
Acknowledging the inherent risk in remembrance, Higgins argues that if it is to be pluralistic, then long-established foundational myths must be discarded. The fullness of context, he says, "cannot morally be avoided".
"An 'ethical act of memory' has to be a critical act of memory, I suggest. There should be an engagement with the issues of context before the act of public memory is transformed to commemoration in any narrow sense. Commemoration is not only a public invitation, it is an act predicated on selection," the President says.
"War is always ugly, and posthumous glorification is neither desirable nor morally sound."

— Uachtarán na hÉireann Michael D Higgins
While conceding that this selection cannot be neutral or objective, he maintains that a "transparency of purpose" and an "honesty of endeavour in keeping the open the possibility of plural interpretations" is realistically achievable.
As such, while commemoration can then function as an aspect of ethical remembering, Higgins advocates discretion with regard to how historical events are marked, "particularly those that may be exploited for narrow political or partisan purposes". Here, he references warnings from historians against applying "any uncritical transfer of contemporary emotions onto the past". This must be balanced with any censoring of "painful events" would be "at best, amoral".
While the President comprehensively addressing the state-approved violence, reprisals and collective punishment enacted by British forces, he tempers this with recognition of Irish republican violence. "Violence breeds violence," he states.
"War is always ugly, and posthumous glorification is neither desirable nor morally sound. We must, therefore, I believe, seek to enable all of our citizens to engage with history and commemoration in a way that is inclusive, ethical pluralist and honest, allowing for the evaluation of motives and of actions on all sides with fairness".
To this end, Higgins is critical of the State's historical approach to official remembrance in the pursuit of "hegemony of narrative". Ethical remembering necessitates the inclusion of those hitherto excluded from 'official' history. For instance, this incorporates experiences of various social classes and of women.
In his summary, Higgins notes that "engaging with the past is not easy", rather it is a complex interrogation of myriad stories, memories, legacies and emotions.
"As we continue to mark these pivotal moments in our nation's history, let us together cultivate memory as an instrument for the living so that we may realise a collective memory at peace, unburdened, reconciled; an ethical remembering with its special energy and capacity to replace our past entrenchments, as well as offering an openness to others. Let us strive together to nurture memory and remembrance as a strong foundation of a shared, agreed future."
Forthcoming seminars
The Instincts, Interest, Power and Resistance event in February 2021 will contextualise Ireland in post-war Europe and consider the reaction of the British Empire to the independence struggle and the subsequent search for settlement. In May 2021, the final seminar of the first series, Recovering Imagined Futures, will examine hope, class and gender in the independence struggle.
Speaking about Machnamh 100, as a whole, President Higgins addresses the challenge posed by the decade of centenaries to honestly, authentically, pluralistically engage with Ireland's shared past and in a manner which might "assist a healing of conflicts that cannot be forgotten". Each of the complex events being recalled, he suggests, are integral to the narrative which has shaped modern Ireland.