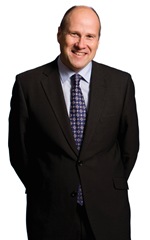 A former successful Fine Gael front-bencher, Ivan Yates left politics to run a chain of bookies. He spoke to Meadhbh Monahan about his career choices and the enjoyment he gets from his latest role as co-presenter of Breakfast on Dublin's Newstalk station.
Ivan Yates has always made decisions by asking himself "what's the best opportunity in front of me?" By grabbing these opportunities, he has enjoyed careers in farming, politics, book-making and the media.
Currently presenting the Breakfast Show on Dublin's Newstalk 106 radio station, Yates was once the youngest politician in the Dáil. He became a Fine Gael politician when he had just turned 21 because he was "bored" in the evenings. At that stage, he was so far removed from politics that he had to look up Fine Gael in the Yellow Pages because he didn't know anyone in the party. Then, in a unique career move, Yates decided to retire from politics at the age of 41 to become a bookie. He now has 63 outlets in his business, Celtic Bookmakers.
A direct descendant of John Jameson, the famous whiskey maker, Yates hails from Enniscorthy, County Wexford. He comes from a Protestant family who had no affiliation to any political party; indeed they were "a little disdainful of politics" and he believes that because his predecessors had a "strong entrepreneurial genetic makeup," he was more suited to being a businessman than a politician.
Educated in St Mary's Church of Ireland National School, Yates' parents moved him to Aravon Preparatory boarding school in Bray when he was eight. He spent his teens in St. Columba's College. When his father became terminally ill with cancer, Yates left school, aged 16, and went to Gurteen Agricultural School where he learned about "drink, sex, gambling and everything like that."
He worked on the family farm for two years. "It was hard manual work. But in the evening I was somewhat bored." In school he had been successful at debating and was interested in current affairs so he decided to get involved in politics.
Political career
Yates had "always had a bit of a hankering after politics." He says, "I wasn't a socialist so that ruled out the Labour Party and the left and my parents weren't in the GPO in 1916 so I decided that I would join Fine Gael."
The young recruit became one of Garett FitzGerald's liberal-minded Fine Gaelers.
In 1978, when he was 18, Yates stood for Enniscorthy Urban Council because Fine Gael was trying to get new young people into the party. He was elected to the council by 13 votes and in 1981 he was put forward for the general election and won a seat.
"They decided 'we'll run young Yates because he can't be blamed for anything.' At this stage I was barely 21," Yates recalls.
Having never driven to Dublin before, Yates didn't know his way to Leinster House. He remembers: "I had to go in my granny's battered Escort because I had no car of my own."
Yates survived three more elections in 1981 and '82 and built up a base in the Wexford constituency. He joined the Fine Gael front bench in 1988 and was appointed Minister for Agriculture, Food and Forestry when the party came to power in 1994.
"Politics was kind of like a hobby to me and then it became my career." This is Yates' analysis of his 21-year political sojourn.
Choices
Many people were disappointed when Yates retired from politics in 2001 because they had "high expectations" and thought that he would take over leadership of the party from John Bruton.
"I was a supporter of John Bruton. I went to him and said: 'Look, I'm really interested in politics but there are other things in business and life that I want to pursue. I've given it 20 years and my commitment is to re-elect the rainbow government in 2001. If that doesn't happen I am not interested in giving my whole adult life over to politics,'" Yates reflects.
He doesn't have any regrets.
"I went into it as a young fella, it was my adventure but I had four children and the novelty of the constituency work, the clinics, the funerals and the functions wore off," he says.
Politician turned bookie
"It's funny," laughs Yates. "When I went into politics a lot of Protestants said: 'Tut Tut, politics is the lowest form of animal life and you shouldn't be doing it.' And when I was getting out of politics into bookmaking the politicians said: 'What are you doing? Bookmaking is the lowest form of animal life!' So I kept going down-hill and ending up in the media is the gutter altogether."
As with politics, his bookie hobby became his career.
"I was a punter myself and from age of 12 I was really interested in horse-racing. I realised that maybe there is more money to be made as a book-maker than a punter."
Yates opened his first bookmakers in 1987 in Tramore, County Waterford. By the time he retired from politics in 2001 he had 10 outlets.
"We now have 63 betting shops, two in the UK. We have a € 200 million turnover and 300 staff. Celtic Bookmakers has strong tele-betting arm as well and it is one of the largest independent bookmakers. I have made every conceivable mistake and [have been] robbed on both sides of the counter."
Yates took advice from Mark Hume McCormack, who wrote in 'What they don't teach you at Harvard Business School' that the best reason to set up your own business is not that you would make a lot of money but that if you are on your death bed and you haven't done it, then you would kick yourself.
"I wanted to get it out of my system," he says.
Media
When the recession hit Yates decided to stop taking a salary from the business. He took on public speaking roles and a number of non-executive directorships such as 151, Geothermal Energy and Independent Radio Sales. His son Andrew is now working in Celtic Bookmakers with the senior management team while Yates has become involved in the media.
He has used his "politician turned pundit" alias and produced freelance writing for the Irish Examiner, contributed to radio and TV programmes and he presents a Sunday business programme on TV3.
Newstalk contacted him "out of the blue" and asked him to cover for George Hook while he was on holidays. Yates was then offered a full-time contract until July 2010, which he has accepted. He has moved to Dublin with his wife Deirdre but he doesn't mind as he is closer to his children.
Yates enjoys his new role but doesn't relish the early mornings: "I have to get up at 3.50am which I don't like so I'm not saying it's forever."
He likes that fact that Newstalk is a young station adding that "it's independent, it's not politically correct, it encourages opinion and analysis, not just straight news and I like that. It allows me to be a pundit and a presenter."
Yates is "on both sides of the mic" because of the mixture of comment and analysis involved in the role and he sees himself more as a columnist than a journalist.
He enjoys having access to the senior figures in politics, business and trade unions and because of his former role as a politician he knows when politicians are "bullsh*****g."
He has been criticised for being too soft on politicians, namely Taoiseach Brian Cowen, whom he interviewed on the show.
To that he says: "All criticism has to be accepted and [in many ways] you're damned if you do and you're damned if you don't. It could well be that I am too
soft on them but I try to probe them the best I can."
He adds: "Fianna Fáil thinks I'm a Fine Gaeler and Fine Gael thinks I'm trying to be independent but I don't mind that. I know when politicians are bullsh*****g and flannelling and not answering the question because I have been that soldier. I can cut through the waffle. I bring an experience in knowing intimately about how their minds work and the expedient nature of their lives."
Newstalk's listenership is the "thirty-something professional commuter belt."
The mood among them, according to Yates, is "negative equity and drop in incomes. They are bit sour about the way the economy and politics has gone and there is a fair amount of contempt for politicians."
He adds, "There is a lot of hardship and misery. They are the coping classes, they are finding it hard and they don't like it."
His listeners are looking for "leadership, accountability, hope and vision."
Yates surmises his role, saying: "I find it informative and while the novelty is still there I will continue to do it."
Profile
Aged 50, Ivan has been married to Deirdre since 1985 and says: "I am very fortunate. We are a partnership, a team.
"I can't type so she does all my secretarial work she works in the business, she supports me. I couldn't do all the things I have done without her.
They have three children. The oldest, Andrew, is 21 and has just finished a business degree in Swansea and works in Celtic Bookmakers.
Of his eclectic career, Yates says: "I have had 20 years in private sector and 20 years in public so I feel that I have a good mix of experiences."
Morals
When asked his opinion on gambling, Yates says "I'm a pretty a-moral person."
The issue of morality has never bothered him.
"Hey, if you want to live your life in a certain way, if you want to have a bet, if you want to have a drink, if you want to have an affair, that really doesn't bother me. I'm a live and let live type of person. I don't moralise or preach to people," Yates announces.
He continues: "I have strong views about ordering the public finances, business competitiveness and accountability in government but when it comes to personal habits, taboos and morality I am pretty easy about that.
"I understand that some people would see gambling as a-moral but it doesn't bother me in the least that some people would condemn me for that."
Relaxing
In his spare time Yates likes to "drink a bottle of wine" or go to the racing.
"I'm a sports anorak," he admits.
He also has shares in a horse called 'See you Bob', which has won four races.
He doesn't read because there is so much reading involved in his job.
Yates sums up: "I'm just your average Joe soap in terms of an average family man. And any time I can go to bed and get some sleep it is an absolute result."