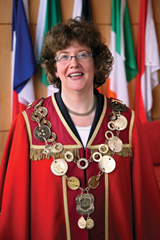 Limerick's Mayor, Maria Byrne is determined to promote the city's positive attributes such as its great spirit of volunteerism, she tells Meadhbh Monahan.
Being appointed as Mayor of Limerick in June 2010 was "the single greatest honour that can ever be bestowed" on Councillor Maria Byrne, who has had "a very busy year."
Her father Bobby was Mayor of the city from 1978-1980 and her following in his footsteps means that they were the only father and daughter ever to have held the role.
Compared to 32 years ago, the office of Mayor is "much busier now," according to Byrne. While her father "had the great honour" of greeting the Pope when he landed at Shannon Airport in 1979, Byrne is preoccupied by local events and she tries to attend everything she is invited to because "when people invite you they expect you to turn up."
A visit by the Dalai Lama in April was a highlight and, at the time of interview, the Mayor's ball was high on her agenda. Byrne nominated the Lourdes Invalid Fund and St Gabriel's School (a voluntary organisation which provides education and therapy services to disabled children) to benefit from the proceeds of the night.
She explains: "This year will be my 21st year going to Lourdes as a helper with the Lourdes invalid fund and I've been on the development board of St Gabriel's School for the last 13 years and the school does tremendous work within our city and the Mid-West region."
In addition, "there have been a lot of local and community events marking the European and Six Nations and our City of Sport [award]," Byrne summarises. These "have showcased Limerick and the region in a positive light."
Economy
Byrne formerly ran Byrne's newsagents on O'Connell Avenue, a family business that gave her an insight into the concerns of businesspeople in the city.
"Like any other city, the economic downturn has had a negative impact," she notes.
However, since Byrne has become Mayor she has opened seven new businesses within the city. One of those was in Moyross estate, one of the city's largest which has experienced serious social problems and high profile crime over many years. The fact the new venture has given employment to 65 local people "is very positive," according to Byrne.
"Limerick has a lot of small businesses within the city centre which is quite tight in terms of size. We've an awful lot of small unique shops, whereas our bigger shops are on the periphery of the city," Byrne comments.
Overall, "as well as businesses that have closed down due to the economic impact, we have had businesses opening up too," Byrne states.
City of Sport
Culture and sport are two of Limerick's "greatest strengths", according to the keen sports fan.
A further highlight in Byrne's calendar was collecting the award for the European City of Sport, which was "a great honour" for the city. The response from local sporting organisations to winning the title proves to Byrne that community activism is alive and well in the city.
Five hundred local sporting organisations were asked to organise at least one event during the year to mark the historic occasion of being European City of Sport and the response has been "absolutely tremendous," Byrne tells eolas.
"It's all about volunteerism and working with young people from an early age. You have to build up trust and commitment as well."
In April, Byrne, who supports Limerick and Munster rugby teams, was proud to host the Munster versus Harlequins game at Thomond Park, the city's 25,600-seat stadium and the home of Munster rugby.
The city is renowned for other sporting achievements too. "We have Willie Cassie who won the European boxing title and we have Sean McGowan, the rower who rowed across the Atlantic on his own," she notes.
Limerick is unique in that its charter goes back to 1691 when the Siege of Limerick resulted in the Treaty of Limerick ending the Williamite war, Byrne recounts.
The river Shannon is a popular feature of Limerick and the surrounding region and is used as a promotional tool with events such as 'Riverfest' bringing visitors to the city.
In addition, Limerick is built on a grid system, allowing ease of access and its proximity to the Shannon Airport is also an advantage for business and tourism, Byrne explains.
Other attractions "right on the doorstep" include a new state-of-the art dog track and Limerick University.
Turning a corner
"Limerick is no different than any other city and in terms of that negative image, it is turning a corner" Byrne states when asked about crime in the city.
The Fine Gael Mayor is optimistic for the city. "As a city we are attracting more and more people from abroad and we are putting forward our positive side."
The Limerick regeneration project was established in 2006 when the Government stepped in after years of increasing violence and gangland feuding, ordering an extensive examination of social exclusion, crime and disorder issues in disadvantaged areas of Limerick.
Two Limerick Regeneration Agencies were charged with designing and implementing "a comprehensive and integrated programme" for the areas of Moyross, Southill and Ballincurra Weston, and St Mary's Park. The first phase of the regeneration programme, announced in June 2010, will include 26 projects such as social housing, clustering of schools and health and community development and is valued at €337 million.
"The Limerick regeneration project is very important to the city. There have been a number of houses knocked down and people moved but as well as the bricks and mortar, the social issues down to the education and sport are as important in terms of regeneration," Byrne believes.
She commends the various community projects involved in the regeneration project saying: "There has been a great buy-in from the community. That is what's helping the regeneration work."
2011 is European Year of Volunteering and Byrne is proud of the fact that community groups in the city have been "tremendous" at organising events for the older and younger generations to mark the occasion. "Limerick is a wonderful place for volunteering. There's so many people working together for the good of others and that's one thing Limerick is good at," she concludes.
Profile: Maria Byrne
Maria Byrne was first elected to Limerick City Council for Fine Gael in 1999 and was re-elected in 2004 and 2009. She served as Deputy Mayor in 2004 and 2007. Byrne has a deep love of art, and when time permits, likes nothing better than to get out her easel and canvas and paint. She is a member of Limerick Shannon Rotary Club, Limerick Art Society, St Gabriel's Development Committee and Limerick and District Soroptimist Club.