Digital
Licences.ie a New Approach to Licensing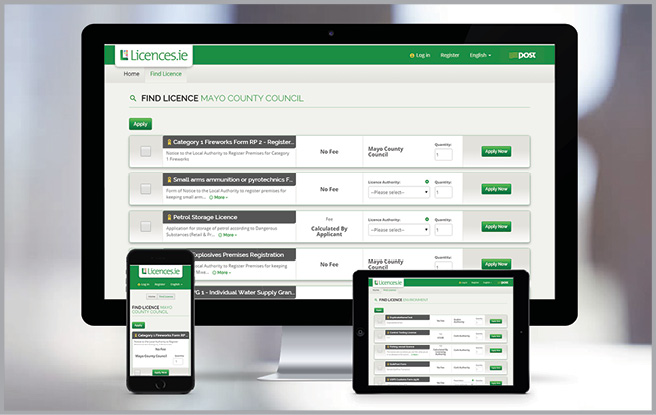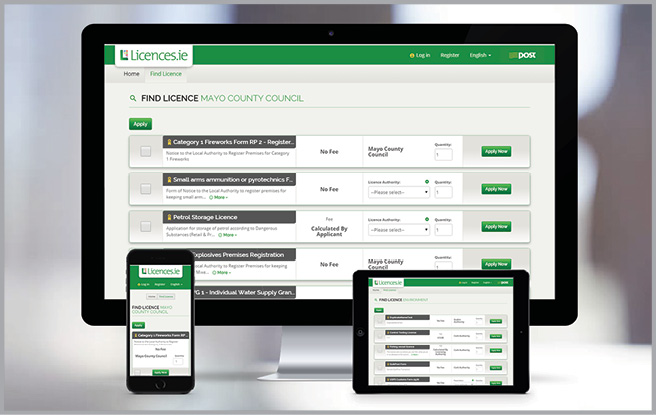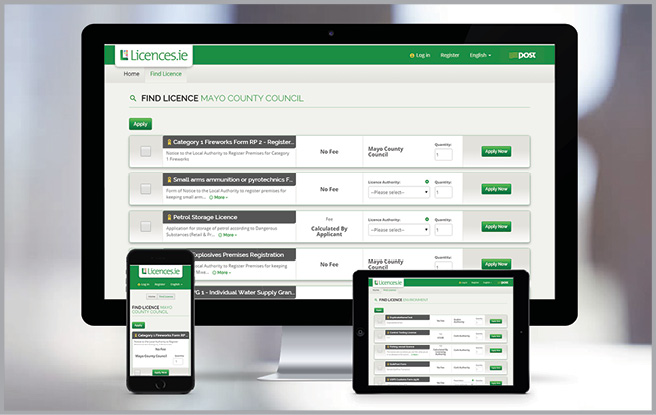 An Post introduces game changer web platform
Imagine a future where form-filling and licence applications stop being a chore. Imagine a single user friendly location dedicated to simplicity and efficiency. Imagine also a linked up future where all of the above are available via laptop, smart phone or tablet.
Licences.ie is a new licensing portal which is set to become a one-stop-shop for all licensing requirements. The site dramatically reduces the amount of time required by businesses to comply with various licensing obligations. The development of Licences.ie is an ambitious and potentially transformative initiative for how licensees and licensing bodies interact now and in the future.
The development of the portal is an initiative under the Government's Action Plan for Jobs. This, free, state of the art, internet based application, registration and payment system is operated by An Post under a Public Sector Framework Contract. This system is currently being used by several Local Authorities, Government departments and other regulatory authorities, who are availing of the many benefits the platform offers.
The key objectives set for Licences.ie are to simplify licence application, renewal, and payment processes for the end users while also offering licensing authorities the potential for internal efficiency gains.
Licences, Permits and Certificates can be applied for Online using any internet connected device, such as a laptop, tablet or smart phone.
Licences.ie was specifically developed for:
• Government departments and agencies;
• non-commercial regulatory bodies; and
• non-commercial licensing authorities.
Licences.ie is available to all public sector organisations without any upfront development costs and it does not require the installation of software. It is built to integrate seamlessly with existing systems that may already be in place.
Some of the features of the service include:
• application and registration forms can easily be digitised and accessed online 24/7 by users to fill in and submit at their convenience;
• robust back-up and disaster recovery policies in place;
• can be used to support any online application or registration programme;
• secure online payments service;
• users can pay for multiple applications to different authorities in a single payment;
• data entered can be tagged for duplicate fields, autocomplete facility;
• facility to upload scanned documents e.g. birth certs or photos;
• the user is prompted to provide complete information;
• automatic notifications as applications are processed, to reduce calls to help lines; and
• users get their own online space to store and track applications.
Licences.ie is designed to ensure personal privacy and compliance with the Data Protection Acts, including the provision of best practice guidelines and procedures in relation to all aspects of data protection.
Public register
Licences.ie can maintain a register of licensed individuals and organisations across the entire range of licence types and licence authorities. The register is fully searchable where applicable. Data published to the register can be controlled so that only specific data elements are published. A permissions context can be set so that certain authorised authorities can log in and access more detailed or restricted information. Further enhancements are planned for the Public Register such as map based geo-coded views and alerts on specific licences.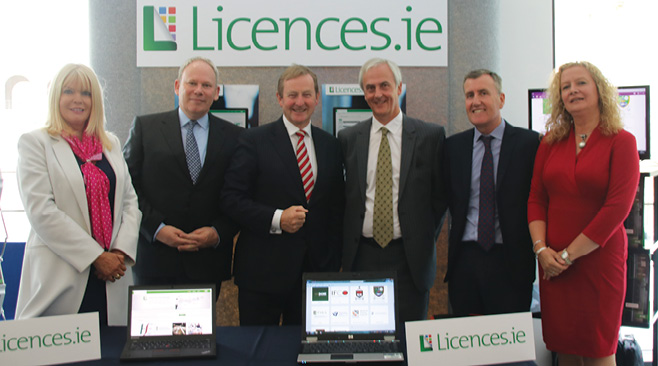 No up-front costs
All public sector entities which are involved in licensing or regulating businesses can use Licences.ie without having to undertake any additional procurement process. There is no long term commitment or volume levels required to use the system.
One of the main challenges we are hearing from potential clients we have met, involves trying to track applications and payments. Licences.ie provides a full suite of reporting and auditing tools for all transactions, past, current and pending.
There are no additional fees payable by applicants using Licences.ie to apply for a licence. Likewise, for licensing authorities, there is no upfront investment required for making its licences, permits and certificates available on Licences.ie. Instead the licensing authority is charged a modest fee for every application made through Licences.ie.
Fees are processed via An Post's secure online payments system and are electronically transferred directly to the relevant licensing authority, eliminating the expense of dealing with cheques and other paper based payments.
A high-level analysis carried out by Licences.ie staff has revealed a large number of application forms on Government websites which are not web forms and cannot be completed and submitted online.
The sophisticated technology behind Licences.ie is provided by Escher Group which is the leading supplier of retail technology to post offices worldwide. This technology combined with An Post's brand reputation and reach, means that Irish businesses have a new secure, convenient and cost effective way of meeting their obligations in the licensing sphere.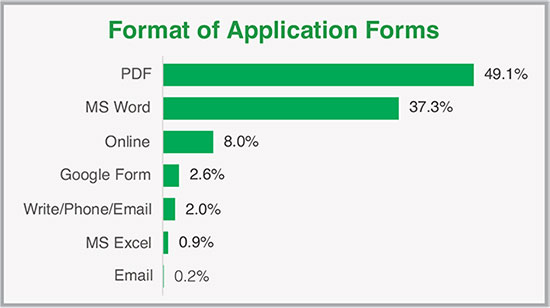 The easy way to apply for your licences
Should you wish to chat further about how this might integrate with your own existing system please don't hesitate to contact me for a demo or to arrange a conference call.
Frank Kavanagh, 
Integrated Licensing Manager 

T: 01 705 8562

M: 085 736 8225 

E: frank.kavanagh@anpost.ie

What others are saying?

"In late 2015 we delivered the Integrated Licence Application Service, the one-stop application portal which is dramatically reducing the time businesses spend applying and paying for licences and authorisations required to establish and operate a business in Ireland. There are currently 5,000 business users registered, with seven licensing authorities using the service across ten licence types. This service is now available to all national and local licensing authorities and the numbers represented on the portal is continually expanding as the system is rolled out." Action Plan for Jobs 2017

"The PSRA is delighted that its licensees can now renew, pay and submit their licence applications online through Licences.ie. The 24/7 service offers maximum convenience for licensees, making it easier to submit and acquire their licence. By putting our renewal forms and payments online, the PSRA has been able to achieve greater efficiencies and cost savings." Maeve Hogan, CEO of the PSRA

"I would highly recommend using Licences.ie for processing your applications and payments online. I found them professional in their approach, supporting and assisting us at each stage of the process. Once we established our requirements, our forms were digitised and our staff trained in a matter of weeks. I am delighted with the service." Ger Connolly, Director of Film Classification, IFCO