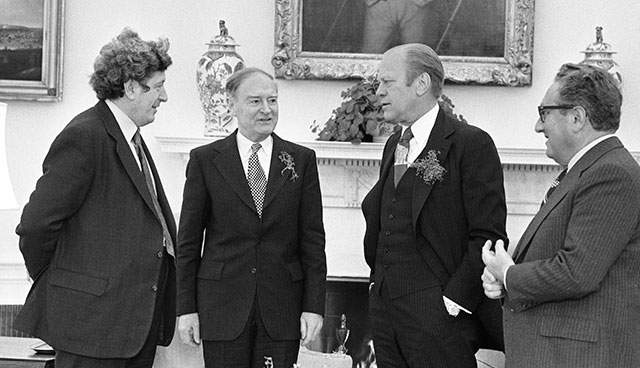 In October 2017, former Taoiseach Liam Cosgrave succumbed to long-term illness. eolas reflects on his life.
Born in April 1920, an alumnus of Synge Street CBS, Castleknock College and King's Inns, Liam Cosgrave was both called to the bar and elected to the Dáil as a Fine Gael TD for Dublin County in 1943 (aged 23). He became Chief Whip in 1948, attained his first cabinet role in 1954 as Minister for External Affairs (overseeing Ireland's entry into the United Nations) and assumed leadership of Fine Gael in 1965.
As leader of the opposition he played a central role in the 1970 Arms Crisis when he privately compelled Taoiseach Jack Lynch to take action against senior Fianna Fáil ministers implicated in the Arms Crisis (having been privy to leaks from Special Branch).
At the Fine Gael Ard Fheis in 1972, Cosgrave spectacularly rounded on leadership rivals in perhaps his most memorable oration, exclaiming: "… some of these commentators and critics are now like mongrel foxes; they are gone to ground, but I'll dig them out, and the pack will chop them when they get them." Though he was also criticised for the partitionist rhetoric he deployed in drawing parallel between his contemporary challenges and those in his father's era amidst the Civil War.
In 1973, he halted 16 years of Fianna Fáil electoral domination, leading Fine Gael to victory in the general election and formed a Fine Gael-Labour Party government. He was commended in his delegation of responsibility to a "cabinet of all the talents".
Jockeying for power with Fianna Fáil's Lynch throughout the late 1960s and early 1970s, Cosgrave was regarded as somewhat more left-leaning in the economic sphere ("a bird never flew on one wing"), and during his tenure 100,000 social houses were built and social welfare spending dramatically increased.
However, he was also fervent Catholic and social conservative; during a free vote in 1974, he unexpectedly crossed the floor, helping to defeat his own government's bill to legalise contraceptives for married couples.
James Callaghan, British Prime Minister from 1967-1979, described Cosgrave as "a quiet, sober man". Though Callaghan also noted: "He would have no mental hang-up in his relations with the IRA and might well deal with them more roughly than Lynch had."
The son of WT Cosgrave – an officer in the South Dublin Union garrison during the 1916 Rising, a Member of the first Dáil and subsequently the first elected head of government in the Irish Free State – he defended his father's aggressive actions during the Civil War. "He had to take very strenuous actions against the irregulars. The actions taken were severe, but they were effective. The result of that was that the Government continued to function effectively and despite great difficulties succeeded in restoring order."
This assertiveness was matched by his own policy stance towards the Provisional IRA, for which he was admired by his colleague Conor Cruise-O'Brien. Security policy of the period was marked by 'Heavy Gang' interrogation techniques and a curtailment of civil liberties. However, at the same time the Cosgrave Government would also notably mishandled the response to the Dublin-Monaghan bombings.
As Taoiseach during the turbulent years from 1973-1977, he led the Irish delegation in the Anglo-Irish talks which led to the first and ill-fated powering sharing executive in Belfast under the Sunningdale Agreement.
Cosgrave had a passion for horses and hunting, which he shared with his wife Vera (n'ee Obsorne), whom he married in 1950. It was a pursuit that also enabled him to connect with the northern unionist leader, Brian Faulkner.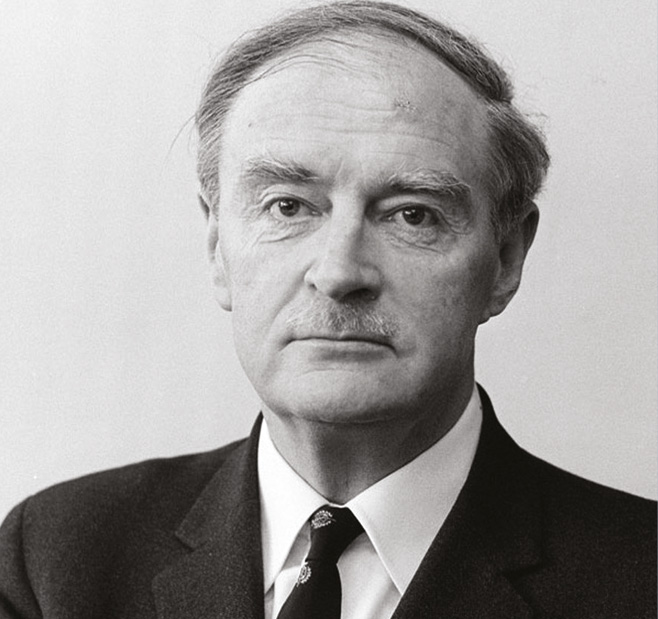 "Some of these commentators and critics are now like mongrel foxes; they are gone to ground, but I'll dig them out, and the pack will chop them when they get them." Liam Cosgrave
Then, in 1977, Cosgrave went against the advice of his long-time rival, Garret FitzGerald, and called an early general election which he emphatically lost to the largest Fianna Fáil majority in its history. Before the dust had settled, he retired to the backbenches as Deputy for Dún Laoghaire-Rathdown after using the power of patronage to fill several state vacancies. Cosgrave removed himself from Dáil life entirely and perhaps prematurely in 1981.
During his first National Conference speech as leader of Fine Gael, Leo Varadkar paid tribute to his forerunner: "A Chomhgleacaí, a few weeks ago we paid our respects to a man whose entire life was devoted to the service of this state. Tonight, as a party, we are able to make our own heartfelt tribute to one of our greatest Taoisigh, Liam Cosgrave. We honour his memory by being true to the principles by which he lived his life: cuibhiúlacht, dínit, agus tírghrá. Decency, dignity, and patriotism."
In recent years, he made only occasional public appearances, including attendance at the Easter Rising centenary parade in Dublin and the unveiling of a plaque at the former site of the South Dublin Union (St James's Hospital).
In October 2017, after a long battle with illness, Cosgrave died at the age of 97. In declining a state funeral, he, for a final time, demonstrated a dignity and distinct lack of ego which had come to define his leadership. Liam Cosgrave is survived by his daughter Mary and sons Liam and Ciarán.
Ar dheis Dé go raibh a anam.