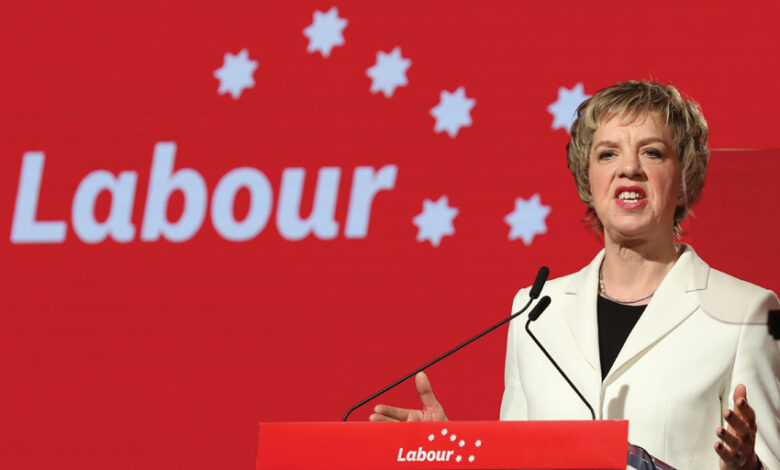 The Labour Party was keen to move beyond its erstwhile association with Fine Gael in government, with party leader Ivana Bacik TD accusing the Fine Gael-Fianna Fáil-Green coalition of "failing the people of Ireland", as she addressed Labour members at its 2023 party conference in Cork.
While just seven years ago the Labour Party headed into the election in 2016 defending 33 seats as the second largest party in the Dáil, now it is a shadow of its former self, boasting a modest total of seven TDs.
A notable theme at the Labour conference was the return of the concept of the 'socialist' label among Labour delegates, with Bacik herself defining herself as a socialist and emphasising the origins of her party "founded by [James] Connolly".
Breaking from the Labour Party's recent trajectory, Bacik called for a "left-led green/red government", articulating her belief that "the current conservative coalition is just not working; Fine Gael and Fianna Fáil are perpetuating an unequal Ireland".
Bacik focused much of her leader's speech on housing, critiquing the Government's "failure" and characterising the rising levels of homelessness as being "driven by ideology". Calling for a "structural revolution" the Labour leader outlined her party's housing priorities if it were to return to government.
"Our ambition is for one million homes in 10 years, starting now. The State can – and we must – deliver 50,000 new builds and 50,000 refurbished homes a year for the next decade."
Further breaking with traditional Labour leadership trends, Bacik adopted left populist rhetoric on housing, saying that if she were in charge: "The vulture funds and bankers would be told to back off."
Bacik, however, will know that if this new, openly left Labour Party is to prosper at the polls, that it is unlikely that she will be shearing votes away from Fine Gael and Fianna Fáil. As such, she took the opportunity to condemn rival parties on the left, saying: "Too many other parties are full of promise but empty on policy. We know what they are against, but not what they are for. Offering no constructive solutions, it is dishonest. I prefer to tell the truth."
Precisely one year on from her rise to the Labour leadership, Bacik emphasised the party's record on women's rights. "By having the courage to take on conservative Ireland, Labour has changed people's lives for the better and women's lives for the better. Now the Government has conceded our call to hold a referendum on gender equality this year, to finally jettison de Valera's delusions about women."
In spite of SDLP leader Colum Eastwood MP having ruled out a merger with Labour, Bacik took the opportunity to emphasise the warmth between the two parties and – further embarking on a new strategy – came out in favour of a unity referendum "not for the empty nationalist idea of a fourth green field for its own sake, but because we believe in building a consent-based movement for change through the citizens' assembly model, in keeping with the core principles of the Good Friday Agreement".
The Labour leader emphasised support for refugees entering Ireland, and also spoke in favour of a ban on the import of goods from the Occupied Territories of Palestine.
Exiting the stage to a rousing round of cheers and applause, the Labour Party showed itself to be in buoyant mood, and, in keeping with his recent change to its party logo, was keen to reinvigorate its left-wing roots. Time will tell, however, if Labour can take back the hundreds of thousands of voters who have abandoned the party since 2011.