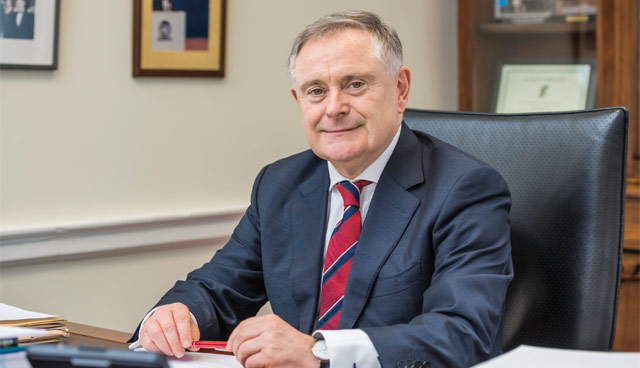 Ireland is at a crossroads, Labour Party leader Brendan Howlin TD told the party's annual conference in November. The same could be said of his own party, who face into 2020 with the goal of recovering their pre-2016 position firmly in their sights.
"Our country is at a crossroads," Howlin told the conference to open his leader's speech. "Labour wants everyone to share our country's wealth."
The Labour Party is itself at a crossroads, still looking to recover from the decimation of its voting base that started in the 2014 local government elections and carried on into the 2016 general election. After losing 81 council seats around Ireland and falling 7.5 per cent in vote share in 2014, Labour replaced Eamon Gilmore as leader with Joan Burton, who oversaw the loss of 30 Dáil seats and a drop in vote share from 19.5 per cent to 6.6 per cent. Howlin, Burton's successor, was then made leader to halt the party's slide, which he has to some extent. In 2019's local government elections, the party gained six seats nationwide, but suffered a further drop of 1.4 per cent in vote share.
Since May 2019's local and European elections, Labour have found themselves fifth in every major opinion poll, sixth when others/independents are incorporated, behind Fine Gael, Fianna Fáil, Sinn Féin and the Green Party and oscillating between 3 and 6 per cent of the projected vote. Yet, with the polls so finely poised at the top end, it is possible that they could still play the role of kingmakers. Howlin was definitive in his position on the possibility of Labour joining the next government: "Labour will not support any party to form a government, including from opposition, unless they agree to implement our core policies."
Howlin outlined Labour's five core policies that cover the areas of work, housing, healthcare, children and climate:
a living wage for all workers;
a cap on rents and rent freeze until more homes are built;
the redirection of health funding into local communities;
the creation of a Childcare for Working Parents Scheme; and
a

€

2 billion climate fund to "drive the necessary economic change using the power of our state enterprises".
On prospective partners in government, Howlin was equally scathing with regard to both Fine Gael and Fianna Fáil, saying neither could be trusted on housing or wages. After saying that neither were "progressive parties", he accused Taoiseach Leo Varadkar of "either incredible ignorance or else serious contempt for science" following the Taoiseach's comments about the potential benefits of global warming.
Howlin also said that there was a need to "revisit some of the decisions forced on Ireland during the economic collapse" and pledged to stop the rise of the pension age to 67 for the lifetime of the next government, saying that there is "no need for Ireland to have a higher pension age than other European countries".
After pledging a total ban on political advertising on social media during elections, the removal of carbon from Ireland's economy and to "properly fund public service broadcasting", Howlin finished on an outward and upward looking note: "Let's create an economy that delivers for everyone. Labour is committed to an economic model that creates enough wealth to be shared by all. European social democracy offers a real alternative. It works best in the Netherlands, Finland and Sweden. Let's add Ireland to that list."