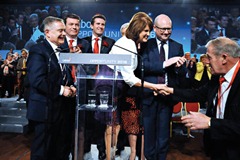 Starting from a low position in the polls, Labour is preparing for a fight-back and hoping for a return to government.
Peter Cheney reflects on the party's annual conference.
Water protests outside Labour's annual gathering and a strong security presence helped to illustrate the difficulties facing the party almost four years into its return to government. That said, the mood inside Killarney's INEC conference centre was surprisingly positive.
Strong pressure for a fight-back came from the grassroots members, many of whom fear that Labour will follow the path of the PDs and Greens whose time in government ended in failure at the ballot box. History could well repeat itself. In the 1992 election, Labour had a relative landslide of 33 seats but it fell back 17 five years later. The 37-seat tally achieved in 2011 will undoubtedly fall sharply on the State's next polling day. Labour's historic low was seven seats in 1932.
Alan Kelly asserted that the Government was "14 months out" from the general election, thus implying that Labour could regain ground and a snap poll was certainly not in its interests. The far left, he commented, wanted everything for nothing: "These people are false revolutionaries who believe in leading people up to the top of the hill and then blatantly abandoning them."
SIPTU President Jack O'Connor, though, envisaged Labour helping to form a left-wing government rather than partnering again with Fine Gael. He saw a considerable irony in the only party to oppose the bank guarantee being "blamed for it all" and acknowledged that Labour had stood up against Fine Gael i.e. "a minority party outnumbered by more than two to one to try to mitigate the damage to working people and civil society in general."
Successes included stronger collective bargaining rights, preserving the social welfare system, preventing compulsory redundancies, limiting privatisation and helping to bring about the euro zone's highest level of employment growth.
On water charges, he called for more dialogue between Labour and the protest movement and an increased conservation allowance with a view to redesignating Irish Water (in the longer term) as a public body or a non-commercial semi-state company.
Brendan Howlin's regret over the abolition of town councils was one indication of the party trying to distance itself from Fine Gael. In a crowd-pleasing address, Howlin highlighted Labour's 'Operation Transformation' – helping to bring the deficit down from over 30 per cent to under 3 per cent.
"Sinn Féin and their raggle-taggle band of Trotskyite pals don't do economics," he stated. "Theirs is the politics of the fairy godmother or 50 shades of fiscal fantasy for the adults." Howlin recognised the difficulties faced by the public over the last seven years but pledged that Labour would succeed in delivering social recovery as well.
Maíría Cahill's speech, meanwhile, was a direct challenge to Sinn Féin. Given the tone and delegates' strong support for Cahill, it would be difficult for Labour to share power with Sinn Féin. Her most chilling comment was that she "probably would have been" killed for making the disclosure a number of years ago.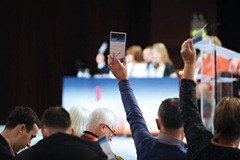 Spring
"We stand here as spring takes hold throughout the country," Joan Burton stated. "And right now, we are witnessing an economic spring too."
Her two key numbers were over 90,000 new jobs being created since coming to power and 40,000 more jobs expected this year. Ambitiously, she claimed that Labour had "conquered … fear and replaced it with hope" before moving on to her main theme: social recovery.
Drawing on her own story, Burton recalled how her adoptive parents strongly valued education but "could never have afforded" the fees for University College Dublin – an opportunity opened up by a scholarship. "We measure success by the progress of our people," she continued, "by the jobs they have and the quality of life those jobs offer, by the sight of communities prospering, and children thriving."
With tax revenues rising, Labour wanted to see more money going into public services and – echoing Fine Gael – also expected full employment by 2018. The launch of the Low Pay Commission, in time for the conference, would lead to higher minimum wages – which had been raised by Labour from €7.65 to €8.65. On the front-line, 300 new Garda recruits. 1,400 more teachers and 350 special needs assistants were evidence of recovery.
Burton took credit for opposing the "disastrous" bank guarantee and was seeking for a social dividend to make up for the damage caused: "A measure of fairness for the massive injustice inflicted on all of us." The same-sex marriage referendum would be won "face-to-face, one person at a time."
In one of her speech's stronger passages, the Tánaiste contrasted Labour's attitude with the apparent "chaos" on the opposition benches: "Fianna Fail won't enter government with Sinn Féin or Fine Gael. Sinn Féin won't enter government with either of them. The independents can't govern themselves. And the hard left are opposed to governing."
The implication was that Labour should hold Fine Gael to account again and could deliver more progress in government.
As expected, Labour's rivals were dismissive. Fianna Fáil TD Barry Cowen accused Howlin of crying "crocodile tears" over the town councils and called for "town teams" to replace the vacuum which his party claims has been created by their abolition.
Speaking for Sinn Féin, Mary Lou McDonald TD described Labour as being "in denial of the impact of their policies and dismissive of any criticism" and added: "If Joan Burton is confident in the achievements of Labour in government, let her go to the people."