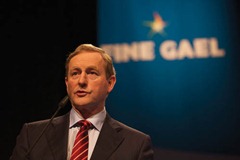 Peter Cheney reports on Fine Gael's national conference in Castlebar, where the Taoiseach took stock of four years in government and urged a Yes vote in the upcoming marriage referendum.
The 2015 Fine Gael conference had the air of a homecoming for Enda Kenny and may well be the last such gathering before the general election. His opening speech was very much for the home crowd, helped by the lifting of the Chinese beef ban. A national tourism strategy and three regional enterprise strategies would deliver benefits across the State. The Taoiseach also struck a chord with rural families by pledging that no small school would close "unless a patron and community decide so."
The agri-food sector had been "a shining light during the darkest days of recession" and initiatives such as Origin Green were underpinning its continued growth.
The thrust of the speech was to secure Fine Gael's base against Fianna Fáil growth, as seen in last year's local elections. Kenny's footing, though, is less steady on the Fennelly Commission where questions around his conduct and Martin Callinan's resignation are continuing.
It fell to Frances Fitzgerald to defend the Government's record. "I've sent a clear, simple message to An Garda Síochána," Fitzgerald added, "Get the gardaí out from behind their desks. Get them onto the streets, where we can see them and – just as important – where the criminals can see them."
On oversight, Fitzgerald proposed a criminal justice inspectorate – potentially based on the North's model – to inspect all services in the system for their efficiency and effectiveness. A consultation would take place before she made a final decision.
As Minister for Foreign Affairs, Charlie Flanagan reflected on how the world would perceive Ireland in 2016. He wanted to see "multiple and plural commemorations which remember the past while ensuring, as far as possible, that commemoration does not reignite old tensions."
Examples included Irish Government participation in Remembrance Day services and its plans to attend the centenary events for the Gallipoli campaign and the Battle of the Somme.
The Ireland 2016 programme will also "provide the opportunity to present to a global audience a snapshot of Ireland's achievements" including its journey towards peace and the recent economic recovery. A three-week Proclaiming Ireland festival will take place in Washington DC's Kennedy Centre in May 2016.
Flanagan also acknowledged the debate about whether or not to invite members of the British royal family to the commemorations. He suggested that "there may be events where it may well be appropriate to invite our international partners, at a suitable level, to join with us to reflect on the events of 1916." However, the Easter Sunday programme (27 March 2016) and the actual centenary (24 April 2016) would be "moments for national, rather than international commemoration."
UCD historian Diarmaid Ferriter has commented that a royal invitation would be inappropriate given the aim of the rebellion.
Leo Varadkar made the headlines for his stinging personal criticism of Gerry Adams. Adams' flights to the USA for medical treatment in 2013 were paid for by Cairde Sinn Féin, the party's international support organisation.
"Ireland does not need another Taoiseach who gets dig-outs from his friends when he skips the country," the Health Minister stated. "We need a Taoiseach who has faith and confidence in our own country. A true patriot like our Taoiseach, not a self-serving phoney like Mr Adams."
With Varadkar also dismissing Fianna Fáil as a coalition partner for its "sheer incompetence," the implication was that a continued Fine Gael-Labour administration would be the only one that "puts Ireland first." That strategy carries a certain element of risk given Labour's poll ratings but it at least gives voters clarity up to a year before the poll.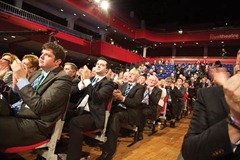 Jobs focus
As with most centre-right conferences, the tone was set by the mainstage speakers. The crowd was in buoyant mood by the time of Kenny's keynote address on Saturday night.
"Others now look to us when they want to see a people, with sleeves rolled up, meeting a challenge head on, and meeting it successfully," he stated, recalling the departure of the troika.
In two key pledges, Kenny promised further tax cuts and also that Ireland was "never going back" to the days of the crash.
"Why am I, as Taoiseach, so focused on job creation?" he continued. "It is because I know that unemployment is the main cause of inequality and unfairness in our society."
The goal of full employment by 2018 was "highly ambitious" but, in his view, also achievable. Delivering high speed broadband to every home and business in the State by 2020 was another stretching target outlined by the Taoiseach.
Kenny also addressed the upcoming same-sex civil marriage referendum, due to take place 22 May, commenting that it was about the right for same-sex couples to say "I do". He added that the party strongly supported a Yes vote which would send out a powerful signal internationally that Ireland has evolved into a fair, compassionate and tolerant nation.
Responding to Kenny, Micheál Martin called for a face-to-face debate with the Taoiseach after "a series of tired, inaccurate and clichéd attacks on my party."
Martin added that, despite his tax-cutting credentials, the Government had delivered "no fewer than 13 tax increases during his time as Taoiseach."
Gerry Adams went further and claimed that the Taoiseach's speech was "merely a back-slapping exercise." Adams maintained that the next election would be a choice between a Fine Gael-led or Sinn Féin-led government, with his party offering "a recovery for all."
This was the first of the pre-election conferences and Kenny clearly has his sights on taking Fine Gael into an unprecedented second term – with Labour's help.
The intensity of the political rhetoric is only likely to increase between now and polling day as the opposition parties and independents also fight for a place in government in the 32nd Dáil.