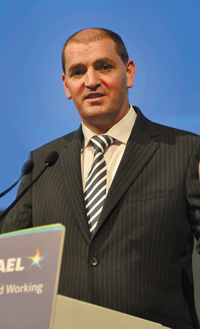 Government Chief Whip Paul Kehoe discusses the need for 'communications discipline' in government and plans for more political reform with Stephen Dineen.
He's the man behind the Taoiseach, in a sense. You'll see Paul Kehoe sitting behind Enda Kenny at leaders' questions or order of business, information on legislation to hand. One of his main duties is to brief the boss.
As the Minister of State charged with scheduling Dáil business and government discipline, he's got a good overview of how everything is going.
When asked what government achievement he's most proud of, he replied: "I think the Government has brought a little bit of confidence to the country compared to what it was when we entered government first in early 2011."
Two colleagues are singled out for praise. "I think Michael Noonan has achieved a huge amount in a short space of time." Enda Kenny, whom he backed in the 2010 leadership heave, "is doing an extremely fine job." He adds: "I think that he's very accessible to the people." Kenny also has a "very good relationship" with the Tánaiste, a relationship equalled by the two coalition parties.
It's not always rosy though. Coalition tensions were high before last December's budget, when some of those he sits with at the cabinet table publicly and privately briefed media on possible budget measures. Leaks about cuts, some of which never happened, caused public fear and anger.
"I wouldn't like to see it happening in this budget because people were getting mixed messages," he tells eolas of that period.
This summer has seen more public commentary by ministers about the budget's contents. It irks him. "The general public are not interested in ministers coming out and debating on the airwaves. You debate against the opposition on the airwaves, but you don't fly kites."
Legislation
Kehoe should have an easier time than any Chief Whip in the history of the State as the Government has a majority of 59. Yet he must also monitor the Government's legislative programme, with its competing government and troika priorities.
This involves keeping an eye on a Bill's long journey, consisting of drafting the heads of a Bill, the Bill itself and its passage through the Oireachtas. Every fortnight he chairs a meeting involving his own staff, staff at the Office of the Parliamentary Counsel and the Attorney General Máire Whelan.
The Fine Gael TD must also try to ensure that ministers publish bills on time. Legislative ambition has not met output, however. Only five of 28 bills promised for the spring session (excluding one that the troika consented to deferring) were published. Twenty of 28 (again excluding one deferral) promised for the summer session were published at the time of going to press.
"What I will say is: because of the EU-IMF commitments that we had, that did take over our legislative agenda," he defends. "We had a referendum in this session as well. That took over the drafters' time scheduling as well."
If the troika wants a Bill prioritised, the Government must "more or less drop everything else", Kehoe reveals. For the autumn session, he predicts that the Department of Finance and the Department of Justice and Equality will publish the most legislation.
Political reform
Dáil reform also comes within Kehoe's remit, and the Chief Whip highlights a re-structured committee system that includes vetting of legislation before it is published, increasing leaders' questions from twice to three days a week and Friday sittings once a month. The Ceann Comhairle can now compel a Minister to re-answer a parliamentary question if the response is deemed inadequate.
Dáil terms are longer, he points out.
It sat on 127 days from 9 March to 31 December 2011, compared with 88 days for the same period in 2010. "I believe the parliament itself and the chamber itself is working better compared to what it was this time two years ago," he states.
The reforms have not been without glitch, however. The Oireachtas Investigations, Oversight and Petitions Committee (now named as the Public Service Oversight and Petitions Committee), has a more limited remit than that envisaged before the referendum on Oireachtas powers of inquiry last October.
A re-structured and reduced (26 to 16) committee system has been revised because of the breadth of legislation and policy covered by certain committees. "I think the committee system is working better now than what it was," says Kehoe, admitting it had been "a little bit unwieldy."
In the coming session, he wants to look again at "the relevance of the chamber" in providing opposition and government TDs with a chance to hold ministers to account. He also hopes to introduce a 30 second 'point of concern' provision to replace Dáil standing order 32. Rarely granted, it allows for debate on a matter of public interest 'requiring urgent attention'. Provision will be made for deputies to ask "something more parochial or localised" and get responses within a set time period.
He also plans to facilitate parliamentary questions to semi-state bodies, also with a time limit.
Kehoe is also responsible for the Central Statistics Office. Currently, he is examining whether the next census should be conducted online or remain paper-based (see eolas issue 8, pages 28-29). He believes that "it's nice for a family to sit down and fill out their census application on a specified date."
"Would we get the same amount of accurate information that we're getting online than we're getting with the pen and paper? I don't know," but he says that he will keep an open mind.
The coming months will undoubtedly test the Coalition. Debates on the budget and other sensitive policy areas such as abortion have exposed differences that will resurface. For Kehoe, the role of Chief Whip is about "being able to communicate and to be able to listen to everyone's views." He adds: "Being open to people of different opinions is the most important thing."
Profile: Paul Kehoe
From Wexford, Kehoe worked in farming, sales and marketing before politics.
Former TD and Minister Ivan Yates was "one of the main reasons I became very involved, because I saw the work he was doing in government," he recalls of joining Fine Gael. "I was very involved in community and parish organisations. I always liked to be able to work for people."
He joined the party in 1997 and was elected in Wexford in 2002 on his first attempt. He was Fine Gael Chief Whip from 2004-2011.
Married with two children, his spare time is with his family, going to the cinema, walking and watching television. His favourite programmes are Countryfile, Escape to the Country and Nationwide.