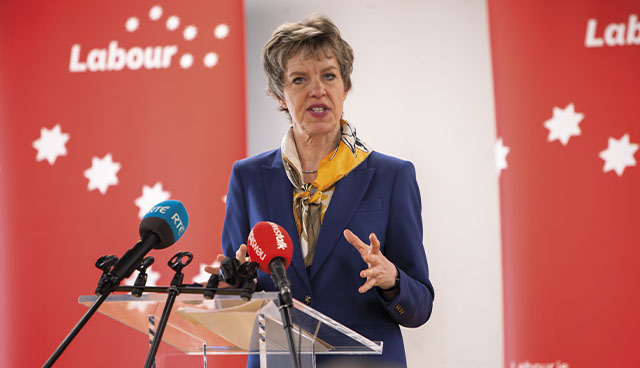 Named as the 14th leader of the Labour Party after an unopposed campaign to succeed Alan Kelly TD, Ivana Bacik TD speaks to Odrán Waldron about the challenge facing the party, her victory in the 2021 Dublin Bay South byelection, and her vision of positive politics.
"We've certainly been through challenging times," Bacik says, reflecting on where both she and her party find themselves. "I first joined about 30 years ago and I've been around long enough to know that we've had a number of ebbs and flows, rises and falls in the fortunes of the party."
That Bacik finds herself here at all may come as a surprise to both observers and the new Labour leader herself; having served as a Senator from 2007 to 2021, she has been a TD for less than a year, winning in the Dublin Bay South byelection in July 2021 to replace erstwhile Fine Gael TD, Eoghan Murphy, the only election to take place since the outbreak of Covid-19. Bacik claimed what would have been considered a surprise victory when campaigning had begun; her vote share of 30.2 per cent, in a constituency where the party had claimed just 7.9 per cent of the vote in the 2020 general election, showed the progress the party had made in the constituency covering parts of Kimmage, Rathmines, Terenure, and Rathfarnham.
"I am heartened by the response that we got in that byelection," she says. "Now is the time for us to build and grow our voice, because there's a need for Labour messages of equality, solidarity, and fairness, the need for the State to step up and invest in public services, more teachers, doctors, and nurses, and indeed in ensuring that people's basic needs are met and that the effects of the cost of living crisis are addressed and those who are most in need do not suffer as a result."
While her own election result gives her cause for optimism, the situation she inherits as Labour leader is not so positive. In the 2020 election, the party recorded all-time lows in first preference vote share (4.4 per cent), seat numbers (six, now seven with the addition of Bacik) and position among the parties (fifth). Following the deposition of Brendan Howlin TD as party leader, Alan Kelly TD ascended to leadership but did not survive to contest an election as leader. Following his resignation, Bacik took up the mantle unopposed but is undaunted by the task before her and believes that a focus on material issues will benefit the party.
"What I said was we wouldn't contemplate going into government unless we had a critical mass of TDs and senators to be able to ensure that we could deliver on our policy priorities." – Labour Party leader, Ivana Bacik TD
"We've gained a real understanding into the concerns of our communities across the country," she says. "There's nothing like being on doors, canvassing and meeting people daily to ensure that you become fully aware of the real extent to which people are feeling the pinch. We in Labour put down a cost-of-living motion in January before the war [in Ukraine] hit because we were already seeing people squeezed."
In focusing on the issues affecting people in their day-to-day lives, Bacik sees an opportunity to both spread her message of positivity in politics and to rebuild Labour as a standalone party: "One of the key strategies we deployed in the byelection was a positive message, a positive focus and a positive campaign. That is why I'm in politics; I don't believe in the toxic, destructive shouty politics that unfortunately all too often characterises Dáil debate.
"What I want to focus on is building Labour as a standalone party and building support for our message and values. That's enough of a challenge. I and the party need to build up our strength in numbers locally, and we're likely to see a local election first in 2024 before we see a general election."
Much of the early coverage of Bacik's leadership has centred around a perceived refusal to consider a future coalition with Sinn Féin, the leading party of the left in Ireland both in polling and current seat numbers, but the TD affirms that her comments were misconstrued and that the party needs to build a "critical mass" before considering coalitions or partnerships with any party.
"What I said was we wouldn't contemplate going into government unless we had a critical mass of TDs and senators to be able to ensure that we could deliver on our policy priorities," she says. "I think that's an approach that most parties would take. As we've seen in other general elections or the referenda I've been involved in, you know when the momentum is with you and whether you'll be able to deliver critical mass. It's too soon to say what that will look like in 2025 or whenever that will be, but there will be opportunities in the meantime to show how Labour support is growing, particularly in the local elections."
In the past, Labour has strengthened via the subsummation of other left parties, most famously in the case of the merger with the Democratic Left, leading to speculation that such a move with a party such as the Social Democrats could be possible presently, but Bacik dismisses this. "I'm not interested in any mergers or allian
ces with any other party because I 
think our key task is to grow our own base to see Labour values being put into effect to see actual change being delivered for social and economic equality," she says.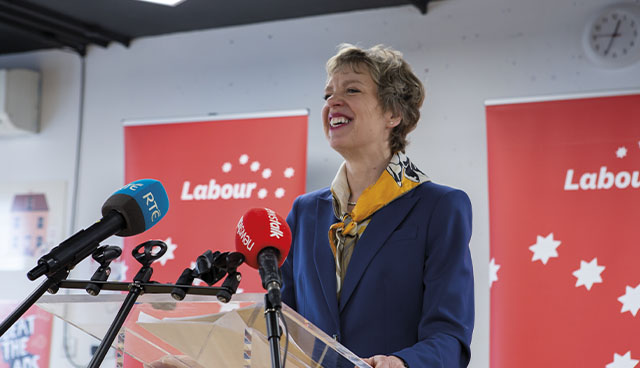 "But I do also have a strong record personally of working constructively with colleagues from all parties where we have commonality of policies and I will continue to do that, to work not just with opposition but with government where we can, to deliver change. I accept that the left has been and remains fragmented, but that's always been the case and what we need to do is grow sufficient support to get over that fragmentation."
Again, Bacik says the overcoming of that fragmentation will be achieved through "promoting our own message positively, rather than knocking other parties". She points to the fact that she introduced what would have been the State's first Climate Action Bill with legally binding targets in the Seanad in 2007 as evidence of the party's green-red agenda, before pivoting to other policy positions.
"We support a property tax because it's a tax on wealth and it's one way of redistributing wealth, which is the core message of any left-wing party," she says. "That is core to the Labour message and marks us out from other parties. When we say invest in the building of 40,000 homes a year, we are also offering a means of doing so, which is through a fair taxation system that taxes property."
"I'm not interested in any mergers or alliances with any other party because I think our key task is to grow our own base to see Labour values being put into effect to see actual change being delivered for social and economic equality."
As the new leader of the political wing of the trade union movement, Bacik points to her history as a labour lawyer and her work with unions such as the NUJ in ensuring collective bargaining rights for freelancers. "That's the sort of legislation we need to see and I know now what unions and their members need is legislation that will require organisations to engage in collective bargaining where membership meets a particular level in a workplace," she says.
"That's the sort of legislation that has been very effective in growing union strength but also ensuring that minimum rates have been maintained and that workers' pay and conditions have improved in other European countries where you don't have that voluntarist model of industrial relations that we have inherited from the British but unfortunately have maintained. It's about strengthening union rights through legislation, strengthening the union message through delivering change for members, and it's also about us putting pressure on government to engage in negotiation with unions through the public sector pay talks. In the private sector, we need to see unions growing their membership and union rights strengthened and I think the two go hand in hand."
Of course, no conversation regarding the fortunes of Labour is complete without reflection on its role in government between 2011 and 2016, but Bacik concludes by saying that it is now time to turn the page from that chapter in the party's history: "The interesting thing for me is that it's now six years since Labour left office; in 2016, the country was back from the brink of financial ruin, out of the Troika, in relative prosperity. The people had their verdict, but it is now time for us to move on and I'm always conscious that Fine Gael and Sinn Féin are never asked about their role in voting for the bank guarantee, Fianna Fáil and the Green Party are never asked about bankrupting the country and promoting the bank guarantee.
"We are now in a different space in politics and other parties who brought about the financial ruin or contributed to it by backing a disastrous bank guarantee are not questioned to the same extent as Labour, so we need to move on."