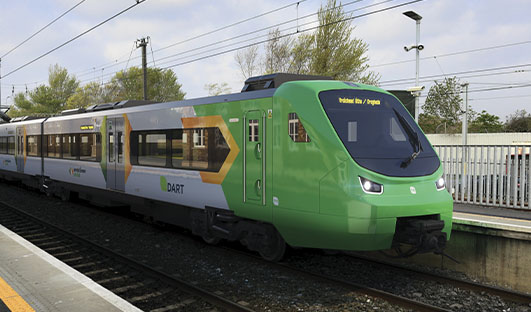 The placement of an order for the largest and most sustainable rail fleet ever signals a transformed future, writes Jim Meade, Chief Executive of Iarnród Éireann.
Iarnród Éireann's journey to being the backbone of Ireland's sustainable transport network is underway. In December 2021, the largest and most sustainable ever order of fleet for Ireland's public transport network was confirmed as up to 750 new rail carriages are set to be delivered over the coming decade.
The contract for new electric and battery-electric trains, with an initial consignment of 95 carriages arriving from 2024, signal that Ireland's rail revolution is underway. More trains, less carbon, more accessibility, less congestion, more frequency, capacity, and sustainability; these will be features of a transport network with rail at its core.
At the heart of our plans is DART+, supported by the Irish Government under the National Development Plan, and for which the major fleet order was placed. Put simply, this investment will allow more trains to operate on all routes on our network, provide greater standards of accessibility, and allow for the decarbonisation of all Greater Dublin Area rail services.
It will see:
• the electrification of the Maynooth, Hazelhatch, and Drogheda rail lines;
• infrastructure works to allow more trains to operate, including at Connolly and Docklands;
• integration with other public transport modes including proposed MetroLink and BusConnects programmes;
• the transformative DART+ fleet order; and
• all leading to a doubling of the carrying capacity of the Greater Dublin Area network.
Accessibility for mobility and sensory impaired customers will be a principle of all station and fleet improvements, and our largest ever lift renewal programme is underway. Investment in car and cycle park and ride facilities, and customer information will also make our services easier to access and to use.
National network
Investment in infrastructure in the Dublin area will not only benefit Dublin commuter belt services, however. It will grow our ability to operate services right around the country. We are also ambitious to see journey time improvements on national routes, and targeted line speed improvement works are already taking place.
Regional cities
As part of the Government's National Recovery Plan, €185 million is to be invested in the Cork commuter rail network, under the EU-funded Recovery and Resilience Plan, allowing Iarnród Éireann to increase the Cork commuter rail network's capacity through:
• Double-tracking Glounthaune to Midleton;
• Developing a new through platform at Kent Station for through running for Mallow to Midleton/Cobh; and
• Resignalling the Cork commuter network.
In Galway, funding under the Urban Regeneration Development Fund (URDF) includes:
• investment of €9.3 million for a 1km passing railway loop at the existing Oranmore Train Station, which will allow the busy commuter link between Athenry and Galway to grow, in advance of our ambition for full double-tracking of the section in the future; and
• Ceannt Station will be regenerated as part of a major €40.3 million Galway City Council Transport Connectivity project.
In Limerick, the completion of the city's own transportation hub centred on Colbert Station will also boost services, and the Limerick Shannon Metropolitan Area Transport Strategy has detailed the opportunities provided by the network of rail lines around Limerick City.
Waterford's Plunkett Station will be relocated to be part of an integrated transport hub under plans to develop the city's North Quays.
Rail Freight 2040 and Rosslare Europort
Iarnród Éireann's new Rail Freight 2040 Strategy has also been published, which aims to achieve:
• A five-fold increase in the number of rail freight services, to include over 100 new weekly services across the rail network;
• A resulting reduction of 25,000 tonnes of CO2 emissions annually, with rail freight emissions per unit as little as 16 per cent of HGV emissions; and
• Avoiding the requirement for 140,000 HGV journeys on our roads annually, as well as helping the supply chain which is facing a shortage of HGV drivers.
Rail Freight 2040 aligns with Project Ireland 2040, the Climate Action Plan, as well as the European Union's Sustainable and Smart Mobility Strategy and EU Green Deal, and supports the national decarbonisation goal of a 51 per cent reduction in emissions by 2030.
DART+ Programme project status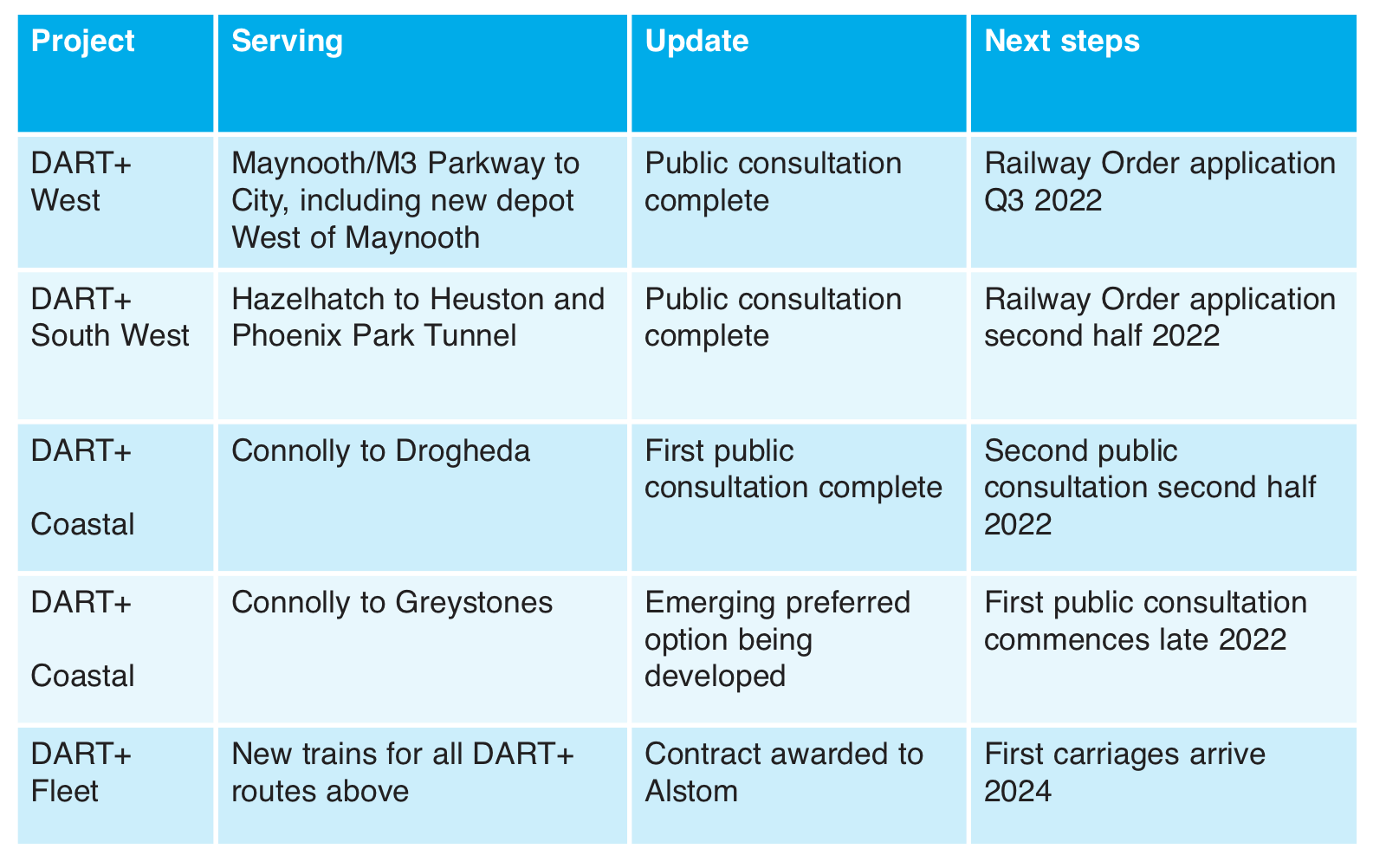 Iarnród Éireann is also port authority for Rosslare Europort, and its status as Ireland's gateway to Europe has been confirmed with 30 services operating directly between the port and Europe each week.
Up to €350 million is set to be invested in the Port and its environs, which comprises:
• €150 million in a series of existing projects, including:
o Rosslare Europort Masterplan, including port digitalisation, to include new freight and passenger facilities, storage, export and import facilities, berth extension;
o Office of Public Works Project T7, to develop a permanent border control post within the port; and
o New TII N25 Rosslare Europort Access Road.
• An ambitious €200 million plan to become Ireland's offshore renewable energy hub, with the port uniquely placed to support the development of the industry in the Celtic and Irish Seas.
The direction of travel, and acceleration of momentum, is clear. Our journey to our sustainable future is to a destination which will benefit our country, our environment, our communities, and our society as a whole, and everyone is welcome on board.