Public Affairs
Ireland's politicians make their cases for reunification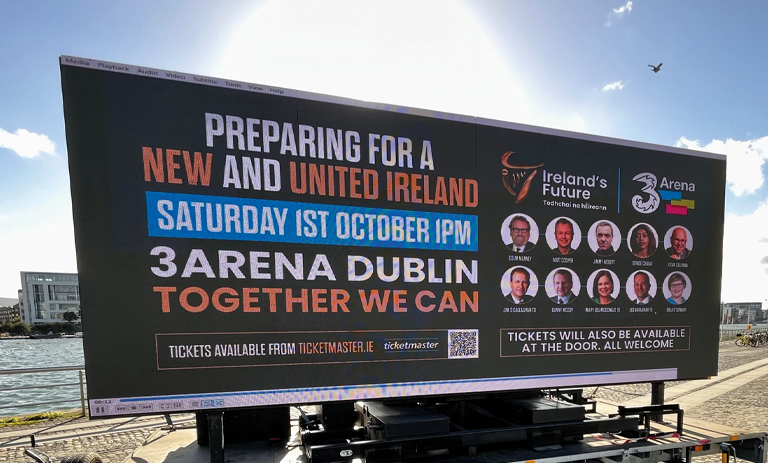 eolas Magazine attended the Ireland's Future conference on 1 October at the 3Arena in Dublin. The very presence of all of the Oireachtas' major parties at this event, as well as the 5,000 attendance demonstrates that Irish reunification is now a prospect which is being taken seriously at the very highest levels of Irish politics.
Former DUP leader Peter Robinson said in 2014, "I'm afraid Gerry's [Adams] day is over. He's not going to get his united Ireland; it simply isn't going to happen" whilst acknowledging that unionism "could extract defeat from the jaws of victory". Polling at the time indicated that a united Ireland was the expressed will of only 17 per cent of voters in the North.
Opinion polls since the 2016 Brexit referendum have shown a significant increase in support for reunification in the North, with the most recent LucidTalk poll show that 41 per cent in the North support unity, with 48 per cent opposed.
Sinn Féin leader Mary Lou McDonald TD received a warm reception from the audience and called on the Government to introduce a citizens' assembly and to "urgently plan for constitutional change and unity referendums".
Tánaiste and Fine Gael leader Leo Varadkar TD was met with boos from a small section of the 5,000 crowd when he suggested that Northern Ireland could continue to exist as an entity with its own devolved parliament, policing, courts, education, and health services, as well as stating that co-operation between Britain and Ireland ought to continue post-unity.
Fianna Fáil backbencher Jim O'Callaghan TD said he "would be willing to go anywhere to argue for a united Ireland" and when asked if he "would like to be the first Taoiseach of a united Ireland" responded "yes".
There were no unionist representatives at the event, although invitations were extended, but the contributions of figures such as actor James Nesbitt, who called for a "new union of Ireland", and Karen Sethuraman, demonstrate that the terms Protestant and unionist are not mutually exclusive in the North.
SDLP leader Colum Eastwood MP argued that, in order to win a referendum in the North, people need to believe that they will be better off economically in a united Ireland, and that the merits of re-joining the EU will be a key selling point. This Clintonesque analysis will arguably be a factor which tips the scales in the event of a future referendum.
The gathering was an important steppingstone for broadening the debate on Irish reunification, and with continued engagement among Ireland's political class, the arguments for unity can become more substantive. The objective from the organisers appears to be ensuring that the Irish political class are engaged on the topic, which has undoubtedly been achieved, but to convince a majority voters in the North of the merits of unity, significantly more substance will be necessary.