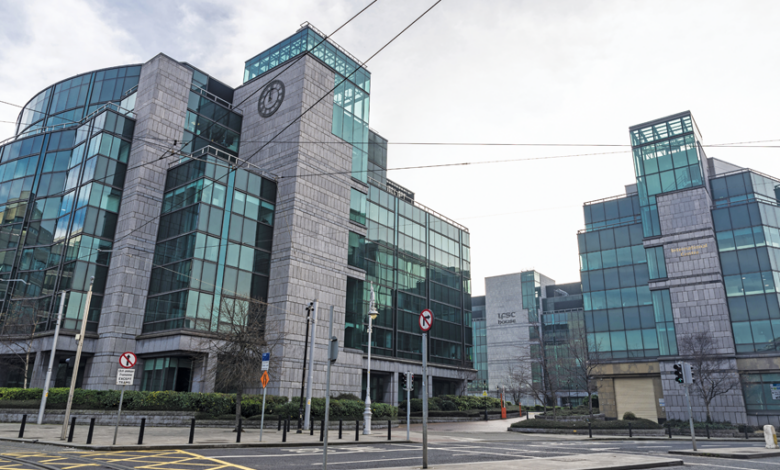 Ireland is the most competitive country in the eurozone and the second most competitive economy in the world, an improvement from 11th position last year, according to the latest IMD World Competitiveness Rankings.
The index of 63 countries, compiled by the International Institute for Management Development (IMD) Business School in Lausanne, Switzerland, is acknowledged as one of the most reputable measures of global competitiveness.
The report states that Ireland's sharp rise in the overall ranking is largely the result of its robust achievements in economic performance, rising from seventh to first. The State also makes significant progress across other competitiveness factors, rising from 11th to third in both government and business efficiency.
In addition, it is noted that Ireland's ranking improves in several sub-factors including domestic economy (first), international investment subfactors (second), business legislation (third), productivity and efficiency (third), and attitudes and values (first).
At the indicator level, Ireland achieves notable gains in direct investment flows abroad, gross fixed capital formation, and direct investment flows abroad in US dollars, ranking first, second, and fifth respectively. The State also improved in key areas such as the growth of exports of goods (34th), overall productivity (real growth PPP, 23rd), and the effectiveness of communications technology (25th).
In terms of government policies, Ireland advances in areas such as the effective management of public finance (eighth), government subsidies as a percentage of GDP (12th), and in the indicator that assesses whether immigration laws interfere with the hiring of overseas talent (fourth). The country also progresses in factors like the quality of air transportation as an enabler of business development (21st), the implementation of shareholders' rights (eighth), the effectiveness of management education (seventh), and the credibility of managers (third).
In some areas, however, the report notes that Ireland experiences a drop, such as in total indigenous energy production (from 49th to 54th), life expectancy at birth (from 13th to 18th), and business expenditure on R&D as a percentage of GDP (from 21st to 32nd). The country also drops in current account balance (from sixth to 13th) and consumer price inflation (22nd to 30th).
Analysis of the report by the National Association of Securities Dealers Automated Quotations (Nasdaq) Stock Market notes that there is an advantage for smaller states in increasing their competitiveness. Christos Cabolis, Chief Economist and Head of Operations at the IMD World Competitiveness Center, notes: "Navigating today's unpredictable environment requires agility and adaptability. Countries that excel are building resilient economies, such as Ireland, Iceland, and Bahrain. Their governments can adapt policies based on current economic conditions in a timely fashion."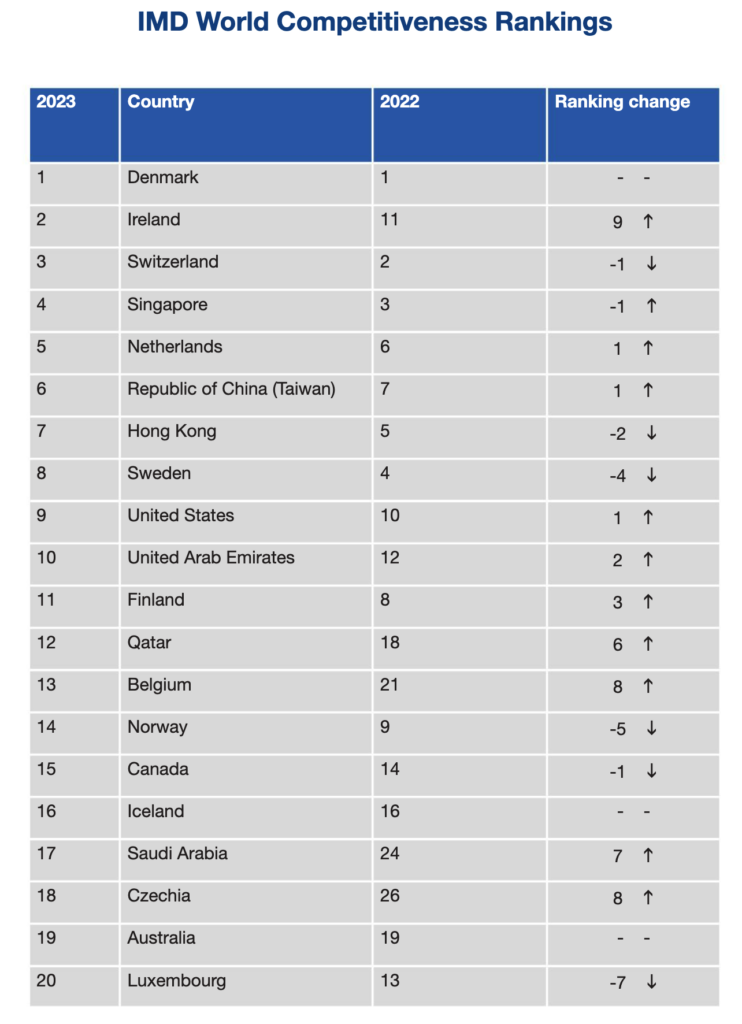 The Nasdaq further notes that the relative decline of larger European economies such as France, Germany, and the United Kingdom, as well as the relative decline of the United States "signifies a changing reality for global titans whose economic, cultural, and regulatory landscapes influence global economic output".
Furthermore, as a cultural backlash against globalisation continues to lead to political and economic instability in many European countries, it is noted that Ireland has "maintained a relatively welcoming immigration and trade policy to attract foreign investors and create a human capital pipeline to support their growing FDI ecosystem".
The Nasdaq states: "The message from these smaller economies is clear, we are open for business and a steady ship in times of strife."
Welcoming Ireland's sharp increase in competitiveness, Minister for Enterprise, Trade and Employment, Simon Coveney TD said: "The rankings recognise that dealing with today's unpredictable business environment requires agility and adaptability in order to build a resilient economy and that has certainly been the case with our economy."
The Minister added: "Our ranking in the areas of government and business efficiency reflect the strength of Irish institutions which create a stable environment for enterprise to operate. Our skilled workforce also gives us a competitive advantage and our ability to attract and retain talent, as well as the continued growth in the labour force, has contributed to our hugely improved competitiveness ranking in this area."