Digital
Ireland remains sixth in DESI rankings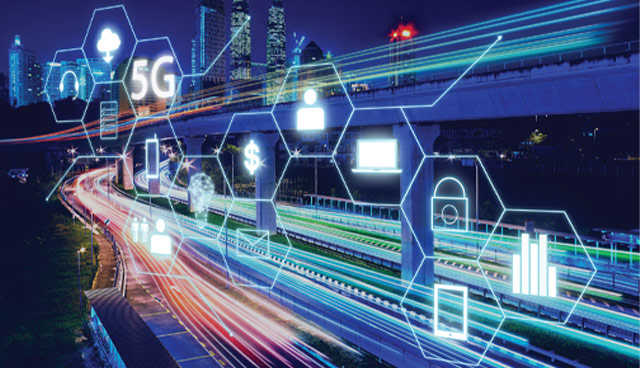 Ireland has ranked sixth out of the 27 EU member states plus the UK in the European Commission's Digital Economy and Society Index (DESI). Ireland has been the fastest growing member state over the last five years according to the index.
Despite its status as the fastest growing member state, Ireland has remained largely unmoved in its overall ranking. After ranking eighth in 2016 and 2017, sixth in 2018, and seventh in 2019, Ireland has returned to sixth in the rankings for 2020, the last year of the DESI being measured across 28 member states as the UK has now left the EU. Ireland sits behind Finland, Sweden, Denmark, the Netherlands and Malta. The index is broadly broken down into five sections.
Integration of digital technology
For the third year in a row, Ireland has ranked first in the integration of digital technology, having ranked second in 2016 and 2017. When this section is further broken down into seven subsections, Ireland outperforms the EU average in all but one: electronic information sharing, which only 28 per cent of Irish enterprises partake in, compared to an EU average of 38 per cent.
Aside from that, enterprises in Ireland outperform the European average in social media use (44 per cent versus 25 per cent), big data use (20 per cent versus 12 per cent), and cloud use (33 per cent versus 18 per cent). Irish SMEs also outperform the European average in their three subsectors: selling online (35 per cent versus 18 per cent); e-Commerce turnover (29 per cent versus 11 per cent); and selling online cross-border (18 per cent versus 8 per cent).
The European Investment Bank stated that, in terms of financing for SMEs adapting to digital technologies, existing financial channels are "currently sufficient, but there was scope for making better use of them". It had also noted that, in Ireland, there was a "a lack of overall policy coordination and strategies" in this regard, although the five-year Industry 4.0 strategy does seek to address this.
Use of internet services
Ireland ranks eighth in the EU for use of internet services, its second highest ranking section. The rank of eighth continues Ireland's ascendancy in this section, progressing from 12th in 2019 and 14th in 2018.
Ireland ranks ahead of the EU average in all but three subsections: percentages of internet users using the internet for music, video and games (80 per cent versus 81 per cent) or video calls (50 per cent versus 60 per cent) or for selling goods online (21 per cent versus 23 per cent).
Ireland's rate of individuals who have never used the internet is the same as the EU average: 9 per cent. Ireland ranks ahead of the EU average in internet users, 88 per cent versus 85 per cent, and in percentages of internet users who access new video on demand, social networks, online courses, banking and shopping online.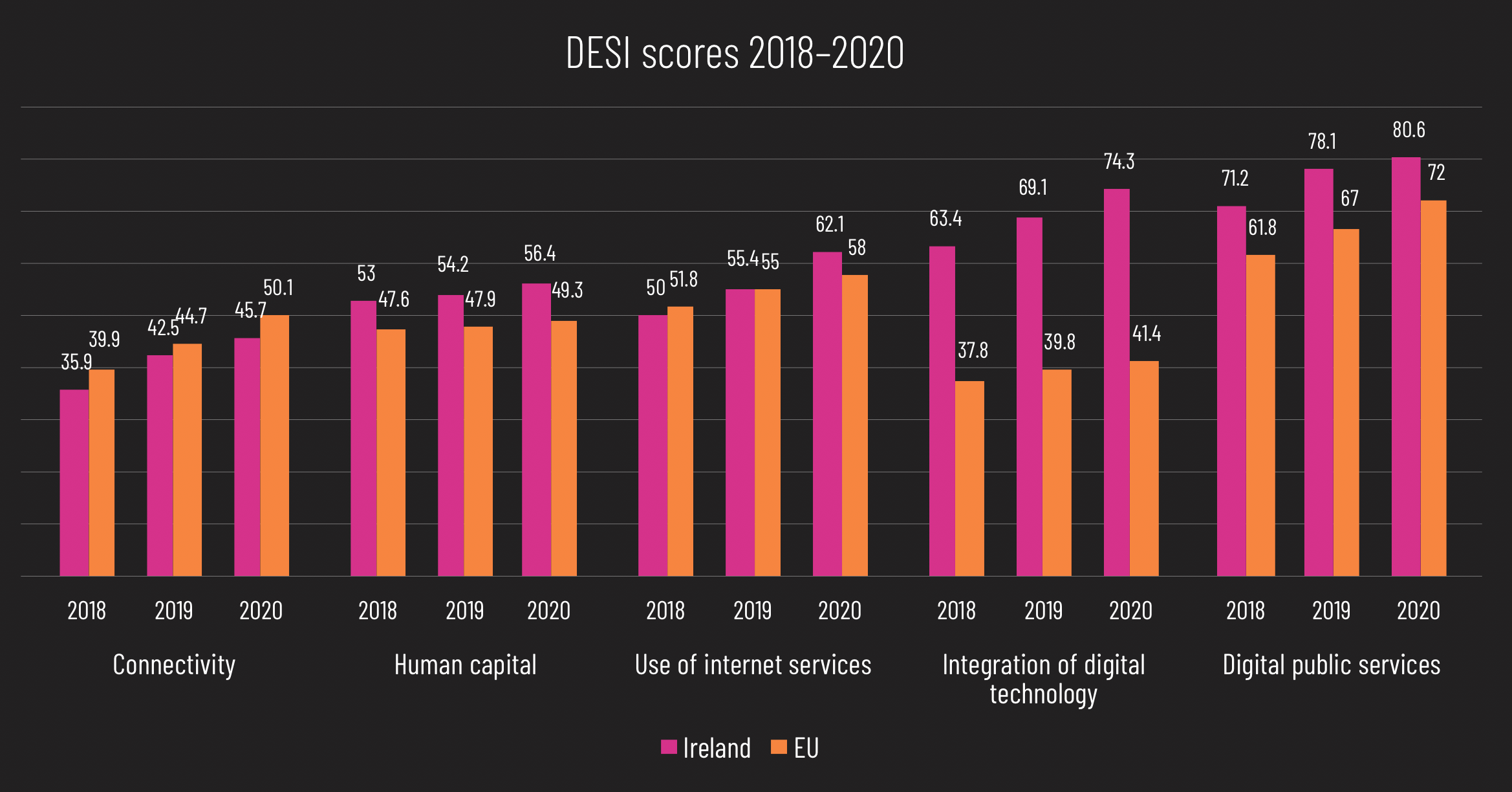 Digital public services
Ireland ranks ninth in digital public services, a one-place drop from 2019. Despite this drop, Ireland's index score has risen in the same time period from 78.1 to 80.6. Of the five subsections, Ireland ranks ahead of the EU average in three (eGovernment users, digital public services for business and open data) and behind the average in two (pre-filled forms and online service completion).
The DESI account of digital public services in Ireland calls the adaptation of the Data Sharing and Governance Act 2019 "an important step" in the pursuit of Ireland's digital governance goals.
Human capital
Ireland ranks 11th in the human capital section, unmoved from its 2018 and 2019 positions. Overall, Ireland scores above the EU average with an index score of 56.4 compared to the EU's 49.3.
In the six subsections, Ireland ranks ahead of the EU average in four: percentage of individuals with above basic digital skills; ICT specialists as a percentage of total employment; female ICT specialists as a percentage of total female employment; and ICT specialists as a percentage of graduates.
Ireland ranks behind the EU average in percentages of individuals with at least basic skills in both digital and software. Perhaps most interesting in this section is that, despite the deficit in those with basic digital and software skills, Ireland's rate of ICT graduates as part of all graduates (7.3 per cent) is more than double that of the EU's average (3.6 per cent).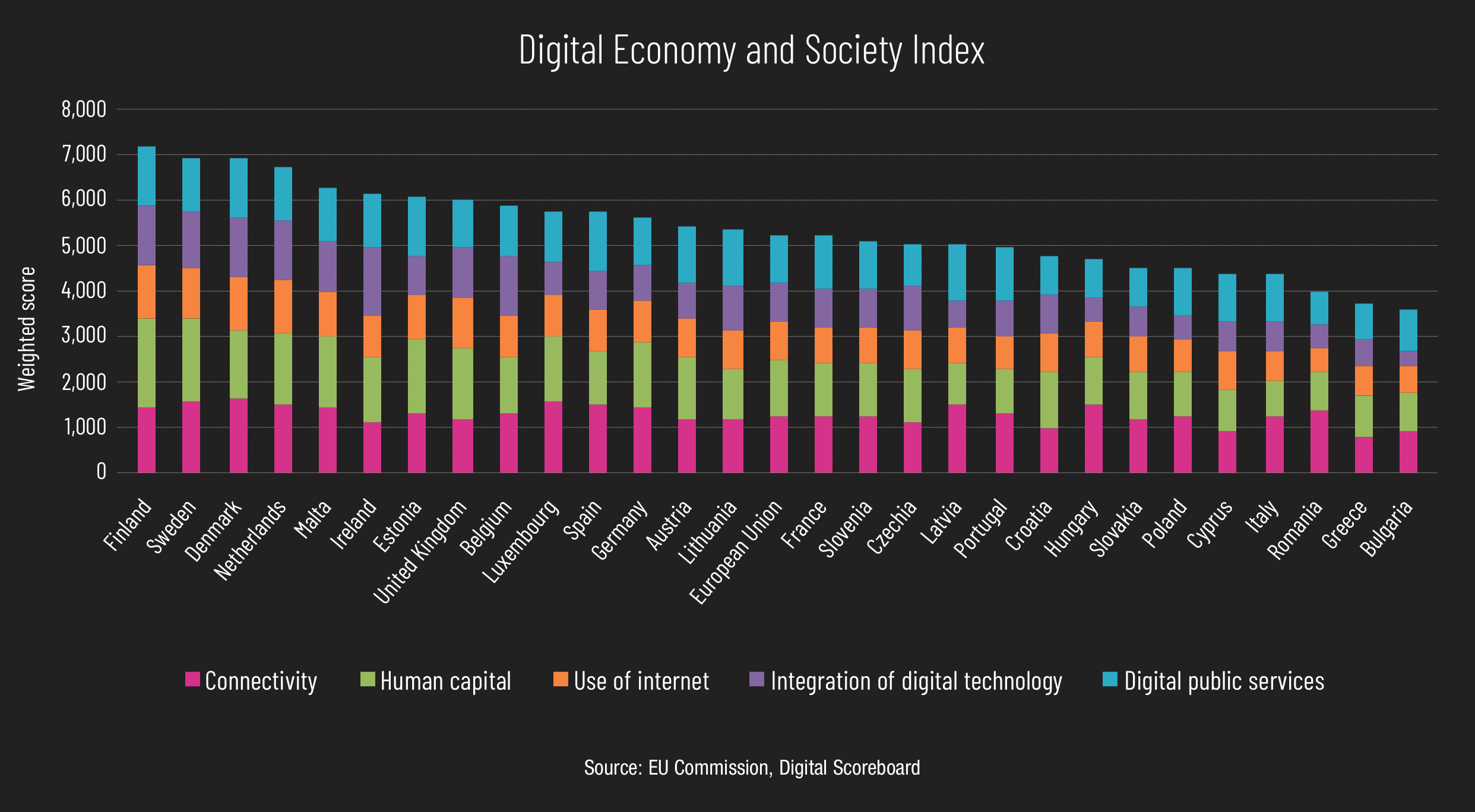 Connectivity
Ireland's worst ranking in the index is in connectivity, where it ranks 23rd, a fall of one place from 2019. Despite its low ranking, Ireland ranks ahead of the EU average in four of the eight subsections: fast broadband coverage; 4G coverage; mobile broadband take-up; and 5G readiness.
Ireland is beneath the average in overall fixed broadband take-up; take-up of fixed broadband of at least 100Mbps; fixed very high capacity network; and broadband price index. In each of these subsections, Ireland has recorded increases from 2018 and 2019 levels. The rollout of the National Broadband Plan, which has begun, is said to be key to making up the ground in this area.
Overview
Overall digital transformation "continues to be one of the core economic policy issues in Ireland". The launch of the Industry 4.0 strategy, the €300 million Human Capital Initiative and the National Broadband Plan are all cited by the European Commission's report as measures by which Ireland's drive to digitisation will be progressed.