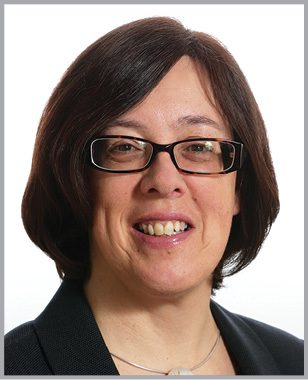 National Transport Authority (NTA) Chief Executive Anne Graham looks at the challenges facing our public transport system, and NTA's ambitious plans for investment in public transport infrastructure.
With the economy now very much in recovery mode, not only are more and more people travelling to work and education, but they are also travelling for socialising and enjoying leisure time with their families.
This increase in activity is very much to be welcomed but it means that there is more pressure on our public transport services than ever before.
These are interesting times for public transport, and as the economy continues to pick up, we see an increasing number of people making the bus, train or tram as their transport mode of choice.
In 2016, there was an overall increase in passenger numbers, with 234 million passengers using subsidised, Public Service Obligation services provided by Dublin Bus, Bus Éireann, Iarnród Éireann and Luas. That's an increase of almost 10 million, or 4.4 per cent on the previous year.
Passenger numbers on bus services provided by licenced private operators have also seen a healthy increase. Passenger numbers in 2015 increased to 23 million, an increase of almost 10 per cent over the previous year, and while we don't have final figures for 2016, there is every indication that this upward trend has continued.
We believe there is a clear demand for a safe, efficient and reliable public transport service, particularly so when the public transport alternative is environmentally friendly and offers value for money.
For that very reason, in our fare determination for 2017, we made sure that public transport remained very competitive, by ensuring that three out of four passengers on the estimated 230 million public transport journeys, would see no fare increase, or would actually see a fare reduction.
We have taken significant step towards making our public transport fare structure simpler, more streamlined and more consistent, so that fares people pay, more accurately reflect the journeys they're making.
We also continued to incentivise people to choose Leap card to pay for their travel – by maintaining a substantial price differential between Leap fares and cash fares. Leap Card is now used to pay for some 3.5m public transport journeys in Ireland every week – representing about €4.3m in electronic transactions, and is a real success story for the NTA.
Later this year Luas Cross City will be completed. Not only will this substantially increase the capacity of Luas, but it will also be a significant step towards a more closely integrated public transport services across the capital. This will also be the year when we see an increase in Dart frequency, and an increase in commuter services through the newly-opened Phoenix Park Tunnel.
However, while these measures are welcome, and while they will certainly help relieve pressure in those specific areas, a more radical approach is needed if we are to truly get out ahead of the burgeoning problem of congestion. There is clear and compelling evidence of increasing levels of traffic congestion across the Dublin Region, as the region's population grows, employment increases and travel demand rises.
Traffic congestion impacts businesses through longer delivery times, additional costs and staff availability issues. It also impacts individuals through increased commuting times, with consequential effects on health, well-being and quality of life.
To ignore congestion would be to risk overall competitiveness of a region, adversely impacting its economy and its potential to grow economically and socially.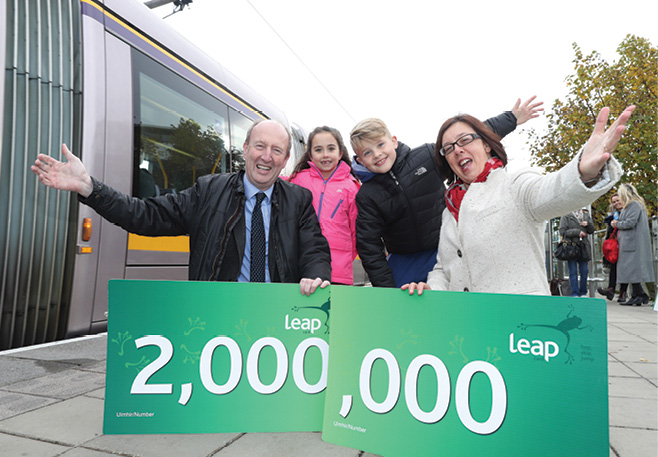 So what do we need to do about it?
It is certainly the case that NTA is committed to delivering on Metro North, to link the city centre with Dublin Airport and Swords. Funding for that project has been earmarked in the 2015 Capital Plan, and preparatory work by ourselves and Transport Infrastructure Ireland is proceeding. In 2017 we are taking a fresh look at the precise route, and later this year, we will be in a position to announce a new preferred metro alignment and station arrangement. This will be followed by a process of public consultation which will conclude in early 2018, and arising from this consultation we will identify the final plans.
The Dart Expansion including electrification of the line as far as Balbriggan to the North and Maynooth to the West is also at preparatory stage, and it remains a live project. But rail projects typically have a long lead-in time, and while these schemes will make a huge difference to transport services when they are completed, we also need to look at tackling congestion in the shorter term.
The Transport Strategy for the Greater Dublin Region 2016-2035, was adopted by the Government last year, and it provides a framework for transport across the region over the next two decades. The Strategy recognises that the bus system will be the main form of public transport for most people and that the bus system needs to be fundamentally transformed to serve the needs of the region.
The current bus system needs to be fully overhauled to enable it to fully meet the needs of a modern public transport system. Due to the network's limited bus lanes (bus lanes exist along only one third of the overall length of the busy bus routes), it has to struggle to deal with the same traffic congestion as cars.
As a result, it cannot provide the level of predictable, reliable service that is essential for people in the modern world. In addition, it is a complex system, with the overall network unintelligible for most people, and users restricting themselves to one or two familiar routes. Fares can be difficult to understand and movement between buses is nowhere near as seamless as it could be.
In the coming weeks, NTA will be outlining in detail, our ambitious plans for investment in bus infrastructure. I believe these plans will have the potential to radically transform the way people get into and around the city, and the way the city and the region actually works.
Our plans will create a bus system for Dublin fit for a modern vibrant city that enables more people to travel to more places, conveniently and efficiently. We want to fundamentally transform Dublin's bus system, so that journeys by bus will be fast, reliable, punctual, convenient and affordable.
Our plans will enable more people to travel by bus than ever before, and allow bus commuting to become a viable and attractive choice for employees, students, shoppers and visitors.
Among the measures we are proposing:
• building a network of 'next generation' bus corridors on the busiest bus routes to make bus journeys faster, predictable and reliable;
• introducing Bus Rapid Transit, a higher quality of bus system, on three of the busiest corridors;
• completely redesigning the network of bus routes to provide a more efficient network, connecting more places and carrying more passengers;
• developing a state-of-the-art ticketing system using credit and debit cards or mobile phones to link with payment accounts and making payment much more convenient;
• implementing a cashless payment system to vastly speed up passenger boarding times;
• to complement the new ticketing system, the fare system will be revamped to provide a simpler fare structure, allowing seamless movement between different bus services without financial penalty;
• implementing a new bus branding to integrate bus vehicles of different operators and types, and providing a modern look and feel to the new bus system;
• rolling out new bus stops with better signage and information and increasing the provision of additional bus shelters; and
• transitioning to new bus fleet using low-emission vehicle technologies.
The implementation of 'next generation' bus corridors as part of Bus-21 doesn't just address the bus requirements along those routes – it also allows the creation of a 'next generation' network of cycling facilities.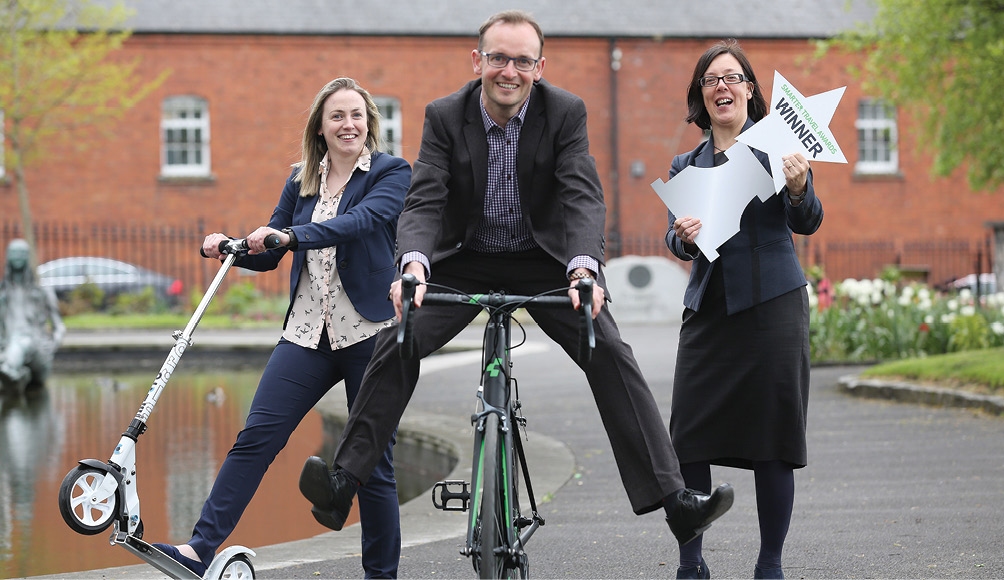 The major bus corridors also represent the major cycling arteries for the city. The reconstruction of these roads to provide the essential bus lanes that are needed for our bus plans provides the opportunity to similarly transform the cycling infrastructure at the same time.
On each of the Core Bus Network corridors, we will provide high quality cycling facilities, segregated from the bus lanes and general traffic lanes as far as practicable. This benefits the bus system as well. It avoids cyclists sharing bus lanes with buses, where the bus speed can be limited to the speed of the slowest cyclist in the lane.
Simultaneously, congestion is not confined to Dublin, and the solution offered by the bus-based model that we are putting forward in the capital, equally applies to regional cities and indeed to large towns across the country.
All of the regional cities have high levels of car dependency, low levels of public transport use and significant traffic congestion issues. These issues reflect the under-investment that has occurred in the areas of public and sustainable transport. Public transport services have been expanded in each of these cities, and these improvements have resulted in increases in patronage across the board since 2012.
However, the service initiatives are not sufficiently supported by infrastructure in each city in order to ensure their reliability and effectiveness, which undermines the benefits of the operating investment. As well as impacting on mobility, these deficiencies are also threatening the attractiveness of these cities for investment.
The transport deficiencies in these cities require significant investment, sustained over a number of years, in order to improve the public transport and sustainable transport environment to the level where it can function effectively and provide a means of relieving the current traffic congestion adversely impacting on those cities.
Outside of the regional cities, new public transport services have been identified for implementation in some smaller cities and large towns across the State.
To introduce these services properly will require appropriate supporting infrastructure to ensure that the annual investment in services is optimally organised and delivered. Cities and towns involved include Sligo, Athlone, Cavan, Kilkenny, Carlow, Drogheda, Dundalk, Navan, Ennis and Letterkenny.
Funding is not currently available to allow the necessary supporting infrastructure to be delivered in these smaller cities and large towns, and that is something that needs to be remedied. If bus prioritisation, smart ticketing, cashless payments and low-emissions vehicles can make bus travel more attractive in Dublin, then surely the same applies in other parts of the country.
Under the 2015 Capital Investment Plan, about 2.2 billion was earmarked for investment in public transport. This was to cover heavy rail projects such as the city centre resignalling project, Dart Expansion, and station development. It was also to cover light rail projects like the completion of Luas Cross City and an increase of capacity on the Green Line and work on Metro North.
Yes, there was some funding identified for bus infrastructure, but it was never going to be adequate to provide the kind of radical development of our bus system so badly needs.
This year, there will be a mid-term review of the 2015 capital plan. We are bringing forward to the Government, detailed bus infrastructure plans for inclusion among the priorities.
We hope that this opportunity to plug the funding gap will be grasped, because Ireland's travelling public deserves nothing less.
National Transport Authority
Dún Scéine, Iveagh Court 
Harcourt Lane, Dublin 2

T: + 353 (0)1 879 8346

W: www.nationaltransport.ie

www.transportforireland.ie

www.leapcard.ie

www.locallink.ie