John Walshe reflects on the lessons learned from his time as an 'embedded' special adviser.
Ministerial special advisers are found in many democracies and have been a feature of the political system in this country for about 40 years. In the past, they were known sometimes as programme managers. But that title fell into disuse, partly I think, because it suggested singular minded individuals who were prepared to ride roughshod over everything and everybody to get their Minister's way. They were usually described as unelected and, of course, overpaid. The term special adviser seems to have a more acceptable and nuanced ring to it.
In the past, a proportion of the special advisers was drawn from the Civil Service, especially when Fianna Fáil was in power. Increasingly, however, they are coming from outside the service. Such was the case with the appointments made by the present coalition Government. I was privileged to be a special adviser to Ruairí Quinn TD when he was Minister for Education and Skills for 40 months and recently wrote a book about my experiences which has focussed some debate on what advisers actually do. The interest in who they are and their function is hardly surprising when they cost the taxpayers around €2.5 million a year.
Their role has been studied by Dr Bernadette Connaughton from the University of Limerick who found that they represent a "very mixed bag". In a study of the special advisers working during the period 2000-2007, she noted that they included political activists, union officials, accountants, elected local councillors and public servants. It hasn't changed that much although this time round they included a journalist (myself) and more female advisers than in the past.
What has not changed much either is the observation of one insider that they are picked for very different reasons by ministers. Some want glorified constituency 'gophers'. Some want policy specialists. Some want experts. Most want good generalists to cover as many bases as possible. "The bulk of special advisers are in the generalist space providing political co-ordination," says the study.
The reasons they became advisers still hold true. A prior relationship with a new Minister can be a factor, as can membership of the party, the opportunity to translate policy ideas into practice, or the chance to work with a reforming Minister. The latter was the main attraction for me. I was not a member of the Labour Party. Ruairí Quinn's argument for appointing me was that he knew the broad contours of the education system and needed someone to fill in the details which he figured I could as I had been reporting on educational issues for four decades.
Preparation
It's a steep learning curve for special advisers when they are suddenly pitched into the job with little or no preparation. Sure, they get documents indicating how to write a speech or the procedures for processing government memoranda as well as others dealing with their ethical and legal obligations. But there is no initiation other than the normal courtesies and introductions extended by a department's Secretary General and staff. There is no manual for the role that the special adviser is about to play, which can be crucial to ensuring a good working relationship between the Minister and her or his officials.
The special adviser can be a useful conduit for conveying views and information between the Minister and officials and vice versa. Telling a Minister who is in a hurry to achieve change that his or her 'big idea' is coming unstuck because officials have discovered a fatal flaw requires some deft handling from time to time.
Similarly, conveying the political imperative of moving on a particular issue to civil servants often has to be handed sensitively. This is particularly important when the department is headed by what is sometimes disparagingly referred to as a three-day week Minister who travels up from the country on Monday after time with their family and dealing with constituency work, attends the Cabinet on Tuesday, and juggles Dáil business with time in their department for the next three days.
Dublin-based ministers have a clear advantage. And if they are not standing for re-election, they are doubly advantaged. Such was the case with Ruairí Quinn who left much of the constituency work to fellow TD Kevin Humphreys and local councillors. This gave him an unusual amount of time to work on his education reform agenda. It also, of course, meant more work for his officials and advisers.
I know of one former adviser who years ago cheerfully told his new Civil Service colleagues at a training seminar that they were lucky to be in their jobs and that they were not exactly overworked for the fine pay they were getting. It can be hard for a Minister to get officials to go the extra mile, as they so often do, when his or her special adviser displays a clear ignorance of what civil servants actually do.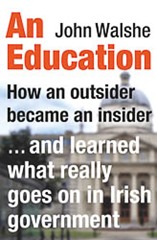 You can't teach tact or discretion but an induction course for new advisers setting out parameters and guidelines for working with civil servants, fellow advisers, ministers and the general public would not go amiss. An online explanation of the role of advisers could also be made available to civil and public servants so that there is a mutual understanding of where each person is coming from. And why shouldn't the general public have access to it as well?
I also believe the Taoiseach and Tánaiste's advisers – who are extremely powerful – should make better use of the network of special advisers at their weekly lunch-time Monday meeting which – from my experience – almost exclusively concentrated on the written agenda for the next day's Cabinet meeting.
All too often, burning issues of the day were not referred to at those Monday meetings and became the unmentioned elephants in the room. Views from other advisers not directly involved in the dramas of the day might prevent some of them turning into a crisis, as has happened too often with the current Government.
The special adviser system works well in general. It helps avoid clashes and misunderstandings at ministerial level but it needs to be tweaked to make it more open and useful in a functioning democracy. Special advisers are now embedded and it is time that they played a more meaningful and defined role in the political and administrative system.
John Walshe is the author of 'An Education: How an outsider became an insider and learned what really goes on in Irish government'.