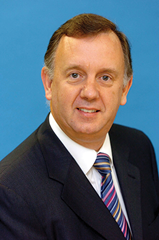 Health research delivers many practical benefits in addition to economic and employment returns.
'At a time when everyone is focusing on the economic and the employment payback from investments, the full extent of the benefits from health research can get a little lost in that mix,' says Enda Connolly, Chief Executive of the Health Research Board. 'Research can improve people's health and patient care, transform delivery of our health services and potentially save lives.
'The key', according to Connolly, 'is to effectively transfer the relevant research findings into the hands of those who deliver services or set health policy. Ireland, like many other countries, faces a research-to-practice gap. Through our strategic business plan 2010-2014, we aim to systematically reduce this gap and encourage the translation of our funded research into policy and practice.
'For example, last year we introduced a supplementary funding call to support existing HRB-funded researchers to actively disseminate their findings to the people who could use them. The ultimate aim of this Knowledge Exchange and Dissemination (KEDs) scheme is to maximise the potential of research findings to influence health policy and/or practice. As a result of this programme, there will be 45 targeted knowledge exchange initiatives in 2013 which include seminars for health practitioners and briefing papers for policy makers.
'Also at the initial research grant application stage, if a project is likely to have a health practice or health policy impact, it will have a higher chance of succeeding when it is accompanied by a comprehensive dissemination plan.'
Connolly concludes: 'We are keen to support research that answers real world challenges, especially in key areas of need as identified by the Department of Health and the Health Service Executive. It makes sense to ensure that publicly funded research is put to practical use, where we see the dividends in terms of better health, new approaches to care, resource efficiencies as well as cost savings.'
Making a difference
· Produced 208 policy and practice outcomes.
· Shown how hundreds of lives could be saved each year if every GP practice was equipped with a defibrillator.
· Validated a prescription management tool which minimises inappropriate prescriptions and could save e180 million in unnecessary prescriptions annually.
· Grown eye tissue to restore sight.
· Developed new protocols that identify small babies most at risk in the womb so that monitoring resources are properly allocated.
· Shown how health service denture related costs could be reduced by 50% while improving patient's quality of life.
· Improved heart attack patients' survival rates.
· Demonstrated that computer balance games can improve patients' compliance with rehabilitation exercises.

Health Research Board
73 Lower Baggot Street, Dublin 2
Tel: 01 2345000
www.hrb.ie