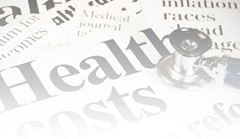 eolas hears some of Ireland's leading health professionals' suggestions for health care reform.
A group of the health professionals has claimed that the present health care system suffers from fragmentation, inappropriate incentives, absence of efficiency drivers, planning system weaknesses, and practices such as the prescription charge, which lead to health care costs being higher than they should be.
Professor Frances Ruane, Chair of the 'expert group report on resource allocation and financing in the health sector' outlines the seven guiding principles for health care reform on page 16.
At a conference, organised by the ESRI, the HSE's Chief Executive Cathal Magee acknowledged that "it is extremely challenging to implement systemic change [because of] the inter-dependency of IT systems, patients, governance, resource allocation and geography."
He said that the report was "very useful" but refused to clarify what recommendations, if any, he would implement first. He warned that "there is a tendency to rush into implementation."
The report's recommendations for immediate reform include:
• a national strategy to encourage all members of the population to register with a GP;
• the abolishment of the National Treatment Purchase Fund (NTPF);
• a project to set out a coherent structure of entitlements to primary and community care services and drugs to encourage appropriate patterns of service use;
• the Hospital Inpatient Enquiry (HIPE) system being used immediately as a basis for challenging hospitals retrospectively on their inappropriate use of bed resources and fining them as appropriate;
• a population health needs allocation model to allocate money on the basis of age, gender and health; and
• a group of experts to develop new contracts for professionals in the primary care sector.
The Government's official policy is to shift care from hospitals to the community. The Department of Health and Children's Permanent Secretary, Michael Scanlan explained: "In the last five and a half years, integrated care has been a mantra and of course it's what we need to do". However, the expert group pointed out that this is still not incentivised because most hospital care is free if you have private health insurance or a medical card, whereas a trip to the GP must be paid for.
The conference heard that since 2000, the allocation to health as a proportion of the national income rose from 7 to 12 per cent. The country's total health spend is currently €15 billion.
In order to have a sustainable health care system, measures should focus on reducing costs through enhanced efficiency and effectiveness (e.g. increasing use of day surgery and less costly drugs), rather than those that seek to shift the costs of care to patients, the experts suggested.
International best practice shows that resources should be allocated according to population health need, rather than by lump sums allocated to existing providers, as is the case in Ireland, the conference heard.
Professor Arnold Hill, Chair of Surgery at the RCSI and lead clinician in the Beaumont Hospital Breast Clinic outlined three ways in which the health service is wasting money. He believes that having 24-hour acute hospitals "at every crossroads" is unnecessary and is only being maintained due to political pressure from TDs who need to take up that cause in order to retain their seat. "We've got to cop on", he told the conference.
He suggested that investment should be made in moving from paper to computer records, thereby reducing the number of staff in medical records departments. In addition, devices such as iPads would be much more efficient than sifting through paper records and storing them in filing cabinets.
The duplication of services is a huge drain on the system, Hill added.
"There are six acute hospitals in Dublin. [That's] six HR departments – even though we are not recruiting anyone – six salary departments, which could be replaced by a computer, six medical admin departments and six CEOs," he stated.
He called for these to be reduced and warned that he did not want to simply see CEOs being moved to different positions with the same salary.
A focus on behavioural change through peer pressure would improve efficiency and cost nothing, Hill suggested. He also called for an immediate ban on the use of agencies for recruiting. (Magee nodded in agreement to this point).
"We need to hire people for the specific tasks such as getting more A&E staff in on a Saturday night. If an SHO calls in sick, it costs €2,000 a day," Hill concluded.
In response, Magee said: "There is potential for clinicians – medical, nursing, and paramedical – to lead the transformation and change process within the health care system."
He referred to the development of national programmes of care, clinical pathways and therapeutic guidelines by Dr Barry White, the HSE's National Director of Quality and Clinical Care, as "hugely significant."
Magee said if similar work can be done across the acute, primary and continuing care, then "we've got real understanding of what change is about."
He said there was a "broad welcome" for the report but the "challenge" will be in implementing it.
The freedom for local managers to make decisions on the most efficient deployment of resources is essential, according to Magee.
"At national level you can think in terms of planning and the development of strategy, standards and performance management, but it's at local level that implementation has to take place. It's at local level that the leadership and autonomy and capability to effectively deploy resources must exist.
"We've come from a disconnect to a more centralised model. We are in the process of devolving authority and responsibility back into the local geographic unit. That requires a management capability and freedom to make decisions," he said.
Incentives will be needed to encourage clinicians and local managers to make unpopular decisions, Magee added.
"The clinician who takes the initiative in giving up resources in order that they be redeployed into another area needs to happen," he insisted.
"It is going to be very challenging, considering that overall funding is contracting and every efficiency or saving tends to go to meet a different target. Change has to be incentivised."
Magee hopes that if the argument for reform is put across properly, "the political community will realise it is professional best practice, is in the interest of the patient and will come on board."
The HSE head concluded by saying that recruiting to fill "critical" skills gaps must be "central to the reform process."
What they said
"We all acknowledge that there has been a very significant implementation deficit throughout the whole system. I am struck by the lack of resources, investment, planning and thought that goes into the implementation challenge.
"You need a very detailed understanding of how you're going to migrate (to where you want to be). If we are ambitious and want to reform the system there is an enormous amount of work has to go into the execution of that."
Cathal Magee, HSE Chief Executive
……………………………………………………………
"The National Treatment Purchase Fund is politically successful because it reduces waiting lists but it is the greatest single mark
er of inefficiency in the health service."
Professor Arnold Hill,
Lead Cancer Clinician, Beaumont
……………………………………………………………
Reform must focus on "getting the right services for health in Ireland, getting the right skills and facilities in the right place, getting more services delivered in the primary care sector than in the hospital sector [and] getting fair equitable care that is focused on greatest need."
Professor Frances Ruane, Director ESRI
……………………………………………………………
"Shall the practitioners stay on the high hard ground where they can practice rigorously but where they are constrained to deal with problems of relatively little importance or shall they descend to the swamp where they can engage the most important and challenging problems?
"I put it to you that this report has waded into the swamp. [The recommendations] are messy, they're dirty [and] they're complex but they have come up with a framework of how to try to integrate care and how to address the challenges."
Professor Andrew Murphy, Galway GP and Chair of the Centre for Clinical Health Services R&D, NUI Galway