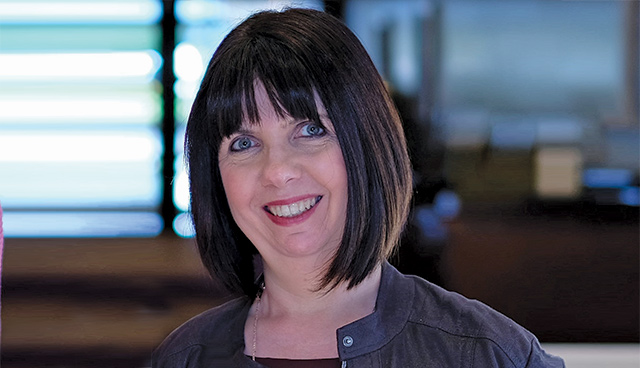 With over 30 years' experience in the health service, for HSE Assistant National Director, Julie Ryan, it has always been about identifying opportunities to create efficiencies, bringing about service improvements and essentially helping to build a better health service. Ciarán Galway discusses the importance of a customer-centric business model.
Julie Ryan's career has spanned from working in the acute hospital sphere where, among other initiatives, she was involved in coordinating the establishment of the Symptomatic Breast Unit, one of eight centres of excellence in Ireland. Later, she transitioned into national procurement before moving into the shared services division in 2014. This experience instilled something of a lens in order to recognise the importance of being agile and understand complex scenarios, as well as offering and delivering innovative solutions all while keeping the customer and patient experience at the core.
In recent times, Ryan has been leading out on Business Excellence and Digital Innovation (BEDI) in order to grow and enhance service delivery, optimise value and improve customer experience across the shared services business division of the HSE. Ryan's team now comprises three core components informed by people, process and technology: business relationship management; operational excellence; and digital innovation. These areas work together to maximise synergies and opportunities to support and enhance the customer-centric business model.
Business relationship management
When considering an organisation as large as the HSE, Ryan insists that connecting the centre with the frontline is essential. "In terms of business services, it's important that we understand the impact of the services we deliver on the frontline. For example, if a nurse or a clinician doesn't get their equipment on time, it may result in the cancellation of a surgery. That has a negative impact on the patient and the resource of the hospital. Similarly, if we don't get staff or suppliers paid on time, there are negative repercussions".
"An organisation as large as the HSE is difficult to navigate and the link between the services and the frontline is exceptionally important," she says. The Assistant National Director now has a team of business relationship managers (BRMs) each aligned to a portfolio of customers across the hospital groups and community healthcare organisations.
"One of the things that customers find difficult is how to navigate their way and identify who to approach for information. At a strategic level, our BRMs bridge that gap and act as trusted advisers in the customer space. They have made a real difference.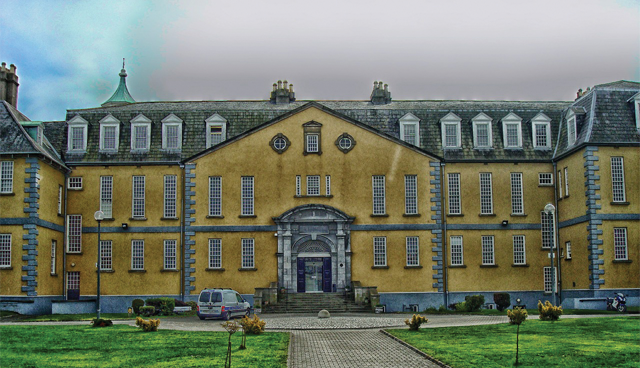 "We have developed that capability and the BRMs are now professionally accredited through the BRM Institute. There is evidence that this has generated significant added value and customers have referred to the BRMs as the glue which holds everything together. That was particularly evident during the Covid-19 pandemic," Ryan notes.
The Assistant National Director reflects upon speaking at an event on 'Creating the trust to grow from the outside in' and outlines: "This is really what it's all about, our customers need to have trust and confidence in the services delivered to them so they are enabled to do their job. We have to remain connected to the staff delivering patient care and frontline health services, the BRMs are an essential component in making this happen."
Operational Excellence
Ryan is a firm believer in the importance of constantly reviewing business processes and the way business is carried out in order to ensure it is meeting the needs of customers in a constantly changing environment. "Driving a level of standardisation and consistency in how business is conducted is critical. What was fit for purpose five years ago may not be fit for purpose today so we need to take the opportunity to constantly question the way we do things and ask is it meeting the needs of the organisation and our customers or are we just doing what we have always done," she states.
"This is why instilling a culture of service improvement and innovation across the organisation is a strong principle for not only operational excellence but for the Business Excellence and Digital Innovation team."
Within operational excellence, Business Excellence and Digital Innovation recently launched its Lean Academy. Cognisant of the impact on frontline services, lean is about ensuring that business is conducted efficiently.
"It's about providing staff with the tools and capability to drive improvement themselves, reflecting on the day-to-day activities that they undertake through the lens of lean in order to remove waste, add efficiencies and standardise their processes," the Assistant National Director explains.
The academy has now pivoted online to mitigate Covid-19 public health restrictions and this has inadvertently created an opportunity by broadening participation.
"An organisation as large as the HSE is difficult to navigate and the link between the services and the frontline is exceptionally important."

— HSE Assistant National Director, Julie Ryan
"We began with a Lean Six Sigma White Belt programme which is an introduction to the fundamentals of lean methodologies for healthcare. As a management team, we have all completed that. We also have Lean Six Sigma Yellow Belt and Green Belt programmes, alongside a module on process mapping which a number of staff have already completed and the feedback has been positive
"The yellow and green belts are aligned to work-related projects. A staff member undertaking the programme then applies the learning to something that they are doing at work. It is more practical than merely learning the theory. Through this approach, we aim to embed a culture of lean within the organisation. Again, it's about building in-house capability within each of the business units so that it becomes part of their work culture," she asserts.
Digital Innovation
Ryan believes it is vital to embrace the digital age and, from an organisational perspective, to maximise the power of digital in order to work smarter. Digital innovation is tasked with informing, promoting and overseeing the shared services digital journey.
"As an organisation with a business service of our size, we must be supported by data and customer intelligence. Within the digital team, we have developed a customer relationship management [CRM] system which is now at an advanced stage of implementation.
"That is about gathering intelligence from all of our customer touchpoints, to firstly identify and then understand problems, to enable us to make data-informed decisions and rectify them. In the absence of such a system, this occurs on an ad hoc and potentially repetitive basis," Ryan details.
From a customer perspective, first point of contact resolution is important. It saves time and effort while facilitating a comprehension of a given problem and where improvement efforts should be focused. In rolling out CRM across shared services, Ryan has similarly identified the benefits that this technology and resulting data can bring for the health service in its interactions with patients and service users, and believes what has been delivered within shared services is scalable to deliver benefits far beyond those currently being achieved.
"In September 2020, we launched the Robotics Process Automation [RPA] Centre of Excellence to deliver RPA based automation as a shared service to the public health sector. "RPA is an exciting approach that removes repetitive work and enables staff to move onto more value added activity. It can drive job satisfaction while, in parallel, streamlining processes.
"We started in September 2020 with an initial target of 3,093 hours saved up to year-end, but we've surpassed this already with over 22,000 hours saved. It's been a huge success. That was especially important in the context of Covid-19, releasing time back to clinical staff," Ryan emphasises.
Overall, the Digital Innovation model is about developing in-house capability and establishing internal digital product teams who are close to the customer, change aware and agile. Ryan sees the success of this approach borne out by the requests she has been receiving in recent months from health areas beyond shared services for her CRM development team's input or direct involvement in various CRM related initiatives.
"Our people and the services they offer are increasingly in high demand. I see this as an endorsement of our decision to upskill our own staff."
"Our people and the services they offer are increasingly in high demand. I see this as an endorsement of our decision to upskill our own staff to deliver services with our customers. More recently, in the case of RPA, we have been supported by a training programme offered through the HSE Digital Academy to help us achieve our objective to up skill staff to become self-sufficient in developing and utilising RPA technology," Ryan outlines.
"In a digital age, we need to maximise the opportunities and using the emerging technologies to support us in doing our day-to-day jobs. It's about developing a community of practice and maximising the synergies across the organisation so that people can share their learning. Instead of duplicating effort, we implement it once and have the process associated with it, then we can scale it up across the organisation.
"By having the RPA Centre of Excellence, we have full visibility of all the opportunities that come through. There is a pipeline of activity and having that global view allows us to spot opportunities for collaboration where multiple areas propose similar opportunities. So far, we have been involved in Garda Vetting, Income Reporting and HPSC's Covid Surveillance."
The synergy which exists between the three elements of Business Excellence and Digital Innovation is informed by people, process and technology. "Firstly, there must be a relationship with our customers because there is a co-dependency. Then, it's important that we understand a given problem and get to the root cause through our CRM technology. Thirdly, process improvement rectifies the problem and drives improved service," Ryan says.
Culture and technology
Mindful of the interaction between culture and technology, Ryan emphasises the need to include staff and customers on the transformation journey. "If you don't cultivate the right culture, then the technology won't be embraced," she says, adding: "Take the CRM technology solution, for instance. I didn't feel that the initial step should be to procure that solution. Instead, we conducted a customer survey. Based on the positive feedback I received from customers in relation to the single point of contact, we launched a pilot. Only after this did we take the leap to procure a robust CRM system."
Whether it be CRM or RPA, it is vital to foster an understanding of the benefits that such solutions offer to staff and stakeholders. "The solution is to up skill people as we go. It has to be a journey that people want to travel along, having understood the benefits for themselves and the wider organisation. I think culture is really important and in the absence of optimal culture, you will fail," she warns.
Benefits
While the standardisation of process and associated financial improvements are obvious benefits, the overarching advantage of the customer-centric model has been the streamlining of processes and the removal of waste.
"In some cases, the impact can be observed on a service itself, whereas many of the benefits generated by initial projects would have been primarily felt by customers. The learning and its subsequent diffusion into the wider organisation has been significantly beneficial," Ryan reflects.
Challenges
However, developing the business model has not been without its challenges. These range from connecting with all stakeholders across an organisation the size of the HSE, to ensuring sufficient skillset capacity for new and emerging solutions like RPA.
"When starting with a greenfield site, you have nothing to benchmark against. For that reason, you need confidence that your managers and national directors place trust in your ability to deliver," the Assistant National Director observes, adding: "Not having standardised processes is also challenging. The way customers operate can vary significantly. Traditionally, they come from nine or 10 different health boards so all systems are different. Therefore, adaptability is essential to meet the need of each customer."
Journey
Now, over six years into the journey, Ryan is pleased with the level of maturity that the shared services Business Excellence and Digital Innovation team have reached across people, process and technology. Looking ahead, the Assistant National Director envisages that the unique capability of her team will continue to assist in the ongoing transformation which is now happening across the HSE.
"In terms of the business model we have developed, I think there are opportunities to broaden that and to enhance connections with the frontline from the centre," she concludes.