Transport
Iarnród Éireann: targeting 75 million journeys by 2025

Rail is set to make a dramatically increased contribution to Ireland's transport and environment solutions. Jim Meade, Chief Executive of Iarnród Éireann, outlines the company's plans.
In 2018, we in Iarnród Éireann carried a record 47.9 million passengers on our services, across Intercity, DART and Commuter. With growth year on year of almost 6 per cent over a previous record equalling high, the trends for rail services in Ireland are positive.
However, with the support of the National Transport Authority and Department of Transport, Tourism and Sport under Project Ireland 2040, our ambitions are much greater to meet the needs of the economy, society, and the communities and commuters we serve.
We are setting ourselves a challenge to strive for 75 million journeys by 2025 — 75 by 25 — and to do so in a way which not only sees significant modal shift from private car to public transport, but does so in the most environmentally sustainable way possible also.
At the heart of our plans is DART Expansion, supported by the Irish Government under the National Development Plan.
Put simply, this €2 billion investment will allow more trains to operate on all routes on our network, by building the capacity of the most congested sections in the Greater Dublin area.
It will see:
The electrification of the Maynooth, Hazelhatch and Drogheda rail lines;
Associated works such as the elimination of level crossings on the Maynooth line;
Infrastructure works to allow more trains to operate, including at Connolly and Docklands;
Integration with other public transport modes including proposed MetroLink and BusConnects programmes; and
A major expansion of our fleet, with electric and hybrid trains to be ordered.
We intend to commence a procurement process which would allow us to order up to 600 carriages over the coming decade. While primarily electric only, seeing our commuter belt fleet to move entirely to electric power, we will also allow for an initial order of hybrid battery-electric trains if required. The greenest land transport mode in Ireland will further strengthen its contribution to a sustainable future.
For context, our current passenger-carrying fleet is 629 carriages. Our order would see that increase by a minimum of 300 carriages to grow capacity, before we begin replacement of older trains in our fleet. Our goal is to see the first 100 carriages of this order begin to enter service by 2023.
Of course growth in demand means urgent capacity is also needed in the shorter term to keep pace with commuter requirements. Iarnród Éireann will shortly place an order for a further 41 InterCity railcar carriages, allowing us to increase train sizes on key services – these are targeted for delivery in 2021.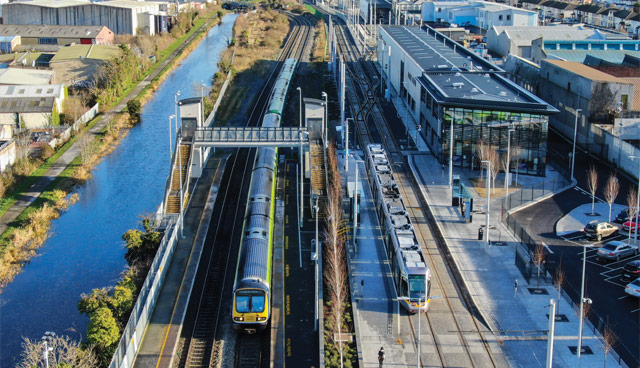 Investment in the Dublin area will not only benefit the Dublin Commuter belt, but will grow our ability to operate services right around the country.
Additionally, the National Transport Authority is undertaking a tender process for pre-owned train carriages for sale or lease, to establish the possibility of extra capacity from this source.
Improving access to services for all customers will also be at the heart of our investment plans. Accessibility for mobility and sensory impaired customers will be a principle of all station and fleet improvements. Investment in park and ride facilities, and customer information will also make our services easier to access and to use.
Investment in infrastructure in the Dublin area will not only benefit Dublin commuter belt services however. It will grow our ability to operate services right around the country. We are also ambitious to see journey time improvements on national routes, and targeted line speed improvement works are already taking place.
We are also ambitious for our regional cities. The recent publication of the Cork Metropolitan Area Transport Strategy (CMATS) sets out major expansion plans for our successful Cork commuter rail service within the wider Cork transport network. Up to eight new stations, and infrastructure works which will allow a DART style frequency between Cork city and each of Cobh, Midleton and Mallow are envisaged, allowing passenger growth to up to 16 million over the life of the strategy.
In Galway, double tracking between Athenry and Galway would allow for a major increase in service frequency to build on previous growth in passenger numbers between the two stations. An interim measure of a passing loop and second platform at Oranmore would also allow us to expand to meet demand, and this will be evaluated further. Under the NDP, we are also currently evaluating for the Department of Transport the potential of reinstating the Athenry to Tuam/Claremorris rail line.
Waterford city centre is set for a transformative development at the North Quays, and Waterford's Plunkett Station will be relocated to be part of an integrated transport hub under these plans. In Limerick, the completion of the city's own transportation hub centred on Colbert Station will also boost services.
Project Ireland 2040, by strengthening regional cities, will provide a stronger environment for our national rail network to meet transport needs. Railways, more than any other form of public transport, rely on critical mass and higher density population centres to provide the economic case for investment, and the societal benefit. By developing strong cities to counterbalance Dublin, we ensure that the development of railways in Ireland in the future is truly national.
As well as targeting improved journey times on the national InterCity network, we have also developed a specific strategy for the Dublin/Belfast Enterprise service, jointly operated with our colleagues in Translink.
Both companies propose an expansion to an hourly service, and improved journey times on this key link between the two largest cities on the island. Looking to a longer-term future, this densely populated corridor is targeted to be the first electrified InterCity line on the island, building on the DART Expansion electrification to Drogheda.
As well as these service enhancement programmes, our future investment will also address key safety and maintenance requirements.
After a decade of underinvestment, and the legacy this has resulted in, funding to meet the steady state maintenance and renewal requirements of the network has been provided in 2019 by the Department of Transport, Tourism and Sport – two years ahead of schedule.
The NDP also reaffirms investment in a new National Train Control Centre and in major safety investment programmes. These include automatic train protection systems, automated systems which prevent signals being passed at danger or over speeding, and investment in enhancing safety at level crossings.
With strong national policies on transport, planning, sustainability and climate change mitigation, we stand at a time of unique opportunity to shape a better future for Ireland. Our railways can play a significant role in that future, for the benefit of the country and its communities, our economy and our society. An environmentally and financially sustainable service accessible to all and of maximum value to our citizens.
Iarnród Éireann
Head Office
Connolly Station
Dublin D01 V6V6
W: www.irishrail.ie
T: 01 836 6222
E: IENews@irishrail.ie
Twitter @irishrail