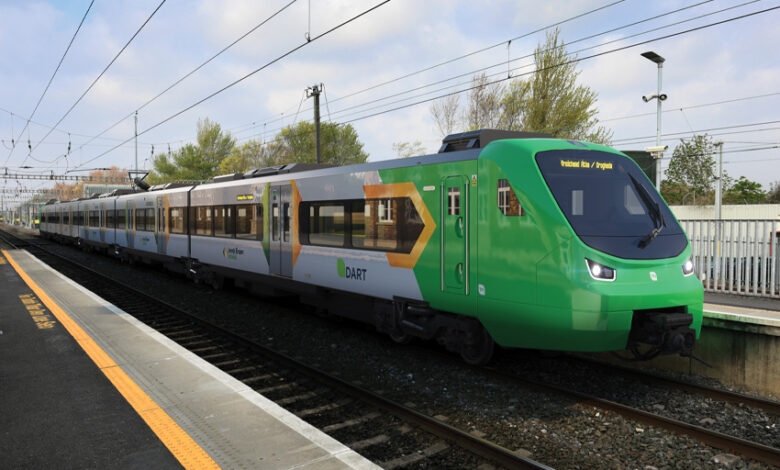 Iarnród Éireann Chief Executive Jim Meade outlines details of the company's ambitious corporate Climate Action Plan 2023 to 2030, to achieve emissions reductions of 51 per cent by 2030.
Our railways have always been the most sustainable mode of land transport. No other transport mode can move so many people at the same time, and with such low emissions.
But we in Iarnród Éireann are ambitious, and our country is ambitious to achieve more. Building on a consistent records of emissions reductions over the past 30 years, and having achieved previous 2020 targets more than four years ahead of schedule, we have now turned our focus to reducing our emissions by 51 per cent by the end of this decade.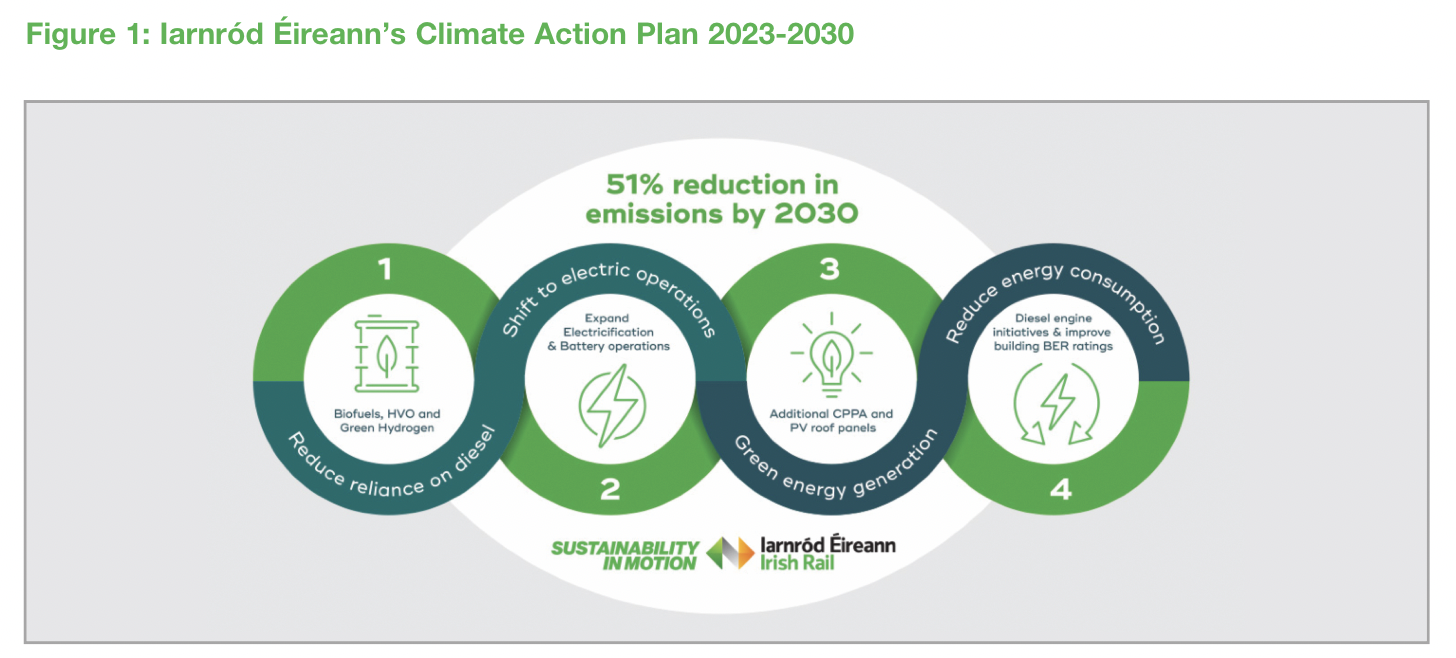 The ambitious plan will be delivered while rail services are expanded, with passenger journeys of 80 million per annum targeted by 2030, up from a pre-Covid high of 50.1 million journeys, and a doubling of rail freight volumes anticipated.
Our investment programme, funded by the National Transport Authority under the National Development Plan is critical, with European funding also supporting our Cork Area Commuter Rail plan. Through it, we will triple electrification in the Greater Dublin Area, and we also have the opportunity to pursue battery-electric operation in the Cork area.
However, we have a number of existing fleets which – while energy efficient compared to private transport – still are powered by diesel. In particular, our largest single fleet of InterCity railcars, of which we have 275 carriages, is relatively young in railway terms.
That is why we also commit in this Climate Action Plan to pursue innovative solutions to green energy generation, the use of alternative fuels and improvements to our buildings and existing fleets to reduce energy consumption.
The 51 per cent emissions reduction will be achieved through:
reduced reliance on diesel through alternative fuels on existing fleets;

transitioning to electric-powered fleet;

green energy generation and corporate purchasing power agreements; and

fleet and building works to reduce energy consumption.
Baseline
Iarnród Éireann's 2018 baseline combined Scope 1 and 2 greenhouse gas emissions amounted to 144,400 tonnes of CO2. These emissions account for approximately 1 per cent of the total national transport emissions.
In 2022, diesel fuel consumed through rail and road operations accounted for 85 per cent of the company's overall emissions. Reducing its reliance on diesel fuel is critical to our decarbonisation pathway.
To meet our public sector target of 51 per cent reduction in emissions by 2030, Iarnród Éireann must reduce its combined annual scope 1 and 2 emissions to circa 70,800 tonnes, while growing the passenger and rail freight businesses at the same time. This in turn supports the overall national reduction in transport emissions.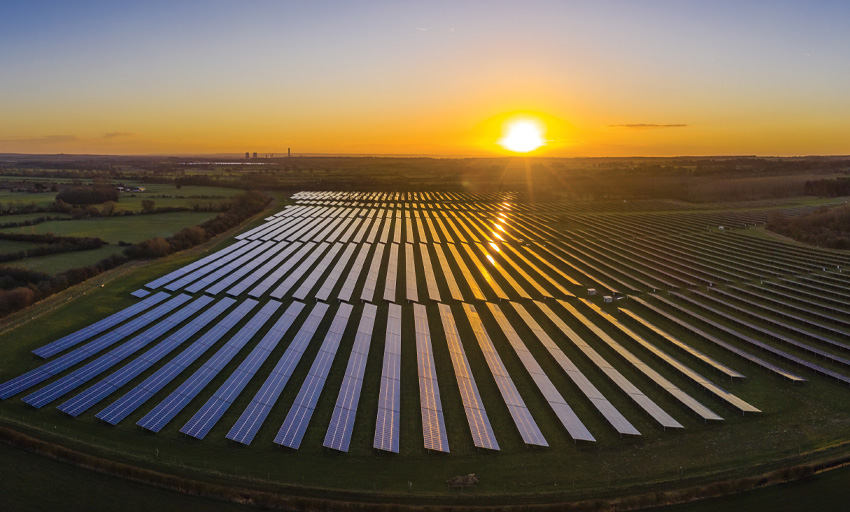 CAP Pathway
Four elements will combine to achieve our Climate Action Plan targets
Reducing our fleet reliance on diesel
All diesel fleets will operate with at least a 35 per cent biofuel/hydrotreated vegetable oil (HVO) blend.

Increase in rail freight operations – fuelled by HVO and/or green hydrogen.

Fuel all track maintenance vehicles with HVO.

Moving all road fleet to electric or HVO fuel by 2030.
2. Transitioning to electric-powered fleet
Electric and battery-electric trains will operate for the DART+ network in Dublin, and to be developed for the Cork commuter rail network, allowing the retirement of older diesel fleets.

A new Enterprise fleet will allow for future electric power on the Dublin Belfast route.
3. Green energy generation
Existing and new DART fleet will benefit from increasing renewable energy content of the national grid, doubling to 80 per cent by 2030 compared to c.40 per cent currently, as well as the proposed Iarnród Éireann corporate power purchasing agreements (CPPAs).

PV solar panels will be installed across Iarnród Éireann buildings where feasible, with almost 200 panels already installed at the new National Train Control Centre, and opportunities identified at Inchicore, Portlaoise and Drogheda.
4. Reducing our energy consumption (phased approach up to 2030)
Intercity railcar fleet targeted to be converted to hybrid power with on-board battery, delivering a carbon emission reduction of up to 30 per cent.

Upgrades to the remaining Dublin commuter rail fleet to deliver a 20 per cent reduction in fuel consumption and emissions.

Building upgrades will deliver improved energy efficiencies with BERs going from G to B/C whilst protecting the heritage of our buildings.

All new buildings and major upgrades to be built to nearly zero energy building standard.

Reducing our electric and gas consumption by 1.5 per cent to 2 per cent per annum through supply side initiatives
It will take nothing short of a total company effort to achieve this, working with the National Transport Authority and Department of Transport. This is already underway, across our capital investments, train operations and infrastructure teams.
And we are looking further: to net zero by 2050. The All-Island Strategic Rail Review envisages the most significant expansion of the rail network in over 130 years during those two decades.
Carbon net zero will necessitate the roll-out of network electrification to avail of 100 per cent renewable energy from the national grid including:
Completion of DART+ programme and electrification of the main Intercity routes.

Renewable energy for all other routes, with sources include electric battery and alternative fuels including green hydrogen and HVO.

A combination of electric traction and alternative fuels including green hydrogen and HVO for rail freight.
The journey is underway. The destination is our sustainable future.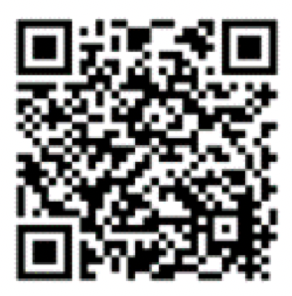 Download Iarnród Éireann Climate Action Plan:

T: (01) 8366 222
W: www.irishrail.ie
X/Twitter: @irishrail