Issues
Howlin elected Labour leader
New Labour leader Brendan Howlin has said that his party is in "a strong position to grow" despite early indications that unrest among its member ranks will continue to fester over failure to secure a leadership election contest.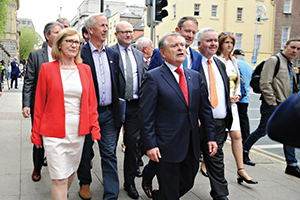 Despite taking charge of a party that lost 30 TDs in February's general election, Wexford TD Brendan Howlin described his emotions as "immensely proud and deeply humble" as he was named as the successor to Joan Burton, at his third time of asking.
Having previously lost out to Ruairí Quinn in 1997 and then Pat Rabbitte in 2002, Howlin was granted the leadership unchallenged, a move that appears to have angered some of the party's 4,000 members.
The unrest stems from the fact that none of the remaining six Labour TDs seconded the nomination of popular Tipperary TD and deputy leader Alan Kelly, meaning that the party membership was not consulted on its next leader.
Under party rules, anyone wishing to be party leader needs a nomination and a seconder from within the ranks of the existing TDs. Kelly could have nominated himself but did not have the support of his political party colleagues.
Kelly was a noticeable absence from Howlin's appointment announcement, where he credited former party leader Brendan Corish and his father, John Howlin, for their influence on his "politics".
"Today I am immensely proud and deeply humble to become the leader of the Labour Party – their party. I have seen great election victories and also, sadly, some major defeats. We must learn from those defeats, but there is one obvious lesson: It's hard to show that you stand for Labour's values when you have to go into Government to rescue the country from the vandalism inflicted upon it by those who do not share our values," he said.
"Cleaning up the mess left by others may not have proven electorally popular, but it had to be done. It had to be done to ensure this country's future. Now, Labour and Ireland are in a strong position to grow."
Howlin also took a swipe at those who he described as left and right wing "fringe groups".
"Understandably people are sceptical about the power of politics to effect change. There is talk of a global crisis in democracy.
"Fringe groups variously describing themselves as right or left wing have gained ground in many countries. In this country those fringe groups sometimes use Labour's language of fairness and equality, but that's where the similarities stop.
"They won't go into Government to deliver change. They won't compromise on some issues in order to win important victories on other issues. Victories for working people, victories based on the concepts of fairness, inclusion and equality. Instead they do slogans."
A minister for public expenditure and reform in the last government, Howlin has also operated as a minister for health briefly in the early 1990s and minister for environment later that decade.
In opposition he has held the deputy leader role, as well as shadow portfolios on finance, justice and health, and as leas-cheann comhairle from 2007 to 2011.
"I want to thank my colleagues and my party for the trust they are placing in me today. It is a big challenge. I am up for it. I have set out my stall. Mine will be a shared leadership. We are 12 parliamentarians, but we are hungry and determined. We have 50 councillors and thousands of supporters," he added.
"I will devote all my energy to not letting them, or Brendan Corish, or my late father, down."