Housing
Housing for All: A plan for the 'squeezed middle'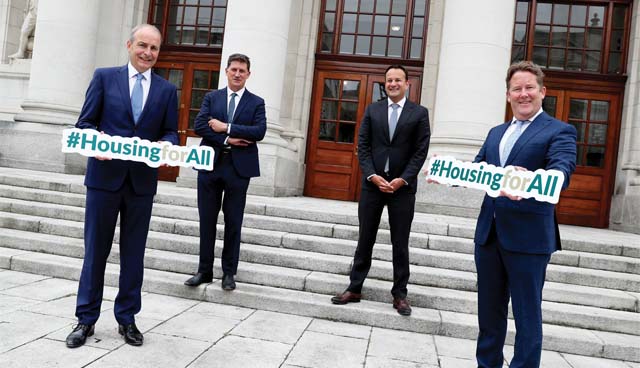 "Right now, Ireland's housing system is not meeting the needs of enough of our people," reads Housing for All, the Government's new housing plan. The recently published plan will act as the Government's blueprint for solving the housing crisis, replacing the previous plan, Rebuilding Ireland, five years after it was introduced.
The challenges facing the Irish housing sector are manifold, but they are neatly summed up in the seven bullet points that appear at the beginning of Housing for All:
there are not enough houses to buy or rent in the private sector;
there are not enough houses being built by the State for those who need social housing;
housing has become increasingly unaffordable for the 'squeezed middle' who would once have expected to be able to purchase their own home;
too many people are experiencing homelessness or are unable to access appropriate housing;
the cost of building housing is too high;
too much vacant housing stock remains unused; and
housing stock needs to be more environmentally friendly.
A foreword jointly attributed to the three leaders of the Government parties, Taoiseach Micheál Martin TD, Tánaiste Leo Varadkar TD and Minister for Environment, Climate and Communications Eamon Ryan TD states that the plan's objective is "that everybody should have access to sustainable, good quality housing to purchase or rent at an affordable price, built to a high standard, and located close to essential services, offering a high quality of life".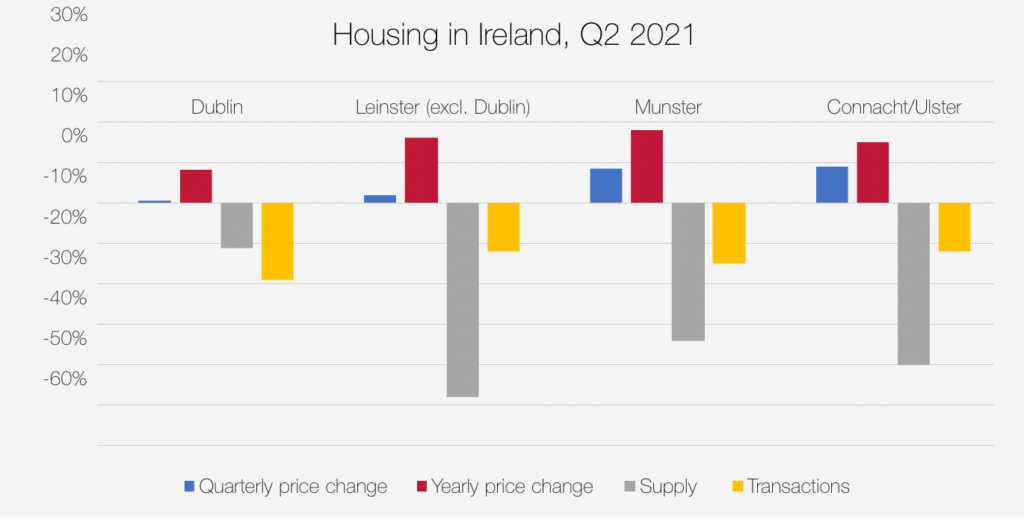 The way that Housing for All seeks to achieve this, and to solve the above issues, is by building 312,750 new homes between 2022 and the end of 2030, constituting what Minister for Housing, Local Government and Heritage Darragh O'Brien TD heralded as the "largest State building programme in our history".
90,000 of these homes are set to be social housing, whose leases will be managed either by local authorities or housing bodies; 53,800 affordable and cost rental homes will also be built. In order to provide for this State building of homes, the Land Development Agency will have its budget increased by €1 billion to €3.5 billion.
170,550 homes will be privately-owned or rented. The Economic and Social Research Institute (ESRI) has previously estimated that 33,000 new homes would need to be built every year until 2030 in order to address housing demand in Ireland; Housing for All pledges to deliver 33,450 homes in 2024 and 40,500 in 2030.
Affordability is also a key kernel of the plan's attempt to tackle the housing crisis, and there is within the plan two affordable housing schemes that are to make 4,000 affordable homes available each year, along with a new affordable purchase shared equity scheme for first-time buyers.
Prices for homes that qualify as "affordable" vary based on their locale, with a cap of €225,000 in rural areas, or up to €450,000 in the most expensive parts of Dublin. As much as 20 per cent of the cost will be covered by the State, or up to 30 per cent if the Help to Buy scheme is not used in conjunction.
A local authority-led affordable purchase scheme will "see new homes delivered, many built by local authorities in key areas facing the most acute affordability constraints" with average purchasing prices of "approximately €250,000". The Help to Buy scheme's extension into 2022 was confirmed in Budget 2022. An "owner-occupier" guarantee is to be introduced before the end of 2021, legislating for houses in new estates to be ringfenced for first-time buyers and other owner-occupiers. The Local Authority Home Loan scheme is also to be expanded in order to widen its scope and extend eligibility to single applicants with gross income of up to €65,000 in the Greater Dublin Area, Cork, and Galway.
The lynchpin of the Government's attempts to tackle ever-increasing rents is the delivery of an average of 2,000 cost rental homes per year, 18,000 by the end of 2030. Under the cost rental model, rents are based on the cost of building, managing, and maintaining the homes, with rents generally coming in at around 25 per cent below the market average. Rent Pressure Zones limiting increases in high-costs districts will be extended to 2024, and, in an attempt to combat the fact that "short-term letting has increasingly taken the form of tourism letting", the Government will "will bring forward revised regulatory controls in this area with a view to ensuring the availability of residential accommodation, balanced with the needs of the tourism sector, as appropriate".
The precarity of renting is to be addressed via the introduction of legislation for tenancies of indefinite duration, similar to types of rental agreements seen often in other European countries, "subject to legal advice". An annual registration process will be introduced in order to strengthen oversight of tenancies, while the Government will also facilitate increased enforcement of registration of tenancy requirements through measures such as the expansion of data-sharing arrangements between the Revenue Commissioners and the Residential Tenancies Board (RTB).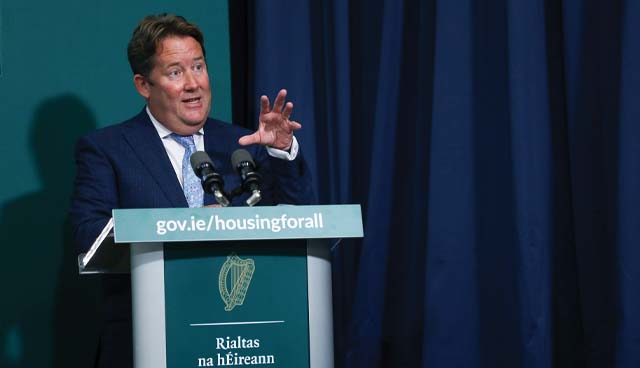 "[Housing for All] will give the squeezed middle a real chance to realise their dreams of homeownership."
Minister Darragh O'Brien TD
Housing for All versus Rebuilding Ireland
The most immediately obvious comparison between Housing for All and the plan it has replaced, Rebuilding Ireland, which was introduced by the Fine Gael government in 2016, is that the Rebuilding Ireland Home Loan scheme has been extended to include single applicants with gross income of up to €65,000 in the Greater Dublin Area, Cork, and Galway as stated above, with the scheme now known as the Local Authority Home Loan scheme.
The new plan also sees an increase in scope and ambition when compared with its predecessor. For example, in terms of social housing, Rebuilding Ireland planned for the construction of 47,000 social units between 2016 and 2021, averaging 9,400 social units per annum for five years. Housing for All, on the other hand, plans 90,000 social units to be delivered from the beginning of 2022 until the end of 2030, equating to an average of 10,000 units per annum for nine years.
Plans for the delivery of all homes are also similar, but again have been scaled up in response to the increasingly squeezed demands of the housing market. When Rebuilding Ireland was published in 2016, just 12,600 new homes had been delivered in 2015, and the plan contained the goal of reaching 25,000 homes per year by 2021, almost doubling the rate of construction in five years. For various reasons, this goal was not reached, but figures for 2019 and 2020 illustrate where the construction sector is now in terms of housing completions.
21,087 homes were completed during the Covid-19-hit year of 2020, a 1.9 per cent fall from 2019's 21,241. Housing for All's target of 40,500 homes built in 2030 would once again look to almost double Ireland's construction rate, this time over the timespan of 10 years. Analysis of the overall housing planned to be constructed also makes for interesting comparison: Rebuilding Ireland's plan of reaching 25,000 houses per year with an average of 9,400 social houses included would have resulted in social housing accounting for 37.6 per cent of all new housing built; whereas, Housing for All's plan to deliver 90,000 social houses within a total output of 312,750 means that social housing accounts for 28.8 per cent of new housing built, a reduction of almost 10 per cent.
It is clear within the forewords and the comments of the Government ministers involved in the creation of Housing for All that the main difference between the two plans is the newest plan's focus on what the Government is terming the "squeezed middle", those who earn above the threshold to qualify for social housing, but who are still unable to access a sufficient mortgage to buy a home of their own. Indeed, Minister O'Brien explicitly states that Housing for All is "a plan for the squeezed middle".
As such, an average of 6,000 affordable homes for purchase or rent are set to make up a proportion of the planned average of 33,000 homes delivered per year, meaning that they will account for 17.3 per cent of that total. This will mean that taken together, social and affordable homes will represent just under half (46.1 per cent) of the houses to be delivered by 2030.
In terms of the rental market, the most notable difference between the two plans is the presence of cost rental plans in Housing for All. The term "cost rental" appears 44 times in the full document of the new plan, it does not appear once in Rebuilding Ireland. Housing for All plans to bring at least 2,000 cost rental properties to the market per year, with rents intended to be at least 25 per cent below market value. The contribution under Part V legislation by developers has also been increased from 10 per cent to 20 per cent in order to provide more affordable and cost rental housing. Upfront deposits and rent payments, another area untouched by Rebuilding Ireland, will now be capped at two months' value.
Writing in the plan, Minister O'Brien says: "The State will move ambitiously in order to break the rent trap and prevent homeownership becoming a relic of the past and the preserve of the few. It will give the squeezed middle a real chance to realise their dreams of homeownership."
The thrust of Housing for All distinguishes itself from its predecessor by virtue of this focus on the "squeezed middle", attempting to solve Ireland's housing by a multi-pronged approach that addresses shortages of supply at every tier.
However, what Minister O'Brien and his colleagues in government intend is that — unlike its predecessor — Housing for All will ensure the tangible delivery of the overarching ambition detailed within; the delivery of sufficient housing supply, including social and affordable homes.