Transport report
Hourly cross-border rail could be in place 'by end of next year'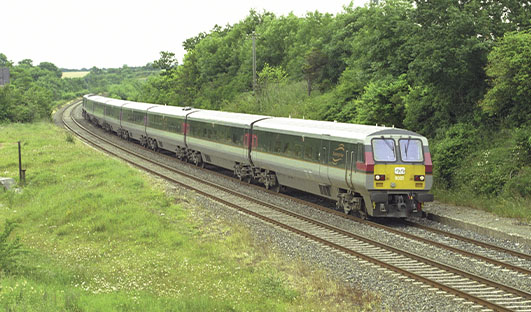 With the launch of the All-Island Strategic Rail Review in 2021, the Government signalled its intent to build cross-border rail links. It has now been said that an hourly service between Belfast and Dublin could be in place by the end of 2023.
The claim was made by Jim Meade, Chief Executive of Iarnród Éireann, who told the Oireachtas Committee on Transport and Communications, as he discussed the All-Island Strategic Rail Review, that an hourly Enterprise service during peak times could be in place by year-end 2023. Meade told the committee that high-speed hourly links between Cork, Dublin, and Belfast are 'more than an ambition' and that the entire Iarnród Éireann fleet will be replaced as part of the plans.
"We don't have an hourly on currently and we believe there's demand for that service," Meade said. "The hourly service is more than ambition, it's something we're going to deliver over time. I have been working with Chris Conway [CEO] of Translink and looking at how we would, at least in the peak, bring in an hourly service in the morning and evening as we wait until we develop the full service for 2027.
"We have some extra fleet coming at the back end of this year. We're looking to try and allocate some of them to allow us to do a morning and evening peak initially. There is a requirement to get people into Dublin early morning and then out later in the evening. We should be able to do that probably by the back end of next year, it might be a bit sooner."
Meade also added that the plan would eventually introduce an all-day hourly service some time from 2026 to 2027. With the current journey time from Belfast to Dublin clocking in at over two hours, Meade stated that plans to upgrade existing rail lines to 200 km/h operation would cut the journey time to 90 minutes. This goal is "feasible and achievable" according to Meade and would eventually stretch to all cities in Ireland.
"The ambition is, that certainly on the Belfast to Cork corridor, we will achieve those kinds of speeds and an equivalent improvement on the branch lines," he said. "The principle we are working to is that we bring all our major cities to under two hours. We're currently on the two-hour mark, depending on which service you get, but the ambition is to continue to improve services incrementally to get all the cities under two hours."
Meade also mentioned the review as an opportunity to expand Iarnród Éireann's presence in the movement of train freight. The State operator accounts for just over 1 per cent of freight in all of Ireland, a figure that Meade believes "should be in double digits" given that containerised traffic that moves by rail "reduces the carbon footprint of that individual container by 75 per cent" and is, thus, a "no-brainer".
The All-Island Strategic Rail Review was jointly launched by the Minister for Transport Eamon Ryan TD and then-Northern Ireland Minister for Infrastructure Nichola Mallon in April 2021. The review seeks to examine the potential for high-speed rail and shaping and developing the rail network across Ireland.
The Strategic Rail Review will consider the rail network throughout the entirety of Ireland with regard to: improving sustainable connectivity between the major cities (including the potential for high-/higher speed); enhancing regional accessibility; supporting balanced regional development and considering rail connectivity to international gateways – sea and air ports, which will include examining the role of rail freight.
In its submission to the committee, Translink, the northern public transport operator, said that the decarbonisation goal of the review aligns with its own aim to deliver a fully net zero fleet by 2040 and noted that the strategic outline case jointly developed by Translink and Iarnród Éireann for replacing the entire Enterprise fleet was based on a move towards electrification. On the improvement of links between all cities in Ireland and the furtherance of regional connectivity, Translink stated that "improved, higher-speed railway connections will help to address regional disparity and drive investment in regions such as the north-west".
Increased services "would help to consolidate the benefits already delivered by the North-West Transport Hub" in Derry, a £27 million project opened in 2019 with support from the EU's INTERREG VA fund, the Department for Infrastructure in Northern Ireland, and the Department of Transport in the Republic. "In discussion of the plans to develop the Enterprise Dublin-Belfast service, Translink notes that development of this service would also support connections from Derry onwards to Belfast, Dublin, Limerick, and Cork," the submission reads. "It is its view that this development would serve to support economic growth and improve links at every level including key airports and ports across the island. It is also supportive of an increased role for rail freight, noting that 'ports within Northern Ireland at Belfast, Larne, and Foyle are in close proximity to the railway network but not connected'."
In his submission to the committee, rail consultant Richard Logue outlined a number of "quick wins" including amending train timetables to make intercity services more frequent and improving existing tracks to allow for higher train speeds. In terms of expansion, he highlighted the lack of direct rail connectivity to airports throughout Ireland and emphasised the importance of the Western Rail Corridor for balanced regional development.