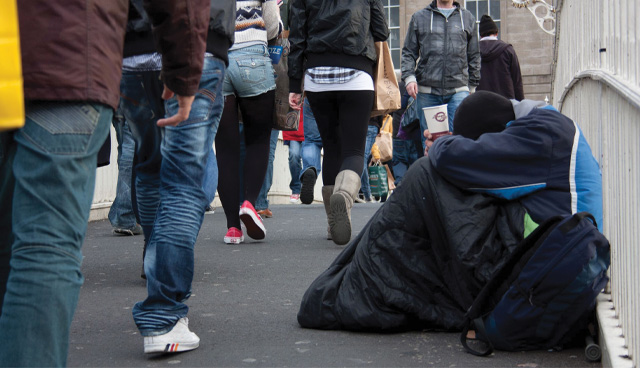 The "life-changing" injuries suffered by a man sleeping in his tent during a clean up operation on the Royal Canal has brought some uncomfortable questions to the fore for how Ireland deals with homelessness. Most pertinent among those is: are we trying to solve homelessness or simply trying to hide it? Odrán Waldron writes.
Dublin City Council and Waterways Ireland undertook the clean up operation on the canal in January, lifting the tents of homeless people using an industrial utility vehicle. A man sleeping in his tent and undetected by those undertaking the clean-up suffered life-changing injuries when his tent was lifted by the vehicle with him in it.
At first, obvious questions were asked such as whether or not the man's tent had been checked for occupancy and if so, how was it that he had gone undetected? Eventually, the conversation was broadened into bigger picture questions, asking why Dublin City Council and Waterways Ireland were confiscating the tents of those homeless who had chosen to set up camp beside Dublin's canal?
This is not the first time such clean up operations have occurred in Dublin. In 2017, after complaints that homeless people and their possessions were being moved away from the canal, Waterways Ireland said that those camping on the canal were trespassing Royal Canal property.
Speaking at the time of these incidents, Francis Doherty of the Peter McVerry Trust warned that these homeless communities would only grow if the root issues were not tackled and that appears to be the case. Anthony Flynn, CEO of Inner City Helping Homeless, remarked on radio after the injuries to the man on the canal that they had observed a stark increase in the numbers of people sleeping rough in Dublin, a problem he attributed to safety fears within hostels.
"Somebody's life was put in danger, somebody's life was near taken, in terms of what happened and the lift that was executed in order to take that person off the canal," Flynn said. "If operations like this are going to take place, all of the services that are involved should be contacted and should be engaged with at the highest level."
This is also not the first time that accusations have been levied that Dublin City Council is attempting to hide homelessness rather than helping to tackle its root causes. In December 2019, under the social media trend #warmforwinter, residents of Dublin hung coats on the Ha'penny Bridge for use by the city's homeless population set to be exposed to the cold winter conditions. Citing health and safety concerns, the Council removed the coats and distributed them to homeless services, but critics have accused the Council of attempting to conceal the extent of the city's homelessness problem from the tourists who frequent the bridge.
Dublin City Council defended itself, saying that it is its "duty to protect the public and prevent accidents from occurring on the footbridge, through any restrictions in pedestrian flow, particularly at this time of year [Christmas] when thousands of people use this bridge on a daily basis". The Council added that there was a danger of weather damage rendering the coats unusable and that they would be distributed to the city's various homelessness services.
Homelessness in Ireland remained above the once-thought impossible figure of 10,000 for a large part of 2019. December saw a figure of 9,731 recorded for people accessing emergency accommodation, a drop of 717 from the preceding November; this is the largest monthly drop on record. However, given that these numbers only record the amount of people who access government emergency accommodation, it is estimated that there are still over 10,000 homeless people in Ireland today.
Housing and homelessness proved to be the defining feature of the General Election. RTÉ's exit poll found it to be the most pressing issue for voters, with 38 per cent of them citing it as their biggest concern when going to the voting booth. The Irish Times exit poll found it to be the second most pressing issue after health, with 32 per cent of voters prioritising it. 45 per cent of those who gave their first preference vote to Sinn Féin, who promised the largest public housing construction programme in the State's history, cited housing as their biggest concern.
Housing and homelessness proved to be the defining feature of the General Election. RTÉ's exit poll found it to be the most pressing issue for voters, with 38 per cent of them citing it as their biggest concern when going to the voting booth.
Allegations of there being a concerted effort to hide homelessness in Dublin and move those sleeping rough into designated areas bring to mind San Francisco, a city much like Dublin on a larger scale. Also dominated by tech companies and worried by ever-rising rents and levels of homelessness, San Franciscan politicians have long been accused of attempting to hide the city's homeless rather than house them.
In the lead up to Super Bowl 50, held 45 miles south of the city in the San Francisco 49ers' Levi's Stadium in Santa Clara in 2016, Mayor Ed Lee had said the sizeable homeless population on 13th Street, colloquially known as Division Street, would "need to leave". The city's homeless population reported being told to move and corralled by police and city workers towards a four-block radius between Division Street's intersections with Harrison and Mission Street. San Francisco, like Dublin, has enjoyed regular increases in the major economic health indicators over the second half of the 2010s, but economic inequality reigns in the city and its homelessness problem is among the worst in the USA. In July 2019, the city was reported to have 9,784 homeless residents, a 30 per cent increase from the 2017 levels of their biannual survey.
San Francisco is currently engaged in political wrangling to introduce "right to shelter" laws similar to that of New York City. In practice, the laws mean that on nights when city operated homeless shelters are at full capacity, it is the obligation of local government to book hotel, motel or hostel accommodation for anyone sleeping rough on the night in question. The measures have led to New York, a city much bigger than San Francisco in raw area terms and with more than five times the amount of homeless people having much less of a problem with rough sleeping and visible homelessness. Similar measures exist in Dublin, with the government providing and paying for emergency accommodation, but if the safety fears that Flynn cites continue then Dublin could slide further towards the San Francisco end of the spectrum.
However, much like their counterparts in Dublin, critics of the "right to shelter" proposals in San Francisco say that they are just another, albeit more humane, method by which homelessness is being hidden. Only a significant uptick in the construction of affordable housing, such as that being pursued by current Mayor London Breed, can answer the problem and surmount the homelessness problem by eradicating it rather than hiding it, they argue.