Issues
Health research: making an impact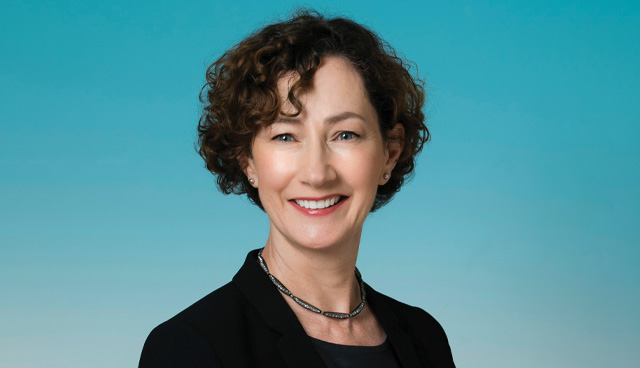 A year since Covid-19 first appeared on our radar, the importance of health research is in sharper focus than ever before. From first identifying the novel coronavirus to devising new approaches to care and developing vaccines in record time, the health research community has helped fight this unprecedented crisis every step of the way, according to Dr Mairéad O'Driscoll, Chief Executive of the Health Research Board (HRB).
The pandemic has also shown that while our healthcare system may depend on the state of our economy, the reverse is also true: without a well-functioning health and research system, economies can quickly grind to a halt. Simply put, the well-being of our society depends on the quality of our health research system. This is the message placed front and centre by the HRB in its new five-year strategy, Health research – making an impact.
Building on the HRB's strong track record in areas such as clinical research, information systems, evidence generation and research governance, the 2025 strategy will contribute to Government efforts to enhance Ireland's health research system, supporting delivery of health priorities under Sláintecare and the Resilience and Recovery 2020–2021 Plan. Developed through extensive engagement with stakeholders and input from an International Expert Advisory Panel, the HRB's roadmap for the future focuses on delivering better health through research, data and evidence.
Placing people at the heart of health research
As the lead funding agency for health research in Ireland, the HRB invests around €50 million annually in the Irish health research system, while its evidence centre provides independent data to inform decisions of policymakers, practitioners and the public. Reflecting the organisation's unique position at the interface of the health, social care and academic systems, the HRB's 2025 strategy aims to unlock the potential of health research to deliver for Ireland's society and economy in a changing world. "Our goal is to deliver the research, data and evidence that can make a real difference to people's lives," explains HRB Chief Executive
Dr O'Driscoll: "We want to place people at the heart of everything we do, involving the public, patients and carers in research, from generation of ideas to delivery of results. People's insights and life experience can transform research approaches, improving outcomes and improving lives."
Translating research into real-world value
First and foremost, the strategy will support research that makes a difference by delivering value for health, the health and social care system, and society and the economy as a whole. "We aim to achieve a well-balanced funding portfolio that responds to real-world needs," remarks Dr O'Driscoll. "This means investing in research to inform the decisions of people working in the Irish health and social care system, while supporting high-quality investigator-led research to address future health challenges." Collaboration will be key to making this happen, and meaningful involvement of people working at the coalface, along with public and patients can help ensure HRB-funded research is relevant, can be
applied in practice and contributes to better outcomes on the ground.
Building trust in evidence and data
The challenges posed by healthcare disinformation have put questions of trust centre stage in recent years, as Dr O'Driscoll explains: "Not only do policy-makers and health professionals need reliable and credible data to inform their decisions; each of us as individuals need evidence we can trust to inform management of our own health." This is why the HRB will continue to be an independent voice providing high-quality evidence in support of policy, practice and evaluation. In tandem, the organisation will support evidence synthesis activities to build capacity, address knowledge gaps and inform guidelines. It will facilitate dialogue on the emerging scientific, technological and policy developments that matter for health, health research and the health system, from genomics, to biobanking, to public health modelling.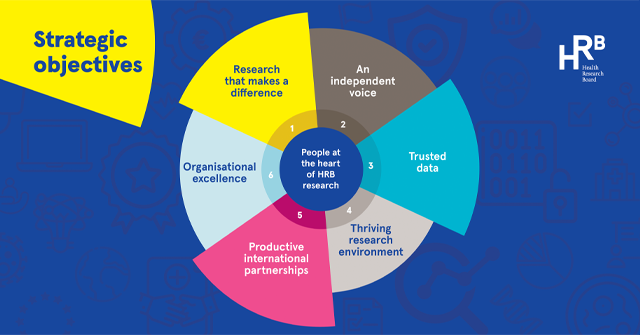 "We want to place people at the heart of everything we do, involving the public, patients and carers in research, from generation of ideas to delivery of results. People's insights and life experience can transform research approaches, improving outcomes and improving lives."
Trust is also key when it comes to the use of data in health and social care. Yet as Dr O'Driscoll points out: "With robust governance structures in place, data has the potential to transform how healthcare is delivered and how we manage our own health." The HRB has already demonstrated real strength in this area, leading development of national research data standards, working with partners to facilitate access to the national Covid-19 data research hub and managing national health information systems in the areas of alcohol and drug use, disabilities, and mental health. Over the next five years, the organisation will build on this commitment to trusted data. In addition to supporting the development of infrastructure for optimal use of health and social care data for research, the HRB will strive to increase public understanding of the importance of facilitating secure access to health and social care data for research and policy, and encourage adoption of best practice in data management, governance and re-use.
Getting the framework right
To maximise the real-world impact of health research, it will be essential to have the right framework in place at home and abroad. The HRB aims to build a thriving research environment here in Ireland and foster productive international partnerships in Europe and beyond. Actions focused on the Irish research environment range from investing in research leadership and capacity building, to supporting development of a coordinated clinical trials infrastructure, and convening stakeholders around the design of shared research infrastructures in areas like biobanking and genomic research. This will be underpinned by action to ensure research is conducted to the highest standards.
Looking beyond our borders, many of the greatest health and societal challenges we face, from pandemics to climate change, are global, making international collaboration a must. Plus, expanding horizons opens up new possibilities for Irish researchers, as Dr O'Driscoll explains: "It's no secret that for smaller countries like Ireland, international partnerships allow us to achieve things we simply couldn't do alone by providing access to larger-scale resources and wider expertise." The HRB aims to maximise those opportunities by forging alliances with European and international partners and helping Ireland's research community compete for EU and international funding.
A vision for Irish health research in 2025
In order to deliver on this ambitious strategy between now and 2025, a commitment to organisational excellence will be crucial: a core aim is to develop the HRB as a progressive place to work, that supports its people to be innovative and responsive. And what will success mean for the Irish health research landscape in five years' time? "Our vision for 2025 is to see the research we fund delivering measurable societal value, supporting economic development in a post-pandemic environment, and enabling the transformation of Ireland's health and social care system," concludes Dr O'Driscoll. "Our independent data and evidence will provide targeted support to policy and practice, and we will have helped the Irish research system unlock the potential of data for health and social care. Plus, Ireland will be recognised as the location of choice to do health research, embedded in a strong network of international collaboration."
For more information on the HRB's Strategy 2021-2025, please contact Gillian Markey, Communications Manager.
E: gmarkey@hrb.ie
W: www.hrb.ie