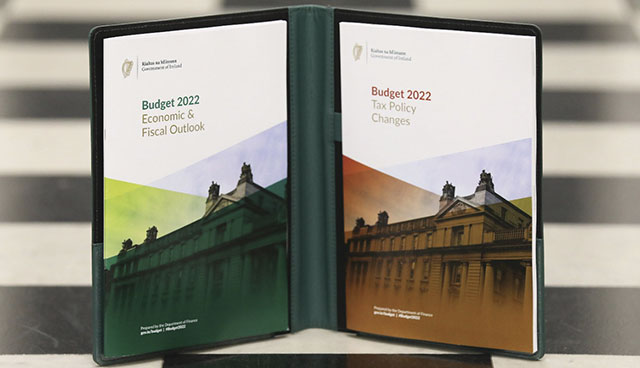 Budget 2022 identifies "immediate actions to address waiting lists" as the most urgent health priority for next year, before implementing a long-term multiannual plan for waiting lists in both hospitals and community health services.
While Budget 2022 provided more than €1.1 billion for the expansion and modernisation of the health service, delivery was impeded by the Covid-19 surge last winter and the subsequent HSE cyberattack in May 2021. Consequently, not all the measures planned for 2021 will be delivered by the end of the year.
Regardless, the additional funding provided during 2021 has been again made available for 2022. Indeed, an additional allocation of €1 billion, including over €300 million for new measures, has been added for 2022, increasing overall core funding allocation for current expenditure to over €20.4 billion.
Referencing the pandemic as "the greatest challenge that has ever faced our health system", Minister Donnelly asserts that Budget 2022 is a demonstration of the Government's commitment to deliver universal healthcare.
Identifying his most urgent priority in 2022 as "taking immediate action to address waiting lists which are unacceptably high at present". As such, the Department of Health, the HSE, and the National Treatment Purchase Fund are collaborating on a multiannual waiting list plan which will seek to resolve the backlog associated with the Covid-19 pandemic and align waiting lists with Sláintecare objectives.
Another priority he emphasises is investment in women's health, which will be boosted by an additional €31 million in 2022. This will fund the phased introduction of free contraception, beginning with women aged from 17 to 25, as well as measures to address period poverty and expand clinics for endometriosis and menopause.
Disability
Meanwhile, Minister of State with responsibility for Disability, Anne Rabbitte TD outlines that Budget 2022 allocated a further €65 million to the €2.2 billion disability budget, inclusive of €10 million for one-off Covid measures. This, the Minister of State noted, would enhance the delivery of supports and services for disabled people, including the recruitment of therapists and administrative staff in support of the 91 Children's Disability Network Teams, alongside increases in digital health technologies, respite houses, personal assistant hours, and residential places for disabled people.
With a total allocation of €1.15 billion in Budget 2022, mental health will receive an additional €47 million (€24 million for new developments, €13 million for existing services and €10 million for once-off Covid funding) next year.
Mental health and older people
Minister of State with responsibility for Mental Health and Older People, Mary Butler TD remarks: "This investment will ensure significant developments in mental health services next year… New mental health services for older people will also be developed, in line with the model of care for specialist mental health services for older people and will be piloted next year."
Detailing the Budget's €2.33 billion allocation to older people services, which includes €30 million for new developments, Butler explains that this will specifically facilitate:
funding totalling €150 million for five million additional hours of home support in 2022;
an increase in the new home support hours that are ringfenced for people with dementia from 5 per cent into 2021 to 11 per cent in 2022;
further improvement in dementia services, as well as the implementation of the dementia registry and dementia audit within acute hospitals and the national intellectual disability memory service; and
the implementation of the Covid-19 Nursing Homes Expert Panel Report recommendations.
Public health, wellbeing, and the National Drugs Strategy
Announcing a €16 million investment in new measures to in support of Healthy Ireland and the National Drugs Strategy and €13 million of Covid funding, Minister of State with responsibility for Public Health, Wellbeing and the National Drugs Strategy Frank Feighan TD outlines specific initiatives for 2022 which include "a healthy weight campaign, an innovative coordinated approach to encourage physical activity through Sport Ireland and the HSE, and funding for the expansion of the HSE's pilot online STI testing programme".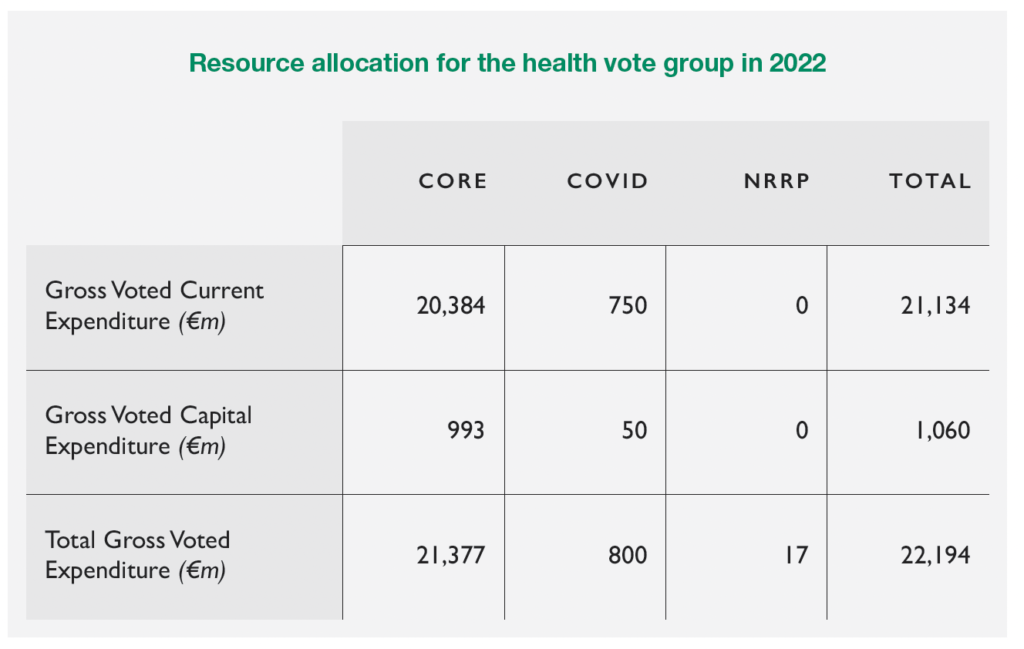 Reaction
Welcoming the health allocation in Budget 2022, the Irish Nurses and Midwives Organisation (INMO) praises proposed spending on women's health, "including the long-underfunded National Maternity Strategy", as well as Sexual Assault Treatment Units, and mental health, disability, and hospice services.
However, the INMO indicates that it would seek greater clarity on several areas including the number of nurses and midwives to be recruited by the end of 2022, the Safe Staffing Framework in Nursing, and the number of additional CAO places that will be allocated to nursing and midwifery.
Meanwhile, having acknowledged the additional funding for health in Budget 2022, the Irish Medical Organisation (IMO) asserts that it will not be sufficient given that around one million patients were on a waiting list at the end of 2021, one-in-five consultant posts are vacant, and there are only three hospital beds per 1,000 of the population.
Equally critical, Sinn Féin spokesperson on health, David Cullinane TD remarks: "It is clear that the Government does not realise the scale of the challenge in health, and this budget falls far short of what is needed to tackle waiting lists, invest in public hospitals, and bolster community healthcare."
Likewise, Labour health spokesperson Duncan Smith TD suggests: "Budget 2022 will be a disappointment for many people in Ireland, particularly those with additional care needs. It's clear that this government will do nothing to tackle the huge systems failures within the health service… There is no vision for community based primary care and moving treatment outside the acute hospital setting."
Budget 2022:
Advancing Sláintecare
Access and capacity
€10.5 million for 19 additional critical care beds in 2022.
€8 million to modernise and build capacity of the National Ambulance Service.
€22 million for additional Winter Plan measures.
Quality
€36.5 million for clinical governance system measures.
Implementation of phases two and three of the Safe Staffing Framework.
Funding to expand the advanced nursing and midwifery workforce to a target of 2.3 per cent of the total nursing and midwifery workforce in 2022.
Implementation of the Nursing Home Expert Panel recommendations.
Affordability
€45 million provided into 2022 to advance the Sláintecare objective of health services moving to free at the point of delivery provision, based entirely on clinical need.
Expansion of access to free GP care to children aged six and seven years.
Expansion of dental access to medical card patients.
Reducing the monthly threshold for the Drug Payment Scheme from €114 to €100.
Moving on a phased basis to reducing hospital charges for those aged under 18 years.