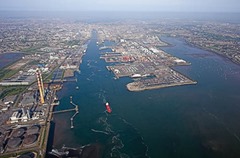 Dublin Port Company Chief Executive Eamonn O'Reilly talks to eolas about the company's performance and its plans for the future.
In the first half of this year, the Port of Dublin has seen an exceptionally strong performance with gross volume up 8.2 per cent by comparison to the first six months of 2013. The port, which is the busiest on the island of Ireland, saw increases in both imports and exports and June 2014 was the fifteenth consecutive month of growth.
"If we continue at the same rate as the first six months we will have had our best year ever and we will have clawed back the remaining deficit we saw after the decline in 2007. We may not get a record year but we will be close," says Eamonn O'Reilly. Although he says he doesn't like using the term booming "by any standards the port is booming."
The throughput of the port reflects the performance of the economy as a whole. There is a long run relationship between GDP and the volume that goes through the port.
If real GDP increases by 1 per cent, then the port's volume goes up by 1.36 per cent. That has been the case in the years up to 2007 and also through the downturn.
"Having said that, GDP is probably not increasing by 6 per cent at the moment and what we think we are seeing is the opposite of what happened in the decline after 2007 when our volumes dropped like a stone in advance of the economic figures," observes O'Reilly. "What I think we are now seeing is our volumes bouncing up in advance of the economic data being positive. We are not economists but I would not be surprised if the economic figures over the coming year were surprisingly strong."
Bulk liquid volumes (mostly petroleum products) are up, with more than half of the petroleum products imported into Ireland coming through Dublin Port. There has been a significant increase in diesel volumes: "At its simplest that means more trucks and cars and that shows more economic activity."
Looking out the window from Port Centre down onto a mass of new cars, it is easy to see that the imports of trade cars were up by 24.4 per cent for the first half of 2014.
The port has also even seen an increase in passengers of 5.4 per cent. With the exception of ash clouds, this has been a stable or marginally declining business. However, Irish Ferries has introduced a ship to France once a week, with extra sailings during the week to Holyhead.
Although the focus is very much on the volume of trade, the profile of the port's business is changing over time. "We had predicted, and are seeing, higher levels of unitised trade which is ro-ro and lo-lo trade. The non-unitised trade consists of 3.6 million tonnes of petroleum products and around 2 million tonnes of dried bulk products. The inherent growth within the sectors for both these groups of products – agriculture and construction – would probably not be hugely high. We expect some growth such as animal feeds with the milk quota going.
"We also expect to see construction related aggregates such as petroleum coke for cement plants increase but the level of growth will be less than in unitised trade. The future profile of the business will see unitised trade growing more, specifically ro-ro trade. We will always be a multi-modal port but over time we will get closer to looking like Dover, Europe's largest ro-ro port."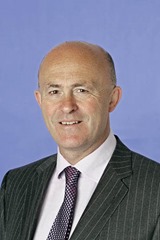 Another aspect of the business, which is not that large financially or in terms of number of ships but is growing, is the cruise ship business. The number of ships is actually down this year but the average size of ship has increased. "Last year was our best year ever in terms of the number of ships and although the number will be lower this year, it will be higher in terms of gross tonnage and the number of passengers, which drives the economic benefit for the city and the region," says O'Reilly.
Future capacity
The biggest issue facing Dublin Port is providing capacity for the future. O'Reilly emphasises that the company is an infrastructure provider. It does not provide services with the exception of a small number of technical marine services, such as a pilotage service.
"That is a vital service as this is the busiest stretch of water on the island of Ireland," he explains. "For example, in one day recently we had 42 shipping movements and mostly by big ships in our channel which runs 5km from the East Link bridge to Poolbeg lighthouse and a further 5km out into the bay. Apart from that, we have stepped back from port operations. We no longer do warehousing, stevedoring and commercial cargo activities. That is all done by private companies.
"The sole focus of our business is infrastructure and the biggest challenge we have is the provision of infrastructure against a background of rapidly rebounding volumes. If you take a long- term look at the port, from 1979 to 2010 the port tried to get permission to extend itself by 21 hectares by further infill into Dublin Bay. We didn't get permission and therefore for a period of 30 years the footprint of the port did not increase. Over that period of time, the volume of trade went up an average of 4.7 per cent per annum and we did all that within the same footprint. With further growth projected we need to have enough land to handle that cargo."
O'Reilly believes that the company has enough berths for the foreseeable future but the land side is the issue: "We have benefitted from the recession. We own a lot of our land but it is held under leases and we have managed to get back about 20 hectares of land and we are developing a piece of land we were not using for imported trade cars. Although we have enough berthage, some of it is old and some of it is not deep enough."
To address this, the port has a major project in the Alexandra Basin Redevelopment which is in the planning process and is expected to go to an oral hearing within the next couple of months. The project entails rebuilding 3km of quay walls out of a total of 7km and dredging the port's channel to increase the depth from 7.8m to 10m. "It is a big project in the history of the port and it is very important in terms of the relationship with the bay and the city." To address any environmental concerns, there is an environmental impact assessment as part of the planning process. O'Reilly acknowledges that developing any infrastructure project is challenging "but we are looking forward to addressing any issues raised."
Looking to the future, the company has developed a master plan for the period 2012 to 2040.
"In 2010, when the 30-year effort to get 21 hectares came to an end, we had to re-evaluate and get a clear plan to where we were going," he relates. "People had questioned if the port had the capacity for the future, although this was partly prompted by the desire to acquire port land. At its simplest, this port had to demonstrate that it could handle more volume. The master plan set out to demonstrate that and how we would go about doubling volumes by 2040."
In round numbers, the master plan sets out how Dublin Port will go from 30 million to 60 million gross tonnes by 2040. That equates to an average growth of 2.5 per cent per annum. O'Reilly is confident that is doable. In fact, two and a half years into the plan, he believes that the company can achieve more than 60 million tonnes with the options identified in the master plan.
O'Reilly sees the challenge as not so much reaching maximum capacity but to develop port infrastructure along the lines of the Alexandra Basin Redevelopment Project and to use existing assets more efficiently. To that end, Dublin Port has published a franchise review this year. It addressed how customers use its infrastructure and under what terms.
One area it looked at was land utilisation. "As a result, we have now taken a policy decision that there are certain activities we no longer want to see on our land, such as the storage of empty containers," says O'Reilly. "This is about sweating the assets and with the Port Tunnel it is quite feasible to store these containers elsewhere. We have done this in the past with cargoes of timber and steel."
Funding
O'Reilly says that Dublin Port Company has a very clear focus on reducing its cost base. Today the company employs 136 people. In 1990, the port and a subsidiary company employed 750 people in a wide range of activities it no longer undertakes.
Against a background of a controlled cost base, a very big share of the Irish port market – shipping companies and their customers want to ship to and from Dublin – combined with growing volumes puts Dublin Port in a very strong financial position.
Last year, the port company had an EBITDA of €41 million and was debt-free. The company pays a dividend to Government of not less than 30 per cent, although over the last couple of years it has paid a dividend closer to 60 per cent. "We are in a strong position to fund any developments and we do not need government funding at all. We believe we will be able to access long-term and relatively cheap project finance," O'Reilly remarks.
The company has attracted some support from the European Commission to part fund its development work. Europe classifies Dublin Port as one of 83 core ports in the TEN-T network in Europe. The port is also on a priority corridor and O'Reilly is confident that it will benefit from the European Union's €23 billion TEN-T infrastructure fund.
"We are entering probably the most intensive period of investment in the port's history," O'Reilly notes in conclusion. "The port has never been financially stronger, through a combination of growth and cost reduction. Our overall aim is to generate a return on capital of 10 per cent which will fund our future development."

Dublin Port Company
Port Centre, Alexandra Road, Dublin 1
Tel: 01 887 6000
Email: info@dublinport.ie
Web: www.dublinport.ie