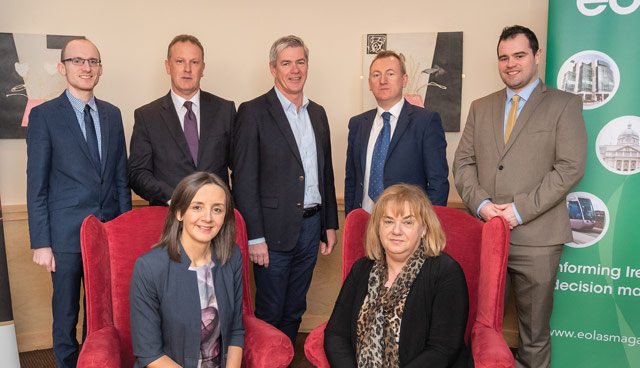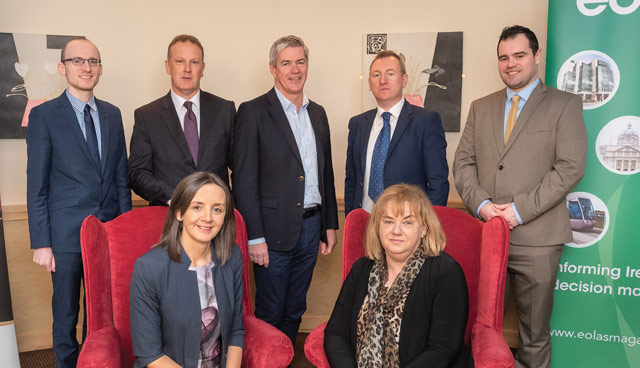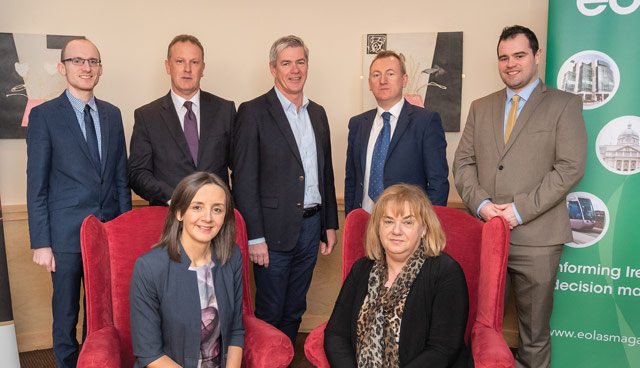 EirGrid hosted a round table discussion in Monaghan examining the importance of infrastructure investment in growing the border economy.
What are the main challenges for the border economy?
Joan Martin
The most significant challenge currently facing the border economy is that of Brexit. Recently a collaboration between the 11 border local authorities and Ulster University highlighted 'key asks' such as no hard border, the continuation of INTERREG and PEACE funding and the protection of the peace process. Brexit has the potential to heighten long-standing challenges caused by peripherality such as economic centralisation and poor commuting infrastructure. For example, moving east to west between Dundalk to Cavan or Sligo to Donegal can be a difficult experience and is something that needs to be improved for a prosperous border economy. We need Brexit to have the best possible outcome.
Paula McCaul
Brexit has simultaneously created unease and uncertainty, whilst causing deep fluctuations in currency, staffing and resources across the island. It has made it difficult for businesses to plan ahead. The tourism sector is crucial to the economic survival of the border economy and it is absolutely vital that all the gains made from the peace process are maintained. Anything that puts the slightest strain on tourism will be directly felt by businesses. It is imperative that any impact in this regard is minimal.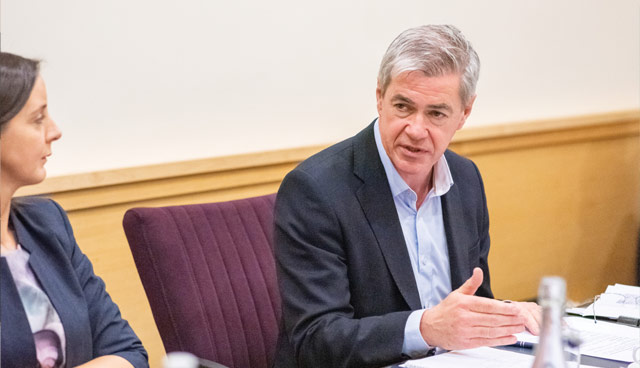 "The 140km of top-class power lines from Meath to Tyrone, when built, will offer many solutions in regard to drawing industry and businesses towards these border regions."
Mark Foley
Brexit is a challenge that is being raised every day and at every meeting. I think we are now seeing people wake up to the real impact of a hard Brexit. The energy system on the island became more integrated than ever on 1 October and there is no going back. I am heartened by the fact that we have harmonious agreement from senior politicians and there is now more data available to show the real impact a hard Brexit could have on businesses and the economy.
John Nugent
Brexit has had a definite impact upon the work of IDA Ireland and we have seen that how, in some company's, needs to access the European market have manifested into investment on the ground in the border region, most notably in Louth. Nonetheless, as has been said already, the protection of the peace process is vital to the attraction and welcoming of visitors, and this is a significant concern. From an FDI perspective, infrastructure west of County Louth is largely underdeveloped. Whilst the movement of people north-south must be preserved, the movement of people east-west must be facilitated if we are to continue to grow Ireland's urban centres as outlined in the National Planning Framework.
Aidan McKenna
In Enterprise Ireland, Brexit is a priority and a core element of our corporate strategy regarding scaling and expansion. The change of focus for businesses since the referendum to now has been significant. In the early stages, most concerns surrounded currency fluctuation and risks to financial management. Now, customs and logistics have emerged as the main challenge, according to over half of attendees at our last tranche of Brexit Advisory Clinics. Many of our clients are export-focused and are keen to expand into new markets, and Brexit has, to an extent, helped those businesses look at aspects of their operations and how they may over-rely on one customer or supply base. However, we have a strong concentration of the food and engineering industries in the north-east and these companies have strong links to Northern Ireland and other regions in the UK. It is very important to us that we are supporting businesses to diversify, but also to enable them to strengthen their connections in the UK and adapt their operations accordingly in order to withstand the challenges that Brexit poses.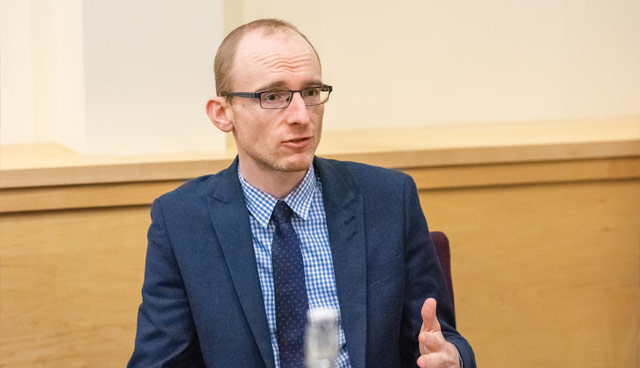 "We regularly see the roads along Ireland's border region in need of upgrade due to the disproportionate pressure placed upon them by lacking transport infrastructure."
Patrick Devine
Brexit has already resulted in currency fluctuations which have already had a large impact on border counties, where there has been a recognised fall in tourists coming from Northern Ireland. The Northern and Western Regional Assembly has also been tracking on key indicators that reflect the impact of Brexit.
Two relevant indicators are the reduction of planning applications (domestic/commercial) but also the reduction in SME lending. This will inevitably impact on the levels of trade around the border area. As well as this, many border businesses are benefitting from exporting into the Northern Ireland market and consequently into the wider UK market. Border economy businesses are now facing the challenge of reducing their reliance on one base market and forging links with other countries. For some, this will not be something in which they have experience and it's important that they collaborate with state agencies to avail of the support on offer. 
What infrastructure investments offer the potential for greater cross-border employment and trade? What can be done to improve transport infrastructure?
John Nugent
Mobile foreign investment tends to be attracted to scale and, settlements where there is a large population to draw talent from. Dundalk and Drogheda are prime examples of this, where they are supported by strong infrastructure and have landed large investments. With scale comes economies of scale and sufficient infrastructural investment, be it in gas, electricity or broadband, is of paramount importance in supporting this growth. One of the challenges faced by these border regions is the absence of scale west of Dundalk and Drogheda. From our perspective, strong broadband is one of the most immediate requirements. The rural nature of these areas can be overcome by the delivery of world class broadband. Also, strong transport infrastructure, similarly to broadband, must be recognised as a fundamental investment priority going forward.
Paula McCaul
Broadband from a small business management perspective is an enormous issue. In Meath there are areas that are very well catered for but I live in Monaghan and there are parts of the county where you have to physically go for miles to get coverage. I know of one business who drive to a carpark to send emails or download big files.
Mark Foley
No one has yet mentioned power and I understand that because it's largely assumed. However, a situation could arise where a great inward investment opportunity can't be realised due to a lack of power infrastructure. There are both local and national elements to consider regarding power. Nationally, the focus is around deepening and strengthening the connectivity between north and south, helping Northern Ireland with its energy security, driving costs down on an all-island basis and facilitating the use of renewable energy. The North South Interconnector represents a 'corridor of opportunity' in particular for the North East region and into Northern Ireland. The 140km of top-class power lines from Meath to Tyrone, when built, will offer many solutions in regard to drawing industry and businesses towards these border regions. We would hope that the conversation moves away from concerns about pylons and towards the 'corridor of opportunity', recognising that infrastructure investment can help Ireland draw investment, talent and opportunity outside of Dublin.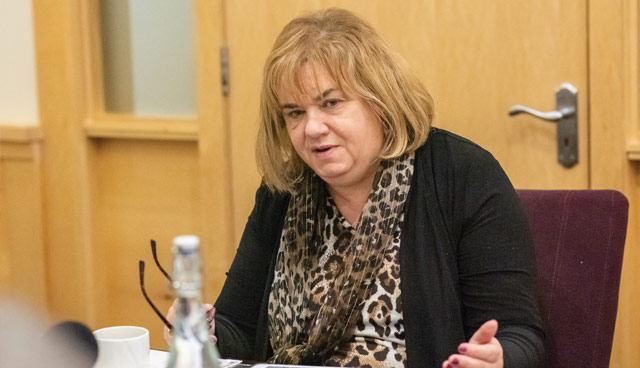 "We recognise that the full realisation of the National Broadband Plan is vital to supporting cross-border employment and trade."
Joan Martin
While we are very fortunate in our infrastructure offering in Louth in comparison to other border counties, we recognise that the full realisation of the National Broadband Plan is vital to supporting cross-border employment and trade. A second crucial element is the completion of the M2 Dublin to Derry road. If we are to deliver on the vision for Ireland 2040 then road infrastructure has to be invested in, both for commuters and to facilitate the movement of goods and services across the country.
Patrick Devine
A lack of sufficient motorway is taking its toll on secondary roads in Ireland, which are struggling to cater for the increase in haulage vehicles, commuters and freight. We regularly see the roads along Ireland's border region in need of upgrade due to the disproportionate pressure placed upon them by lacking transport infrastructure. In regard to broadband, I feel that we are at a crossroads. Water and electricity were once recognised as the core needs of any business, but strong broadband has moved into this category in recent years. Interesting times lie ahead with the introduction of 5G, and this may be an option down the line for those who are exploring a wireless solution to connectivity issues. However, all of our strategic planning is assuming the delivery of our National Broadband Plan.
How important is energy infrastructure in underpinning the island's energy security and sustainability?
Mark Foley
Energy is taken for granted because it never fails. Our job in EirGrid Group is to make sure that Ireland and Northern Ireland do not become complacent around energy and that we don't fall into the trap of not making sufficient power investments. In infrastructure, we have all been caught out by the staggering level of economic and population growth and we have some catching up to do. Going forward we must take the opportunities and get ahead of the curve, recognising that power will underpin any future infrastructure investments. We need to ensure we don't find ourselves in a situation where there is a lost opportunity to business and industry or that we can't deliver other areas of national infrastructure because the power capability isn't there. Alongside this, we at EirGrid are working towards utilising smart solutions and minimising community disruption where possible.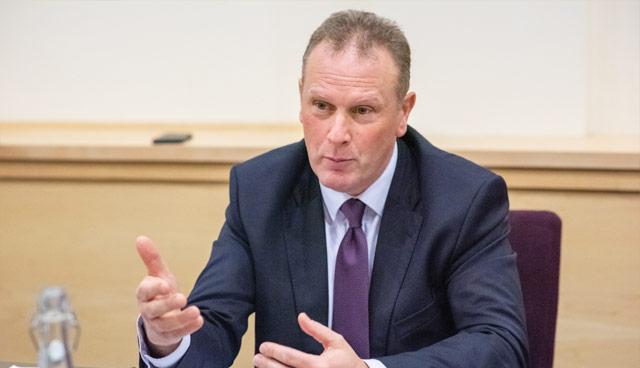 "Whilst the movement of people north-south must be preserved, the movement of people east-west must be facilitated if we are to continue to grow Ireland's urban centres as outlined in the National Planning Framework."
John Nugent
Energy is taken for granted, mostly because the great work of EirGrid and ESB Networks over the years has meant that you flick a switch and it's there. The ability to integrate the current levels of renewables at challenging frequencies is impressive and it's a compliment that when we as an agency are dealing with large companies, energy is rarely an issue. As we approach full employment for this region, I think the potential exists to position ourselves ahead of other regions with infrastructure. I think an alignment opportunity now exists to future proof the region, for the benefit of the country, by dovetailing energy infrastructure investment and property infrastructure investment to make sure we have what it takes to win either the growth of an indigenous company or the landing of an overseas company in the region.
Joan Martin
Ireland's targets around renewable energy consumption have expanded the conversation around the need for overhead pylons versus energy security. There are now challenges around the installation of wind turbines, particularly in the north-west, where there are huge opportunities for wind generation. Undoubtedly, these same challenges will manifest themselves in regard to solar as the infrastructure starts to come on the ground. The public sector faces a huge challenge around development plans and policy in these areas and a large part of that will be centred on public perception and how we can ensure the public recognise the necessity and advantages of energy infrastructure. The public need to be brought along with the programme of work that has to be done.
Mark Foley
Thankfully we're now having those conversations.
The Citizens' Assembly did an outstanding piece of work outlining recommendations on how Ireland can become a leader on climate action. The Taoiseach is now talking about it and the National Development Plan explicitly recognises a quantum of €22 billion for climate change.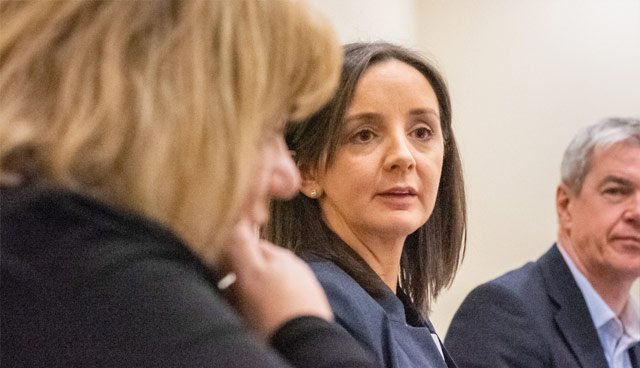 Paula McCaul
I think there needs to be more of a communications piece with the public around the transfer of energy, highlighting that companies seeking to locate and invest will be drawn to the energy supply. As Dublin overflows, it's important that other counties have sufficient energy infrastructure.
Joan Martin
People look at brownouts taking place in other global cities and don't recognise that given our economic and population trajectory it could happen here. In order to sustain this growth there needs to be greater communication with the public. We can't go on being happy to use the energy infrastructure but objecting to see it.
Patrick Devine
Broadband is the most recognised challenge because there is a lack of it. We don't appreciate energy and the general public don't appreciate the sophistication and complication of the market supply. This should change as questions around renewables and where electricity comes from are given more scrutiny in the context of meeting targets.
What other areas are important for the border region economy? Tourism, health services, education and skills, agriculture etc.
Joan Martin
While health is not as integrated across the island as energy, there is a high-level of cross border dependence and there is a lot of local concern in the current context. Previous cross-border projects have now developed into how we do business. It's another area where Brexit is worrying people.
Aidan McKenna
With economic improvement, the demand for skills across all sectors has increased and we have worked closely with our education providers to ensure collaboration with industry around demand. It's very important for the border region economy that education providers continue to produce that pipeline of talent and offer provision for people to retrain. This will help our companies to be competitive.
John Nugent
I agree that education is critical. Talent and the ability to get talent is the driver of any business. In order to be receptive to mobile investment we have to have the right environment. It means having education and training providers able to respond to demand when it lands but also that those other areas are sufficiently equipped to meet expectations. Economic development is complex and you need all stakeholders involved thinking decades ahead, so that when a company does visit, we have the ability to showcase the area, supported by ancillary wrapped services. These services are underpinned by government policy which needs to be consistent and stable in the long-term.
Paula McCaul
Tourism is crucial, especially in Meath. Going back to the issue of stability on the border and the threat to the peace process, any suggestion or threat of a hard border could turn on its head the hard work invested in the likes of food tourism for this region.
Mark Foley
We agonise as a nation over infrastructure but the reality is that when we do it, we do it well, whether that be in transport, health or public space. We should be proud of that and in planning Ireland 2040 we shouldn't be shy about being very firm about meeting need. Key infrastructure projects such as the North South Interconnector are at the heart of making vision a reality.
Outline the priority investment area for the border economy?
Mark Foley
I'm not going to pick one because they are interlinked and there needs to be a holistic approach to investment. At any given point in time, there will be priorities over others but the challenge is to look at our economy and our society in a fully integrated way and to prepare for the long-term.
John Nugent
I agree, it's difficult to pick one because no matter how good your broadband is, if you don't have electricity capacity it doesn't matter. I think Project 2040 puts a planning framework in place which will hopefully be the blueprint that we can all work to. For the moment, in the here and now, it is broadband but as you look at instability and the various things that threaten the island, anything that threatens security and sustainability is a serious threat.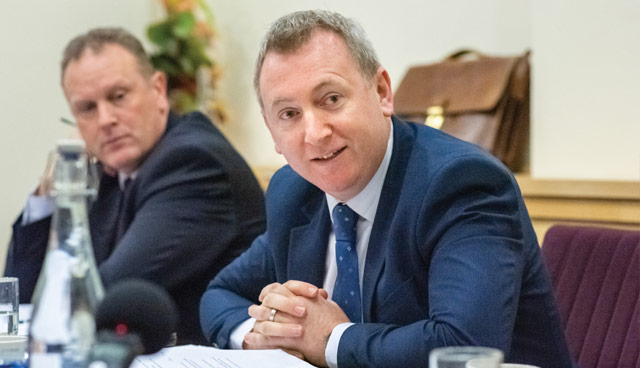 Aidan McKenna
For me, it's people. Ireland 2040 projects population growth and a good trajectory for the economy. We're going to need more people to fill higher skilled jobs. This region is a resilient one and has always had adversity to overcome. It has harnessed a great entrepreneurial spirit. Enterprise Ireland is focussed on supporting entrepreneurs and employers, providing tools and supports to help them achieve their global ambition and grow their businesses in international markets.
Patrick Devine
It's an overarching theme for local authorities and central government but I think a priority is developing good places to live. Obviously, the right infrastructure is important in attracting FDI but I think quality of life has become a major influencer for those decision-makers. There is now more focus on what's available outside of the workplace and that is making rural areas more attractive. 
Paula McCaul
I think the priority is broadband but I think the work/life balance point is a good one. Making a place more attractive for people to locate companies also works to make it more attractive to visitors. Inward investment is a big draw of tourism and improving on surrounding infrastructure becomes a rising tide for investment in other infrastructure. If it can come together, an area looks better for inward investment and the border area needs that capital investment.
Joan Martin
I too think broadband is the main priority but I would also say that the national plan talks about place-making. The ambitions of this can only be realised if people like us and our colleagues are determined to drive forward and make it happen. Yes, we have to carefully consider public objections and do what we can to help communities to deal with the challenges that infrastructure investment raises, but we also need to have determination in what we want to achieve through Ireland 2040 as a vision for the next decade.