Issues
Governments set out CAP reform plans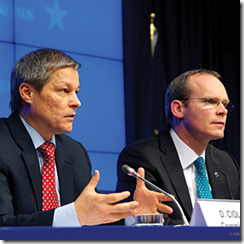 A CAP reform deal moves closer after member states agree their negotiating position.
The European Union's national governments have agreed a common negotiating position on CAP reform following talks chaired by Agriculture Minister Simon Coveney. The next step is the 'trilogue' stage i.e. negotiations between the Council of Ministers, the European Parliament and the European Commission. These will start on 11 April and the Government wants to achieve a final deal by the end of the Irish presidency on 30 June.
"It is difficult to overestimate the scale of today's achievement, given the range and complexity of issues which have had to be addressed by member states," Coveney said when the agreement was announced on 19 March. "It has proved possible thanks to the determined commitment of my colleagues to reach an agreement, which has been matched by their readiness to compromise on what for them have been extremely sensitive issues."
The deal includes the option of internal convergence: an Irish Government proposal allowing CAP funds to be redistributed within member states, extra flexibility on how direct payments are linked to environmental improvements, and the ending of sugar quotas by 2017.
For the first time, the Parliament will be a 'co-legislator' in the process, giving it equal status to that of the national governments. The Parliament and the Council both claim to represent the interests of EU citizens, as both include elected representatives.
The Parliament's Agriculture Committee wants to cap payments at €300,000 and give producer organisations more power to negotiate on behalf of farmers. The committee includes two full members from Ireland: Liam Aylward (Fianna Fáil) and Mairead McGuinness (Fine Gael). Marian Harkin (Independent) and Phil Prendergast (Labour) are substitute members.
Agriculture Commissioner Dacian Cioloş welcomed the progress made. Irish Farmers' Association (IFA) President John Bryan welcomed the flexibilities included in the deal but warned that "tens of thousands of farmers will still lose significant amounts from their single farm payment." The IFA is calling for the minimum redistribution of payments over the longest possible timeframe.
Fianna Fáil Agriculture Spokesman Éamon Ó Cuív welcomed the option of frontloading payments (proposed by the French Government) but doubted that a deal would be done by June. Fianna Fáil favours payment caps and maximum national flexibility "so that each country can design a programme that suits its national circumstances."
Sinn Féin MEP Martina Anderson called for more details on how the proposed system would work in practice. Sinn Féin wants to cap payments at €100,000.
The current gross value added of EU agriculture stands at €159.4 billion. France had the largest farming industry (€30.9 billion), accounting for a fifth of the total. Ireland's GVA output is €1.73 billion, which ranks fifteenth out of the 27 member states.
CAP has been allocated €44 billion in 2013, making up 29 per cent of the total EU budget.